Obsessive Mad Men fans of the TV geek army nation: take note! We are now 22 days out on the premiere of Season Four (Sunday July 25th at 10PM on AMC). And in the meantime we have the first three seasons on DVD to tide us over.
Mad Men: Season Three
Mad Men Season Three is a pivotal and game changing work of art that sets the stage for a completely new direction for the show, the Drapers, and the brave clan who have broken free from the "hull" of the old Sterling Cooper.
Beyond all the extra features and audio commentaries packed with the DVD set, which I'll get to in a moment, it must be said that first and foremost that Mad Men is particularly the sort of show that rewards repeat viewings. The ability to watch multiple episodes back-to-back while already having a basic sense of what comes next allows us to fully immerse in this incredibly detailed and rich vision of the early 1960s and its cast of complicated and realistic characters.
To say the least, the third season has a lot going on. Taking place over a span of 1963, we witness Putnam, Powell & Lowe's reign as owners of Sterling Cooper, Grandpa Gene's (Ryan Cutrona) move into the Draper home (and subsequent passing), the birth of baby Eugene (a pregnancy which brought Don and Betty back together at the end of Season Two), Joan's (Christina Hendricks) struggles with not-as-good-as-advertised husband Greg Harris (Sam Page), the personal and professional repercussions of Roger Sterling's (Roger Slattery) divorce from Mona (Talia Balsam) and remarriage to the much younger Jane Siegel (Petyon List), Sal Romano's (Bryan Batt) firing from Sterling Cooper under heartbreaking circumstances, and Peggy Olson's (Elisabeth Moss) continued odyssey as an ambitious young woman in an as yet man's advertising game. Oh, and there's Don Draper's (Jon Hamm) latest affair with daughter Sally's (Kiernan Shipka) former teacher Suzanne Farrell (Abigail Spencer), Betty Draper's (January Jones) huge discovery of her husband's false identity and secret life, as well as her growing relationship with Henry Francis (Christopher Stanley) and eventual move toward divorce. And of course let's not forget Don getting tipped off by Connie Hilton (Chelcie Ross) about McCann's move to buy PPL in the brilliant season finale "Shut the Door. Have a Seat," which precipitates a mutiny and the formation of a new and renegade Sterling Cooper Draper Pryce.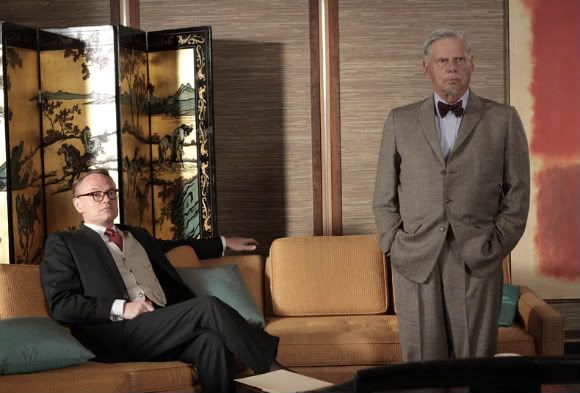 And if that's not enough, we had an accelerating sense of social and civil rights change in early '60s America, JFK's assassination (handled exceptionally well in "The Grown Ups"), Roger Sterling (John Slattery) delivering one-liners (and wearing blackface), and a "Guy" getting his foot chopped off by a John Deere riding lawnmower (in "Guy Walks Into an Advertising Agency"). And that's to say nothing of the continued adventures of Pete and Trudy and Paul and Ken and Lane.
Personally, I'm not all that into the "extras" on DVD packages save for audio commentaries, so it would seem that Mad Men – as always, it seems – perfectly suits my needs. That said, there's some intriguing documentaries on the history of cigarette advertising, murdered civil rights leader Medgar Evers, and the phenomenon of Mad Men animation.
But really, if you want to dive deep into the season, you'll be well rewarded by the multiple audio commentaries that accompany many episodes (and all include at least one). For starters, it's a pleasure and privilege to listen to show creator and executive producer Matthew Weiner, who takes the time to appear on a commentary for nearly every episode. Weiner's presence can be seen and felt in every inch of Mad Men, and hearing him speak over his vision made real is like sitting in on a master class with a professor who possesses encyclopedic knowledge of the show and the era, and who also has absolute passion and empathy and interest in the characters, stories, sets, research, props, costumes, and every other small piece that's assembled to put together a show on this level. I'm struck most perhaps by Weiner's discussion of his characters, how he speaks of them like real people, and how he muses openly about their motivations, their desires, their flaws, their contradictions. Even though the commentaries aren't needed to say this, it yet again confirms that Weiner is in the upper echelon of creative minds in the business (I had similar experiences hearing David Chase on DVD commentaries for The Sopranos and Joss Whedon on Buffy the Vampire Slayer and Firefly).
It's also super fun to get a wonderful combination of actors and production staff throughout the discs. Weiner is joined often by an episode's director (such as Lesli Linka Glatter on "Guy Walks into an Advertising Agency"), writer, or other member of the production staff, but also pairs with Jon Hamm and others. I loved hearing the cast talking over episodes, cutting loose often with banter and asides, and offering their own analysis. It was obvious to me that the chemistry that you see on screen stems from real connections. Christina Hendricks and Jared Harris (who plays Lane Pryce) make a charming pair on "Guy Walks into," for example. And we also get the unusual but very entertaining group of Weiner, elder statesman Ryan Cutrona, and young Kiernan Shipka on "The Arrangements." The DVD set and commentaries is a perfect way to look back on the relationship between Grandpa Gene in his final days and young Sally. The acting is remarkably good and you sense a real friendship and bond between Cutrona and Shipka on the commentary.
Jon Hamm of course is also perfect for delving into the enigmatic persona that is Donald Draper / Dick Whitman, and he has an authority over the show and all that goes into it that is only second to Wiener's. For fun and color, Michael Gladis (who plays Paul Kinsey), John Slattery, Vincent Kartheiser (who plays Pete Campbell), and Robert Morse (Bert Cooper of Sterling Cooper fame) can't be beat in their appearances. The one noticeable missing presence is January Jones, though quite frankly and for as great an actress she is, she was not terribly interesting on commentaries from seasons' past.