Quick Take: Mad Men, "Signal 30"
"Reschedule the meeting." - Cooper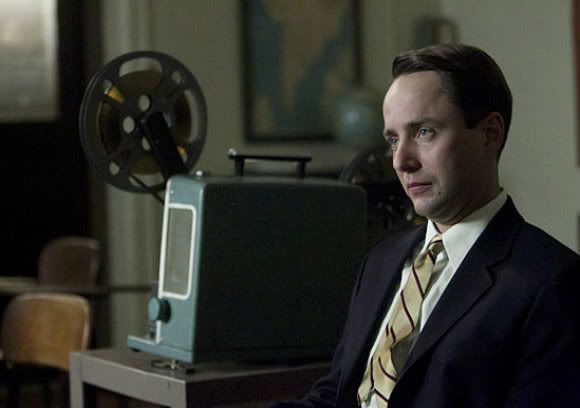 Review: Mad Men, "Signal 30"
(S0505) Admittedly, the sample size is rather small, but after very unscientific study I have concluded that John Slattery is a far better director than Jon Hamm. By no means do I mean this as a slight to Hamm the actor; Don Draper (Hamm) is and always has been the heart of Mad Men. In keeping with the anatomical analogies, I guess Roger (Slattery) would be the show's funny bone. While the Hamm-directed "Tea Leaves" is arguably the weakest episode of this new fifth season to date, last night's "Signal 30," directed by Slattery, is by far my favorite.
Big picture-wise, not a whole lot happens to move the major story arcs forward. However, in typical Mad Men fashion, the episode moves between scenes with a sense of confidence that suggests the people behind the camera don't really care that nothing is happening.
After quite a downer last week, what with all of the Richard Speck stuff and Don's homicidal dreams, "Signal 30" was pure joy. Mad Men, despite the heaviness of the subject matter at hand, is often a very funny show, and "Signal 30" is Mad Men at it's knee-slappingest. I suspect that Slattery deserves a lot of the credit.
Let's recap a couple of the highlights from "Signal 30." This breakdown is by no means comprehensive, so feel free to jump into the comments section and discuss any scene that I might have glossed over.
The Jaguar Account
Lane (Jared Harris) is dragged by his wife to a pub frequented by British ex-pat. Edwin, an executive with the Jaguar automobile company, happens to be there and offers SCDP the chance to scoop the American portion of Jaguar's advertising needs. Lane is elated to have brought in such a prestigious account and the other partners seem thrilled for him. Well, except Pete (Vincent Kartheiser), who seems to have a bit of a bug up his ass when it comes to Lane. (More on this in a moment).
As it turns out, Edwin is less interested in having a fellow Englishman head up his American advertising campaign, and more interested in the "fringe benefits" a guy like Roger can provide. At Edwin's behest, Roger, Don and Pete take the pervy old Brit to an upscale whore house. While the whore house scenes were great, especially the parts involving Pete ("You're my king." "Okay."), I must say I was a little bit disappointed that Don opted to post up at the bar. It's certainly possible, given Dick Whitman's history with whore houses, that Don just isn't into working girls. But I can't help but feeling like the old, pre-Megan Don would been glad to participate in the shenanigans. He even goes so far as to lecture Pete about infidelity. Oh, man-whore-Don, how I miss thee...
The big pay-off from the brothel scene comes the next day at the SCDP offices. In an emergency partner's meeting, Lane announces that the firm has lost the Jaguar account. After Edwin returned home from his big night out with Don and the boys, his wife discovered "chewing gum on his pubis." When Lane furiously bellows the line about chewing gum and pubises (pubi?) in his stilted British accent I had to pause the show. I was laughing so hard I was afraid I would miss the next piece of dialog. The other partners had a good chuckle about it, too.
In a matter of seconds, the scene goes from laugh out loud funny to utterly sidesplitting. Lane is understandably upset and his anger is targeted mostly at the weaselly Pete. The fight that ensues is one of the funniest scenes Mad Men has ever accomplished. Lane's old-school, Notre-Dame-mascot fighting style is absolutely priceless. Don, Roger and Cooper's reaction to the fight -- deciding not to break it up and closing the conference room blinds -- is equally great.
Party at the Campbell's
Trudy Campbell (Allison Brie) is truly one of the most underrated and under utilized characters on the extremely deep Mad Men bench. She doesn't get a whole lot of screen time, but when she does, boy, does she make the most of it.
For whatever reason, Trudy has made it her mission to get Don and Megan (Jessica Pare) over to the Campbell house for a dinner party. Don -- being Don, and all -- has absolutely no interest in trekking out to the country for a party with his co-workers and their wives. He tries to call Trudy to decline the invitation but Trudy, in quite possibly the greatest display of salesmanship ever shown on Mad Men, shuts his objections down expertly.
The Drapers and the Campbells are joined at the party by Ken Cosgrove (Aaron Staton) and his wife Cynthia (Larisa Oleynik). The dinner table conversation mostly centers on Ken's writing career; which Cynthia brags about, unaware that Ken is keeping his writing a secret. It seems that Ken has come a long way since his short story was published in The Atlantic back in Season One. Under the pen name Ben Hargrove, Ken has been churning out oodles of stories for sci-fi fantasy magazines.
The Ben Hargrove saga highlights one of the on-going themes of Mad Men: the double-life. In a way, all three men at the table are leading double-lives. Don, of course, literally assumed another man's identity. Ken has been secretly writing fiction using a nom de plume for years. And Pete is living the life of a content family man on the outside, while churning with anger, infidelity, and general creepiness on the inside.
Drivers Ed
Honestly, I don't really know what to make of these scenes. Was the point to highlight the fact that Pete is growing increasingly isolated and miserable marooned out in the suburbs? So much so that he is coming on to friendly high school girls? It's not as if we need any more evidence to suggest that Pete is a mega-creeper.
Either way, I laughed out loud when Parker Young's character says his name is Hanson, but everyone just calls him Handsome.
The Kiss
Is it just me, or does Joan (Christina Hendricks) fail to put up enough of a protest when Lane kisses her? I recognize that Joan and Lane are kind of kindred spirits, so it makes sense that she would be forgiving. But did anyone else get the impression that she might have been the tiniest bit into it by the end? It certainly took her a while to pull away.
Lingering thoughts on "Signal 30":
"Saturday night in the suburbs, you're going to blow your brains out." - Don
"It seems like time is speeding up." - Pete's drivers ed classmate
"Let's make a baby." - Don
"This brassier is like Fort Knox." - Don
"When this job is good, it satisfies every need." - Roger
"Reschedule the meeting." - Cooper
"This is an office, we're supposed to be friends." - Pete