Quick Take: Mad Men, "The Beautiful Girls"
"I'm not sorry. But I'm married, and so are you." – Joan to Roger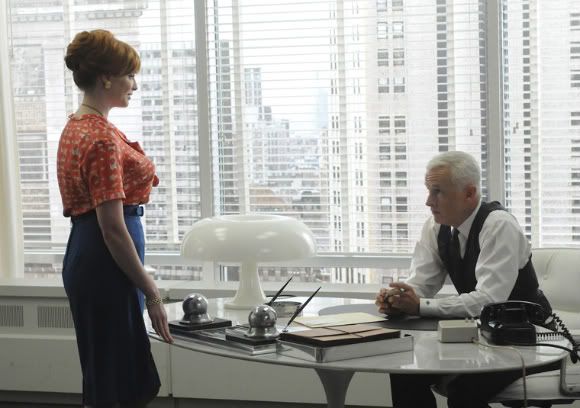 Review: Mad Men, "The Beautiful Girls"
(S0409) Typically I start off Mad Men reviews talking about Don Draper (Jon Hamm), but for "The Beautiful Girls." it seems more appropriate to start with the ladies.
A closing shot from the episode, featuring Joan, Peggy, and Faye standing in an elevator, is a deliberate choice. The three women represent different paths, different journeys, different career trajectories in mid-1960s New York City. They are not stereotypes in the slightest, but merely symbolize elements of what it was like to juggle life and work and career at that time, a time where all kinds of changes were just beginning to accelerate.
Joan (Christina Hendricks) represents a more traditional generation for the time period. We saw last week in "The Summer Man" that she resented Peggy (Elisabeth Moss) stepping into the "Tally Ho!" fray to fire Joey. And we know too that with Greg (Sam Page) heading off to Vietnam – directly after basic training, we now know – she is lonelier and more isolated and vulnerable than we've ever seen her.
I believe Roger (John Slattery) when he tells Joan that while he can't stop himself from flirting, he doesn't expect anything to happen. However, with Greg out of the way for the foreseeable future (and Jane off to the Hamptons for "the weekend" starting on a Wednesday), Roger can't help but to up the ante as well.
And he's helped for good measure, ironically, by a street thug who rolls Joan and Roger for their valuables (in a neighborhood on the slide – it's clear that the New York City of 1965 is very different than Season One's 1960). The couple ends up hooking up in the robbery's aftermath, and I can't wait to see how this little intractable romantic situation resolves. While the moment seemed to be genuinely sweet, Joan hasn't helped herself, emotionally or otherwise. Later she tells Roger that she's not sorry, but that it can't go on as both of them are married. That sounds to me like over doesn't necessarily mean over.
Dr. Faye Miller (Cara Buono) and Peggy represent two female characters who are making strides in the office, though it presents unique challenges to both of them. Peggy's world view is challenged once more (as it was in the aftermath of her pregnancy and interaction with the young neighborhood priest, played by Colin Hanks). Peggy's photo editor friend Joyce sets Pegs up for an impromptu date with Abe from the loft party, and let's just say it doesn't go so well. Abe is a political journalist and counter cultural pontificator-type, so his declarations about how the people are poised to rise up against the nation-states' "powerful interests" do not gel with Peggy's genuine enthusiasm and excitement for working with large companies in the big city.
When Peggy rejects Abe's "manifesto" about (presumably) Fillmore Auto Parts and their refusal to hire African American employees in the south, it's another example of a flirtation that can't go any further. Peggy is in no way willing to give up the career that she's worked so hard for "just because" Fillmore won't hire Negroes in the South. As she sees things and explains to Abe in the bar scene, women have many of their own issues to deal with (which super progressive-y Abe can barely seem to recognize, which is a nice ironic touch).
Where Faye fits into this dynamic is a little more difficult to figure out. As a degree-holding professional and consultant, she wields more respect than other women in the office (there's no Tally Ho! Chatter within her earshot that we can see), but is a layer removed at the same time. As her relationship with Don intensifies, I think we're going to begin to see more pressure on her to subjugate her own needs and agenda to that of a man. We saw a touch of this when Don tried to sell Faye on telling her what she was discussing with other clients simply because they happened to be sharing a bed at the time.
Faye Miller seems to be the best post-Betty partner for Don by far – she's attractive (of course), bright, assertive, and independent, essentially in line with the kinds of women Don went after when he was on his "game" during early seasons but was trapped by the nasty little detail that he happened to be married at the time.
And then there's Sally Draper (Kiernan Shipka), introducing us to a generation that will grow up during the tumult and social upheaval of the '60s, Vietnam, and all that came with it. And that includes an era where divorce was becoming more common. Sally's misery in living under Betty's regime (a No Fun regime at the least from what we can glean from what Betty complains to Don over the phone) and the divorce has both compelled and allowed her to act out.
When she "escapes" from Ossining and makes it to Don's apartment with the fortuitous interference of a kindly older woman and a mild scolding in between (and an adventure to the Central Park Zoo in the offing!), we can see that she's empowered. And when she asks her father that night why she can't live with him, there's no truly good answer besides the fact that things just don't work that way.
And, finally, we see another generational turn as Ms. Blankenship (Randee Heller) takes her final call, so to speak, and dies at her battle station. I believe the final words we see her speak are, "She's pushy. I guess you have to be that way," and that certainly will be a rallying cry for women looking to get their cut of the action in the years ahead.
Meagan takes over at Don's desk (after a coordinated mission to get the body out of the building in such a way as the Fillmore execs don't notice what's going on) and smoothly handles the commotion and logistics of the situation along with Joan (Don stands around rather slack-jawed for a bit, much more Dick than Don until he shakes himself back into character). Meagan seems like she'll handle the job as well as Allison did pre-affair on Don's couch, but as Ken Cosgrove (Aaron Staton) declares: "I say we start a pool on whether she's fired, quits, or dies."
More thoughts on "The Beautiful Girls":
"Do you know what a Chinese wall is?" – Faye Miller, to Don
Great exchange… "You want to leave me here, you sure?" – Faye "I'm taking everything interesting with me." – Don
"Vietnam. That's not good." – Roger
"It's a business of sadists and masochists, and you know which one you are." – Ms. Blankenship to Peggy
"It's an illusion that America's so organized and that it can never happen over here." – Abe
"I'm sure they're perfectly nice for racists." – Abe on Fillmore Auto Parts
Bye bye Ms. Blankenship, we were just starting to get to know ye.
"I have to say, most of the things Negroes can't do, I can't do either and nobody seems to care." – Peggy
"I'm from Vermont, and Don's a competitive fly fisherman." – Ken Cosgrove, in what I'm pretty sure is the funniest thing the character has ever said, right?
"I wanted to see you and I didn't want to wait two weekends." – Sally Draper to Don
I love that Harry Crane (Rich Sommer) has an afghan laying around in his recently fusty and anachronistic office décor.
Meagan seems poised to be a great secretary for Don, in the Allison mode. Let's see if Don can manage to not screw that up.
"Hello, my name is Faye." "I know." – Sally
"Ah damn it, I don't want to die in this office. I almost have, twice." – Roger
"She knew you had peanut butter." – Sally, on Faye, and showing how bright and inquisitive children can be, particularly when we don't want them to be
It's so fitting that Carla and not Betty taught Sally how to make French toast .
"I'm not sorry. But I'm married, and so are you." – Joan to Roger
"He's a man. He won't be happy 'till he turns you out." – Joyce to Peggy, on Abe