Quick Take: Mad Men, "The Rejected"
"Right now my life is very…" – Don's abandoned copy, writing to Allison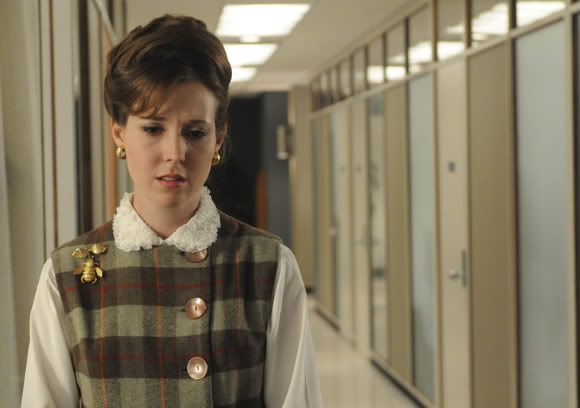 Review: Mad Men, "The Rejected"
(S0404) After the emotional turmoil and tragicomic journey that we saw Don Draper (Jon Hamm) endure in "The Good News," it was mostly a return to ad agency business this week at Sterling Cooper Draper Pryce, circa late winter 1965. Likewise, after an episode that focused tightly on Don, with extended screen time reserved for a select few such as Anna Draper, Joan Harris, and Lane Pryce, we picked up on a range of storylines here, both inside and outside of Sterling Cooper Draper Pryce.
But let's begin with Don, who is for once shaken out of his boozy escapism by his secretary, Allison (Alexa Alemanni). The confrontation over Don's refusal to acknowledge (read = act like a human) their one night stand isn't preplanned, but sparked by a Pond's Cold Cream panel led by Dr. Faye Miller (Cara Buono). The discussion is ostensibly about beauty, but a secretary named Dottie soon breaks down over her boyfriend leaving her, and we see Allison looking visibly upset. Don, Freddie Rumson (who launches a few classic lines during this sequence, such as, "How the hell did this get so sad, so fast?"), and Peggy Olson (Elisabeth Moss) are behind the fake mirror to observe, and the tension between Don and Allison is expertly performed and palpable.
Allison eventually storms out of the session, and Peggy follows to console her. We see again here how differently Don is looked at by the lower echelon of the office staff as compared to the old days, and particularly of course in the voice of a woman who feels used and humiliated. "I don't know how you stand it, the way he turns on the charm one minute and then yanks it away," she tells Peggy, assuming fully that the latter has gone through "the same situation" on her way up the corporate ladder. And then, "Now I know, it's just he's a drunk and they get away with murder because they forget everything." Peggy isn't having any of it, transitioning from caring colleague to scolding boss instantly, saying, "Your problem is not my problem, and honestly you should get over it."
This puts Allison over the top, and she finally confronts Don dead on. The amazing and tragic thing is that if Don had simply acted more humane and consoled her to some extent in her misery, or showed that their "mistake" meant something, anything to him, she would not have stormed out in tears. But his professional and semi-distant offer for her to write up her own letter of recommendation was the final straw for her. It was a moment where Allison acted like a real person would in a real life situation, and Don – in full Don Draper, Master of the Universe mode – behaved like a preprogrammed ad executive bot.
Don, or Dick, of course is a human being who is simply an expert of playing the role of Don Draper most of the time. So it's illuminating to see a series of moments – sitting in his office alone at night (as gorgeous and realistic a New York City shot as I've ever seen) with the sound of the janitor buffing the floor outside, typing a few words of apology ("My life is very…") in his dimly lit apartment before crumpling the page into a ball, observing the elderly couple who lives across the hall talking about pear shopping – that show where the real Don Draper lives, the vast empty ocean of his life circa 1965 that he uses alcohol and women (and frequently less successfully than we've seen in the past) and work to try to escape from.
Meanwhile, we get the first extended look at Pete Campbell's (Vincent Kartheiser) home life this season. The Pond's Cold Cream account means that SCDP has to cut Clearasil loose (the higher billings in the case of a conflict is the "winner"), so Pete has to break the news to Tom Vogel (Joe O'Connor), his father-in-law and connection to the account through Vicks chemical. The tables are turned again (a bit of a theme in "The Rejected") when Tom spills the news that Trudy is pregnant. Pete handles the fact that Trudy (Alison Brie) hadn't told him herself (she wanted to wait until their anniversary to reveals the news) pretty well, elated to finally learn that he will be a father. However, while he is riding high we soon see him at his conniving and manipulative worst, working over Tom to grab all of the accounts at his company, disturbingly implying that he has now held up his side in the bargain (he and SCDP handled Clearasil well, and has succeeded in his part in providing Tom with a grandchild). It's been observed that Mad Men is about people getting what they think they want and then enduring the real world consequences, so I'll be fascinated to see what happens when Pete and SCDP go deeper with a suddenly less accommodating father-in-law in Tom.
The other main storyline is one we might call Peggy's bohemian night. Peggy meets Joyce in the elevator, an assistant photo editor for Life magazine, and is soon invited to a gathering of sorts downtown. Joyce carries a portfolio of "rejects," photo submissions to Life taken by a friend of Joyce's which have not been accepted. They are artistic nude shots, and Joyce apparently takes Peggy's interest as a sign that she is open to a romantic advance. At the party or "happening," we see a full on 1960s-like scene for the first time in the sense of the way the decade is popularly imagined, with a Andy Warhol-esque tripped out film playing against a wall, sitar-inspired music blaring, and a dude wearing a bear outfit wandering around with a beer. Peggy's new friend offers her weed ("I love it!" Peggy insists) and then quickly moves on to hitting on her. Peggy says that she has a girlfriend, but Joyce isn't backing off easily. "He doesn't own your vagina," she insists. "No, but he's renting it," Peggy says laughing. Peggy's transition over the course of a five-year span (Season One began sometime in the summer of 1960) has been a joy to watch, and gets more interesting all the time.
Peggy meets the filmmaker, David Kellogg, and is repulsed by Peggy's suggestion that SCDP is looking for good photographers. "Art in advertising? Why would anyone do that after Warhol?" he says. The question that Peggy probably hasn't spent a lot of time asking herself is if she has the ability use her intelligence and curiosity to appreciate art and pop culture on its own terms versus using her findings to further the needs of her advertising agency and her own career trajectory. Soon the cops come, and Peggy ends up kissing Abe, a journalist, in a closet. So much for boyfriend Mark!
These new adventures for Peggy are taking place as she's dealing with the news that Pete will be a father. She of course had Pete's child and chose to give it away, an act that was both a sacrifice and in service to her career ambitions. The closing shot – Peggy leaving the SCDP lobby to have lunch with her new counter-culture friends while Pete mills about with SCDP execs and Tom Vogel and others from Vicks – underscores her decision and where she is right now in terms of both her life and career. It's a beautiful shot (John Slattery turns in a fine directing job for the episode) and we again see a similar duality to Don and Allison with the fake mirror between them earlier, but this time Pete and Peggy look at each other and share a moment.
"The Rejected" is not an instant classic as was "The Good News," but there were tremendous character moments and subtle touches throughout that prove yet again that Mad Men is the best show on television.
More thoughts on "The Rejected":
Anna's letter to Don, which includes a picture of the two during his trip to Los Angeles at the close of 1964, is dated 2/19/65 so we know we've advanced in time a few months.
"Why is this empty?" – Don "Because you drank it all." – Allison
Lee Garner, Jr. (Darren Pettie) has noticed that SCDP is billing Lucky Strike for work going on with other accounts. This will definitely come up again this season.
"Lee, the jockey smokes the cigarette." – Roger to Lee Garner, Jr., as always grabbing the funniest line of the episode
"Throw yourself on the grenade. Protect the agency. You're a partner now." – Roger to Pete
"Oh my God, there's some kind of fire." – Don to Lee Garner, Jr. over the phone, in attempt to get off the phone
"You could have used my office, but I don't have one." – Freddie Rumson (Joel Murray) to Faye Miller (or Fay to her secretary friends)
Nice subtle moment: Don observing Peggy Olson trying on Faye's wedding ring during the Pond's session
"I'd like a danish." – Freddie, from behind the fake mirror
Ken Cosgrove (Aaron Staton) is back, if only for an episode! He's marrying into a rich family and unsatisfied with his current career trajectory, we learn over a lunch with him, Pete, and Harry. Interesting to see if his role will increase this season. Let's hope so!
"It's worse when they notice sometimes." – Allison, with reference to Don's treatment of her, no doubt
"Those gonifs at CBS are screwing me again." – Harry "Those what?" – Pete
"I would appreciate it for the future if you would not say shitty things about me behind my back." – Ken to Pete
Priceless moment: Peggy's face appearing near the ceiling behind Don's office as he pours a drink in the wake of Allison's stormy departure
"Every time you jump to conclusions, Tom, you make me respect you less." – Pete to father-in-law Tom
"You look swellegant!" – Joyce to Peggy. Reminds me of Sal's line from the Season Three premiere: "Shelly, it's been swelly." We miss Sal!
Don's new secretary, Miss Blankenship, is an absolute riot. "Roger, he's he-uh!"
"You can't tell how they're going to behave based on how they have behaved." – Don to Faye, offering his own philosophy on people and advertising
"Did you know Malcolm X was shot last Sunday?" – Peggy "Yes Peggy." – Joey (Matt Long) "Did you know who he was?"
Two weeks in a row now with no sign of Betty Draper/Francis (January Jones), Henry, and the kids. No Betty for that long a stretch is sign enough of how much things have changed and the new era we're in this season!
Video: Mad Men, "The Rejected"
Head inside the episode, from AMC:
From Around the Web: Mad Men, "The Rejected"
A.V. Club: Peggy has made herself into the most open, plugged-in person at SCDP. And yet for all her new friends' snobbiness, they have a valid point when they question what she's going to do with all these experiences she's having. Is she just going to use drugs and rock 'n' roll and sexual adventurousness and screenings of avant-garde films as fodder for cooler-looking commercials?
Alan Sepinwall: And perhaps most importantly, Peggy spends the hour caught between the life she rejected when she gave up her baby and the one she wound up with as a result of that choice.
More Sepinwall: And the funny thing is, as loathsome as Pete was in the early going of the series, and as much as we were geared back then to root for Don and hate Pete, Pete never treated Peggy as badly as Don treated Allison the morning after their quickie on his sofa, nor as badly as Don treats her here when she attempts to get some closure while resigning.
Ology: Don's emotional insensitivity may have already cost him his wife and family, but Allison's outburst makes one wonder if his behavior might rebound upon him in an even more imperiling way down the road. This season so far has been all about his self-loathing. Or at least his loathing of the "Don Draper" persona. Last week, he embraced his inner Dick Whitman with such self-assured ease, it makes one wonder how much longer he can withstand the mental toll of his charade.