Now that Paul Kinsey (Michael Gladis) made a brief but splashy and phenomenal return during last night's Mad Men episode, "Christmas Waltz," there remains only one significant advertising pro from the early seasons who has not made an appearance in the Sterling Cooper Draper Pryce era.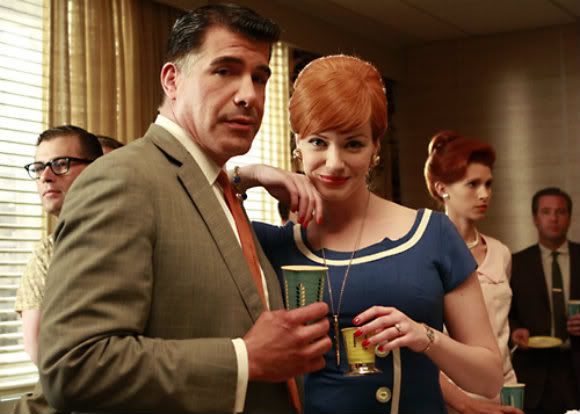 That's right, you know the name without even having to think about it: Sal Romano (Bryan Batt).
During the long wait between Seasons Four and Five, I wondered which Mad Men figures might make a return during the new season. After all, Season Four saw characters such as Freddie Rumsen (Joel Murray) make it back from his firing due to alcoholism, Kenny Cosgrove (Aaron Staton) get recruited back to SCDP, and even Smitty (Patrick Cavanaugh) made a brief cameo in the offices of rival ad firm CGC.
When we last saw Sal in Season Three, he felt heartbroken, humiliated, and betrayed in the wake of his own firing by Sterling Cooper. What was so cruel and ironic was the fact that Sal did not give in to the lecherous Lee Garner, Jr.'s (Darren Pettie) advances, even as Sal had kept his own sexual orientation a secret from his co-workers for years.
That's to say that we might expect Sal Romano to not be doing well circa late 1966. However, now that we know that Paul's post-Sterling Cooper days were not, let us say, successful and happy – Kinsey bottomed out of advertising and embraced the exotic religion of Hare Krishna, where he still was not fulfilled or happy, save for his troubled relationship with Mother Lakshmi – I think this actually sets up what I'm hoping could be an amazing storyline:
That Sal Romano could return as a powerful Creative Director or television commercial director that Don Draper and company have to woo or assuage to win a critical client for the firm.
Jaguar, maybe?
This is all highly speculative, of course, and the real fun and true joy of watching Mad Men is not knowing what will happen next.
On a final note, some other minor characters from the Sterling Cooper era who are also long missed include inexperienced lawnmower operator Lois (Crista Flanagan), Pete's long suffering secretary Hildy (Julie McNiven), and elevator operator Hollis (La Monde Byrd).