Quick Take: Mad Men, "Waldorf Stories"
Where's the bottom, you ask? There's further to go down this lowball glass, I fear.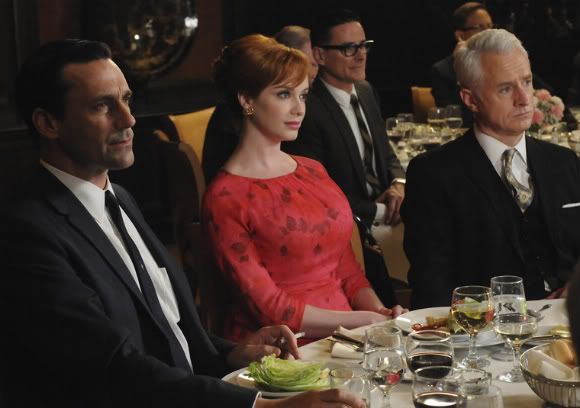 Review: Mad Men, "Waldorf Stories"
(S0406) Well, that was a hell of a ride. Painful, hilarious, insightful, absolutely entertaining.
Hilarious at times, yes, but a lot less fun than we've ever had before with Don Draper (Jon Hamm) and company, I dare say. The rose-tinted lens of seasons past are now long gone, here in the late winter or early spring of 1965. The delight and allure of kicking off cocktails at the office at 4 pm followed by kicking off clothes with a willing accomplice some hours later have transitioned into something else, something more self-destructive. Particularly when played out over a series of years now, as we've followed the tale from what I like to think of as the Golden Era of Don Draper, Master of the Universe, and Sterling Cooper (now Sterling Cooper Draper Pryce) back in 1960 to this strange new landscape of alcohol-driven blackouts, lost weekends, sloppy ad pitches, and fraying relationships. Where's the bottom, you ask? There's further to go down this lowball glass, I fear.
It's more than a little bit telling, for example, that we saw the return of Duck Phillips (Mark Moses) this week, though in the form of a sad cameo performance (sad in a number of ways, but it should not go unnoted that we've now likely seen a great character for the very last time). Duck has been fighting a long term battle with the bottle, we well know, but seemed to have his demons mostly under control throughout Season Three and his tenure with Gray, which included an affair with Peggy Olson (Elisabeth Moss). But if Duck ruined his chances at running Sterling Cooper after the merger with Putnam Powell & Lowe because, in part, "he could never hold his liquor," he opened a whole new front of drunken embarrassment by incoherently interrupting the MC at the Clio Awards ceremony, which caused him to literally be dragged out of the room.
The object lesson is as clear as a telephone call that has a pissed off ex-wife (that would be Betty, played by January Jones, who had only a cameo of her own this week) on the other end demanding to know why the kids have been sitting around for two hours waiting to be picked up: Don is on a similar trajectory, and he's nudging closer to a place where he has to coast on past glories, lean ever more heavily on his staff (and we saw a lot of that involving Peggy this week), steal ideas that are derivative in the first place (more on that and the welcome addition of actor Danny Strong as Danny, below), and keep more plates spinning in order to maintain the illusion of a life not in tatters.
Most of the office can see at least part of what's going on (Pete, Faye, Allison, Peggy… the list is growing of those who have made mention of Don's drinking), and you have to think that Don could be a major disaster away (Lucky Strike, anyone?) from being next in line to be put out to pasture.
We also got our first extended flashback of the season, wherein we learn that Don and Roger Sterling (John Slattery, who simply bangs out a brilliant performance week in and week out) have a relationship that was forged over booze. It was exciting to head back to the '50s if but briefly and see a younger, more optimistic Don (with less product in his hair) working a contact with an "important man at an important agency" in Roger into an eventual job and career in advertising. Don worked at a fur company at the time (and we know he met Betty during this era of his life as well) and sold a mink stole to Roger, who we later see present it as a gift to Joan (Christina Hendricks). Not only do we get to see Joan in full on Marilyn Monroe mode, but we also learn that Roger's affair with her went on for some number of years.
We also see a Don that is friendly, persistent, and mightily ambitious. He has the moxie to slip his "book" into the box that contains Roger's purchase, and then starts showing up in the lobby of the Sterling Cooper building to bump into him, for example. Roger is annoyed at first, but allows himself to be talked into a drink. At ten in the morning. Which then turns into multiple drinks.
By the time Roger wakes up from his latest bender, he literally discovers that he has hired Don. Or did he? I have a feeling we'll never know, but it's entirely possible that Don engineered Roger into the kind of drunken state where he wouldn't remember what he said any which way.
So great work, 1950s Don. And ironic and telling that Don Draper 1965 is ripe to be played as the same kind of mark. Which, indirectly, he has been already with his drunken appropriation of the Life cereal line and the consequences that stem from that.
More thoughts on "Waldorf Stories":
"I don't work for you!" – Mrs. Blankenship to Danny. Amazing too that Danny stuffs ads not his that he admires into his book.
"The guy in the elevator thought it was the hydrogen bomb." – Roger to Joan , on carrying the mink coat box into the hotel
"I have no interest in the Temperance Movement." – Stan to Peggy
For all of Pete's faults (and there are many), he's a sharp cat. And he was one step ahead of me at the least in noting that Don and Roger were far too boozed up to professionally handle a pitch to the Life execs.
There are a number of purposely disorienting jump cuts throughout the episode that help to set a jarring mood. The most intense one happens after Don goes to sleep with a woman he picked up at the bar after the Clio Awards and Life cereal celebrations, and then wakes up to Betty's call… with another woman in his bed. The next day. At noon. In a room we're not meant to be familiar with. And then there's more: Doris is some sort of waitress who has been introduced to "Dick," and has been told that he is going to take photographs of her. It's deeply confusing and mildly creepy all at once, to the extent that I seriously thought that this might be a dream sequence.
Another sign of Don's times: he leaves his Clio award (for the Glo-Coat TV ad) at the bar!
I've long been a fan of Danny Strong because of his role as Jonathan on Buffy the Vampire Slayer. Because Don corners himself into hiring the kid (in order to secure the rights, free and clear, to the line of copy the Life executives loved), let's hope that he sticks around the SCDP office for a good long while.
I'm not sure how much I enjoy Stan, the new Art Director at SCDP, as a character, but I loved the way Peggy was able to one-up this big talk/little action/strangely dressed dude by essentially beating him at his own (naked) game.
Uh, what was up with Joan holding both Roger and Don's hand under the table while waiting to hear the winner of the Clio? Don is hitting on everyone within stone's throw distance these days, so only a matter of time before he takes a pass at Joan, you'd have to think… and as scary as this is to write, she might be better off with Dr. Greg at this point.
"You're lazy, and you have no ideas." - Peggy to Stan
"I always liked chocolate ice cream but my mother made us eat vanilla because it didn't stain anything." – Roger Sterling, memoirist
With so much going on this week, it's easy to overlook Ken Cosgrove's (Aaron Staton) return to the SCDP fold. Some nice scenes involving this move, my favorite of which is Lane Pryce (Jared Harris) deftly maneuvering Pete (Vincent Kartheiser) into a place where he can't really say no to Ken's hiring. Lane has a bit of old Bert Cooper in him, no?
I'd absolutely love to see a flashback of Don meeting Betty and their dating days. Bonus: more of Grandpa Gene as well!
Video: Mad Men, "Waldorf Stories"
Head inside the episode, from AMC:
From Around the Web: Mad Men, "Waldorf Stories"
TV.com: And the best line in this episode? It's in none of the above scenes, and comes from Joan, who takes her leave of Roger at the bar after Don wins the Clio, and tells Roger he's "crossed the border from lubricated to morose".
A.V. Club: Fans of Buffy The Vampire Slayer and Gilmore Girls will recognize the newest addition to SCDP as the talented, diminutive Danny Strong. Strong's comic skills translate well here, as does his skill for dark undercurrents. He may be an untalented nobody, but he's an untalented nobody who recognizes when he has someone in the position to give him what he needs over a barrel. (Plus: those shots of Hamm towering over Strong = instant hilarity.)