Mad Men star Jon Hamm mused recently about the eventual end of the hit AMC series, saying that while moving on from the show will be bittersweet, all good stories have an ending and hopefully one that is a fitting resolution that "underscores a good project."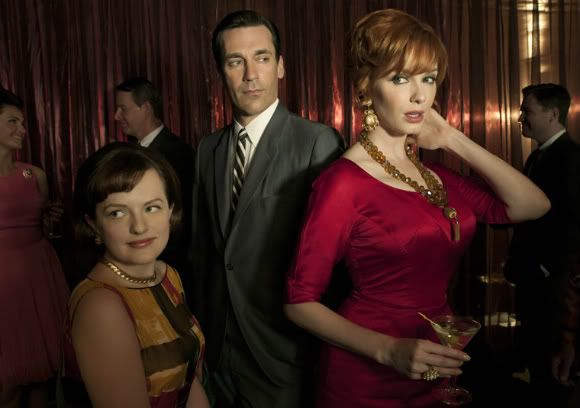 Because Mad Men is a period drama – and one that is painstakingly period accurate at that – I've thought about how the arc of the series might play out for a long time. And that breaks down in a few different ways: what will happen to the characters that we've come to be obsessed with over the first four seasons, and what year and setting will it be at the time of the series finale?
I won't get into the characters here as that would be a subject that could easily occupy the length of an e-book, but let's take a look at how the timeframe of Mad Men has played out thus far and where we might be headed.
Season One took place over the course of 1960, ending at Thanksgiving time with a sad and nostalgic Don Draper sitting on the stairs, lamenting the fact that he didn't travel with his family for the holiday. Season Two meanwhile doesn't pick up until early 1962 and again ends in the autumn. Season Three covers much of 1963 and ends once more late in the year, after the Kennedy assassination in this case. And Season Four covers a healthy chunk of time, beginning in late 1964 and ending in the latter half of 1965 (see: "Tomorrowland").
So, we know that Mad Men is likely to run for another three seasons, and we know that each season tends to cover a number of months. But beyond that we enter the last of speculation of course, but it's fun to play things out and say that we are fairly certain that Season Five will cover the year 1966 at the least. Therefore it's logical to say that Seasons Six and Seven will play out over 1967 and 1968, and potentially could go as far as, say, 1970 or so.
That potential time span, or ten years from series premiere to finale, tracks with series creator and executive producer Matthew Weiner's early thoughts about a five-season arc that checks in with the characters every two years over the course of the 1960s (which he later changed his mind about).
All of this math and speculation about timing aside, think about a Mad Men circa 1970, and how Don Draper, Betty Francis (or will she have a different last name by then?), Peggy Olson, Roger Sterling, Joan Harris (Holloway?), and all the rest will look and act. And that's to say nothing of the fashion and how a Sterling Cooper Draper Pryce 1970 might look like!
Remember, we've seen this gang evolve over the course of five years in story time thus far, so fast forwarding another five years will bring that much more change… all of which will come at a time when the '60s really becomes The '60s and the story veers into the age of Flower Power the Summer of Love and Vietnam and civil rights and so on.
In closing, I'm going to make one prediction. It's going to be really interesting.