There are quite a few worthy shows out there, but this soldier in the TV Geek Army just cannot watch them all! So, here is what I have managed to watch and what am I looking forward to this week.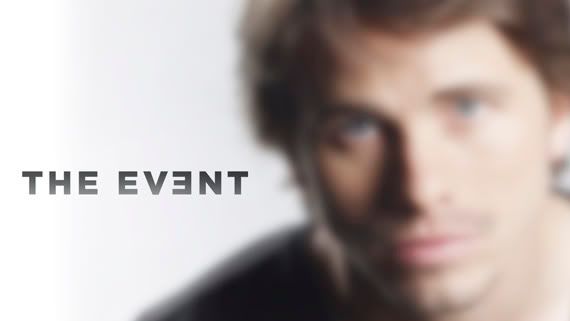 The Event: tough to pin down, but cool anyway
Maybe I'm a sucker for hype, or it is the interesting cast assembled, but I wanted to hook in with The Event. So, I've been watching since its September 20th premiere determined it to be ready for water cooler… coolness.
OK the bottom line is... the show is cool. The cast is excellent: Blair Underwood can portray a stern and tough president, with just enough of a yum factor. I kept expecting Laura Innes to limp around and yell at everyone about IV pushes and Lactated Ringers (ER), but she is now Sophia in my mind. Still a leader, but of a whole new kind of group. I stopped waiting for Zeljko Ivanek (True Blood) to bare his fangs, but as Sterling Blake, Director of National Intelligence, I don't think he's entirely trustworthy either.
Although cool, The Event is also a bit off-putting, what with all the time sliding around, flashing forward, backward, and who knows where else. Not that I mind time being that flexible in my viewing menu, that's why we have DVRs.
It's been said that this time fluxing effect makes The Event look too much like Lost. Well, it's only a bad thing to copy an effect if you can't make it work for you. So far for me the confusion only serves to up the intrigue level.
I'm also reminded of another fan favorite, 24. Jason Ritter's Sean Walker seems to be more than just a poor sap looking for his lost fiancé. The dude has moves that would make Jack Bauer proud. There are enough implausible but fun action scenes that keep The Event pretty fast-paced.
So tonight, I want to learn why all the "dead" passengers on flight 514 woke up, if Sean and Agent Collier work together now that she might actually believe him, and see maybe if Sterling Blake is as slippery as he seems.
Glee: faithful(G)ly
In last week's episode, Glee walked the line between PC and WWJD. It started when Finn thought he saw the face of Jesus in a grilled cheese sandwich. So, he began to pray to "Grilled Cheesus" and certain things began to go his way. A cute and amusing series of events ensue when the rest of the class brings their own take on religion and spirituality.
Well, maybe at first.
When Kurt's dad suffers a devastating heart attack and cannot be roused from a coma, Kurt is stunned and begins to pull away from his classmates and their offers of prayers. As it turns out, Kurt does not believe in God. And he's not the only one.
The whole episode wrestled with the question of faith: faith in a God, faith in family, faith in friendship. Some, like Rachel, poured out their anxieties and support in song. She chose "Papa Can You Hear Me" from Yentl, a most bittersweet ballad about yearning for a father figure, Heavenly or otherwise.
Finn pounded out REM's "Losing My Religion" as he struggled with his own beliefs, while Kurt sang an absolutely astounding cover of The Beatles' classic, "I Want to Hold Your Hand," as his own way of hoping and pleading to have his dad back again, healthy and whole.
So, while the musical selections were extra poignant last week and of course beautifully performed, the interpersonal exchanges were fascinating. Rachel was shocked when as a Jew she heard Finn suddenly profess a faith in Jesus. Kurt and Mercedes also struggled in their friendship. But Mercedes, backed by her church choir, dedicated a gorgeous gospel rendition of "Bridge Over Troubled Water"to Kurt and his ailing dad. Then Kurt began to realize that maybe he didn't have to believe in God, but he could allow the support of his faithful friends, because he believed in his dad.
But the most surprising development was from Sue Sylvester. We saw more of her with her sister Jean, who she asks if Jean believes in God. Jean does, and she also adds, "God doesn't make mistakes." When Jean offers to pray for Sue, she actually accepts.
And at the end of the episode, all the kids performed "One of Us" by Joan Osborne while Will and then Sue watched in the auditorium. Did Sue feel the effect of her sister's prayers or the song about recognizing a Holy Spirit in all of us? It seems likely when Will asks if she'd going to turn him in to the school board, and she responds simply, "No."
This week should be very interesting as the group will be working on a duet assignment. And I wonder, will Sue "duet" (or maybe duel?) with her inner angel or her inner demon?
Fringe: bait and kill switch
Okay, so we know that Olivia has been stuck on the "Other Side" and her alternate counterpart, "Bolivia," is in our world trying to insinuate herself into the circle of trust between Peter, Broyles, Walter, and Astrid. She's not a very nice lady, this bad Olivia. She tries to set a seduction trap for Peter, and she offhandedly kills someone who could rat her out. A pretty nasty chick.
And our Olivia finally manages to escape her Walternate-imposed prison, makes friends with a trusting cabdriver, and then – wham – all of a sudden she's confused about her memories. She meets her mother, but is it really her mother? Her own mom is dead. And why is she getting Peter mixed up with Frank? (Frank is Bolivia's significant other.) It seems as if the painful treatments that she was receiving while locked up involved the transfer of memories from Bolivia to Olivia.
And now, who is this woman? Olivia now acts like "Bolivia," she's got the military swagger down, and the loose tom-boy bantering with Charlie and Lee going well, but she seems nicer? So, it seems that Charlie and Lee are mostly (but not entirely) convinced that it's "their" Agent Olivia, while of course Walternate and "Colonel" Broyles know the truth.
Broyles is not sure if this Olivia will not end up being a loose cannon soon, but Walternate explains that Olivia has a special trait, she can cross between worlds without harm. Naturally, this will aid their war efforts against the other side. Wait, I mean... our side. It all gets a bit hairy. And you thought The Event was compicated!