Quick Take: Melissa & Joey, "A House Divided"
What happens when neighbors cross the line?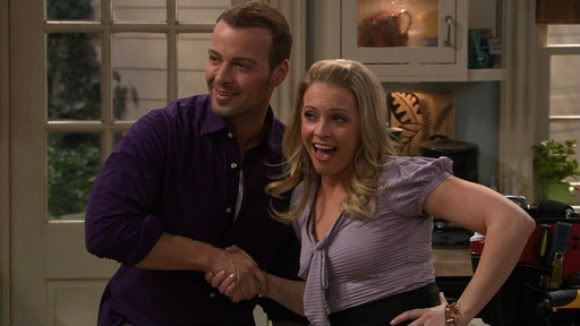 Review: Melissa & Joey, "A House Divided"
(S0128) So, you have neighbors, and you want to be nice to them, but do you really want to have a relationship with them? That's the question posed on this episode of Melissa & Joey.
Joe is going crazy with the neighbor's squawking bird. He has asked Mel to go over and speak to him but she refuses, saying the only communication she wants to have with the neighbors are friendly hand gestures. She feels that once you start talking to them you open Pandora's Box. She can be right to a certain extent, but, she's also wrong. Joe thinks she's crazy and tells her that there is nothing wrong with talking to the neighbors. She's not buying it. Mel reminds me of Ricky Ricardo's character from the episode of I Love Lucy when he adamantly tells Lucy not to get too chummy with the neighbors too quickly when they moved from the city to Connecticut.
The following morning the bird begins to squawk again and Joe ignores Mel's requests and goes over to visit the neighbor, Arnie. Arnie is being play by the familiar face of Cliff from Cheers, John Ratzenberger. Joe comments about the messy yard and learns that all of the items over there are actually Mel's. They were the items that were in her basement before Joe moved in. Who just deals with people's stuff in their yard like that? Here's Mel doing her best not to have any sort of connection with Arnie and yet she is using his yard as a storage area. Questions about the property line arise and Joe takes is upon himself to call a land surveyor to determine where the property line is. As Mel is relishing in the return of her three margarita makers the land surveyor comes in to report his findings. It turns out that Arnie's property line actually ends inside of Mel's home. Mel gets upset with Joe for opening up a can of worms. The surveyor tells her that in six week she can apply to have the land turned over to her since she has been using it as her known. Joe tells her that she will have to learn to be nice to Arnie so that he won't contest her request. That's a hard pill for her to swallow.
When Mel comes home from work the next day Arnie is there. He stopped in for a beer and ultimately ends up staying for dinner, with his python (YIKES!). While they are sitting down in the dining room he comments that he should seat in a certain seat since that part of the house is actually on his property. Turns out he hired his own surveyor. Mel ends up hiring a lawyer and Joe continues to tell her that she's handling the whole situation wrong. He's right, when it comes to dealing with neighbors sometimes you just have to bite the bullet and be nice. If you plan on living somewhere for a while there are certain things you are just going to have to get used to, but not a squawking bird. That's just way too disrupting. While Mel is talking with her attorney Arnie comes rushing over and tries to get her attention. She ignores him and Arnie ends up extinguishing a fire in the garage that Ryder started while he was working on a school project. Mel has a change of heart, she admits to not being the best neighbor and thanks him and shakes his hand. As it turns out, Joe was right, as usual, it's best to be neighborly with the neighbors. Although, I am not sure Arnie is the type of neighbor anyone would want. He's really into exotic animals. In his last shot of the episode he invites Mel and Joe over for a baby-shower for his tarantula.
Meanwhile, Ryder is working on a PSA video warning of the dangers of texting and driving for a class project. He recruits the quarterback of the football team, Miller, and Lennox, who begrudgingly agrees to do it after Joe blackmails her, to star in it. It wasn't that Lennox didn't want to help Ryder out; she just didn't want anything to do with the Miller because he's a jock. Once they get to working on it though, Lennox and Miller can't stop flirting with one another and Ryder ends up firing Miller because he wants to change the concept of his video. That was bound to happen. Ryder ends up hiring Joe to be in the video. Ultimately he gets an A on the project and a weekly meeting with the school counselor since it was a bit too graphic and morbid. He definitely succeeds in getting his point across.