Quick Take: Melissa & Joey, "Do As I Say, Not As I Did"
Jumping to conclusions... Not a good thing.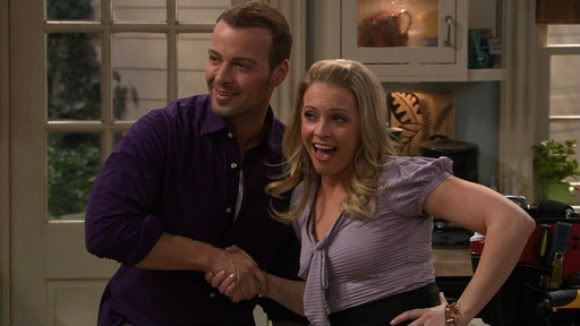 Review: Melissa & Joey, "Do As I Say, Not As I Did"
(S0129) This episode was all about the kids, Lennox and Ryder, and thankfully the storylines were strong enough to carry the entire episode.
As Lennox is modeling the dress she will be wearing to her school dance, she asks Mel for advice as to what shoes she should wear. She gives the best answer, the ones that are the most uncomfortable. Speaking from experience those are the ones that usually look the best. As Lennox is going over her plans for the evening of the dance she thanks Mel for allowing her to go to the all night party that will be following it. This instantly grabs Joe's attention. He doesn't think it's a great idea and tells Mel that she has basically given Lennox a blank check for sex. Mel responds by saying that she knows that Lennox isn't ready for sex, but Joe is quick to point of that you need to be more concerned about the boy, Brendan, than Lennox. As the evening of the dance approaches Joe confronts Brendan to find out what kind of dancing he likes. Thankfully Brendan responds by saying fast dance. That doesn't prevent Joe from toying with him and saying he's going to punch him in the face though.
On the day of the dance, Mel goes out to do a last minute errand for Lennox. She's at the drugstore buying her lipstick when lo and behold guess who she sees buying condoms... Brendan. She races home to confront Lennox and unfortunately she's not there, she's out getting waxed. Of course her and Joe jump to the wrong conclusion. Mel blows her opportunity to speak with Lennox when she takes too long to get to her point and work related issues interrupt her. Lennox is left thinking that Mel was trying to talk to her about the pressures of underage drinking and not sex.
Of course no comedy would be complete without a few misunderstandings. So, when Lennox is on her way out and Joe asks her if Mel had a chance to speak with her and she says yes, he thinks all has been resolved. When he learns it's not though he takes matters into his own hands and goes to the all night party to confront Lennox. I must say the conversation between him and Lennox is quite sweet. Joe may have just moved into the house as a means to have a place to work and live, but he has really come to care for the children of the man who ultimately destroyed his life. And by the way, Lennox only had her eyebrows waxed.
I am happy to say that Ryder has finally grown a backbone to his controlling girlfriend, Holly, and it was definitely to his advantage. Ryder and Holly ask another girl, Charlotte, to join their study group and once Holly sees that Charlotte is paying a little too much attention to her man she tells Ryder that he needs to kick her out of the group. Ryder decides not to do this and continues to study with Charlotte behind Holly's back. Holly walks in on them one day and she is quite upset. Ryder speaks with her and tells her that Charlotte is good for their group and that she will help them get better grades. Holly buys it. In the final scene of the episode Holly brings Ryder banana bread and he tells her to put it next to the muffins that Charlotte made him. Of course she didn't make them, Joe did. Mel & Joe are quick to say that Ryder can no longer have girls in his room since he's starting to learn how to manipulate women.