Quick Take: Merlin, "A Servant of Two Masters"
Merlin and Morgana fling magic at each other.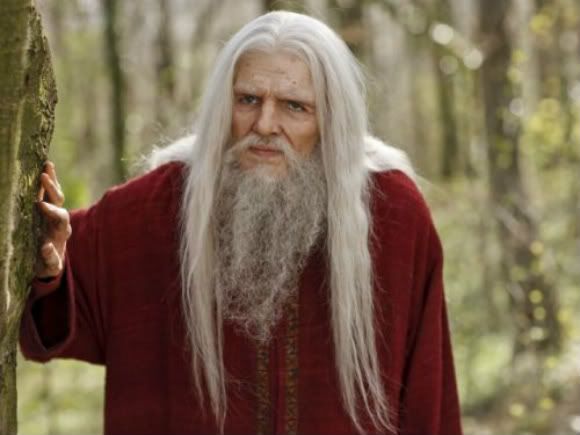 Review: Merlin, "A Servant of Two Masters"
(S0406) It's amazing how simple Merlin really is. It's a very episodic show, and not a complicated one at that. You start an episode late and still understand what's going on by the second or fourth act. This simplicity works to the series advantage because it allows the audience to pick up the show at any time and enjoy the characters.
Merlin (Colin Morgan) finds himself captured by Morgana (Katie McGrath) after Arthur (Bradley James) saves him. Morgana, being the evil witch she is, decides to use this to her advantage and puts a piece of a CG snake in his neck to brainwash him into killing Arthur. This plot sounds badass, but is actually comedic in execution. Gaius (Richard Wilson) and Guinevere (Angel Coulby) act like Looney Toon characters to thwart brainwashed Merlin from killing Arthur.
This leads to some cute scenes but it might disappoint audience members who were expecting a more sweeping series of events. Arthur's search for a potential traitor in his kingdom is a more intriguing plot. Arthur begins to suspect Agravaine (Nathaniel Parker) as the traitor but Agravaine is quick to point to Gaius. This little twist of logic will probably return in a future episode. Meanwhile, the plot grows more action-oriented in its latter acts when Gaius tells Merlin that the only way to cure the brainwashing is to kill the mother beast.
This leads to an 80-year-old Merlin facing off against Morgana in a duel of magic. This, without a doubt, is one of the better magic fights in the series. The only awkward part was seeing Morgana wrapped up in a CG tornado. Very awkward indeed. Overall, the story is satisfying, and if you look at fan polls this episode is regarded as one of the best in Season Four. So sit back and enjoy the magic flinging.