Quick Take: Merlin, "Aithusa"
Merlin must save the last dragon egg in existence.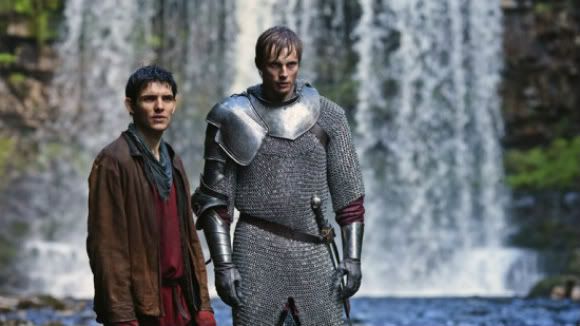 Review: Merlin, "Aithusa"
(S0404) I always find BBC and SyFy's gracious use subtext to be gratifying. It often means that they are willing to try new things and at the same time jump into larger scale plots. What's disappointing is how the plots are generally "slow" or "safe" in execution. Merlin currently aligns with the former.
The beginning of this series spends a lot of time on setting up future story arcs. Outside of the passing of Unther (Anthony Stewart Head) the series isn't jumping into large scale conflicts yet. For now, the season is working on small elements that will snowball later on. For example, having Merlin (Colin Morgan) father a dragon.
The story starts out with Julius Borden (James Callis)- who can only be described as the world's only dragon abortionist- revealing to Gaius (Richard Wilson) that there is one more dragon egg in the world. This thrills Merlin, but Gaius tells him not to trust Julius. Merlin, being the dragon-hugger he is, decides to retrieve the dragon egg despite Gaius's warning. Arthur (Bradley James) has sworn to wipe out all dragons. Merlin uses this draco-phobia of Arthur to lure him to the dragon egg's resting place.
Unfortunately, Gaius is correct about Julius and things go to hell. The entire plot stinks of cheesy moments, but not in the bad way. The story contains numerous instances of homoerotic tension between Merlin and Arthur. Fanboys and fangirls will particularly squeal when they see Merlin calm a poisoned Arthur by pressing on Arthur's chest with his magical hands. The story just amps up the cheese level with Merlin naming the new albino baby dragon a homey (yet scary) dragon tongue-name. The white dragon is adorable, but has scenes strictly to himself for some odd reason. Merlin's dragon friend acknowledges that the white dragon symbolizes the kingdom he and Arthur will create. Wait, isn't it Arthur and Guinevere's kingdom?
You know the writers are having too much fun with the whole Arthur-Merlin subtext. But then again, why is anyone else watching this show?