Quick Take: Merlin: "The Wicked Day"
A tragedy befalls the legendary kingdom of Camelot.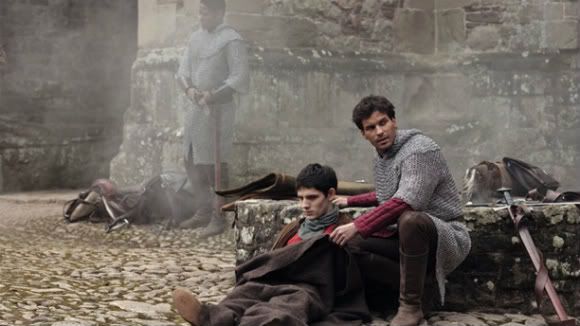 Review: Merlin: "The Wicked Day"
(S0403) We all saw it coming. When a series is based around (King) Arthur and his inevitable ascent to the throne, you know that at some point his royal daddy has to die. Unther Pendragon (Anthony Stewart Head) finally passes on and now Prince Arthur (Bradley James) must take the thrown. What's fun about all this death -- if you consider death fun -- is how we reach the point of Unther's death. Allow me to explain.
Make no mistake: there is no such thing as a "surprise" on SyFy channel. Trailers leading up to the premiere of "The Wicked Day" practically screamed "Unther is going to die!" Cue the marching Anthony-Stewart-Head-worshipping munchkins. For this reason, everyone knew what to expect. So, unfortunately, you can't grade this week's Merlin adventure based on originality. You can, however, assess it based on execution.
The pace between the two primary stories, Morgana's (Katie McGrath's) plot to kill the king and Prince Arthur's pursuit of magic to heal him, are handled well. The hanging moment where Merlin (Colin Morgan) tries to cure Arthur's father is surprisingly tense despite the predictable outcome. Morgana still lurches in her lair waiting for the opportune time to strike Camelot and during this free time she seems to be enjoying dark enchantments and awkward sexual tension with her mole. It's tiring to see Morgana stay in her lair all the time. All this moping she does better lead to an astounding final battle with Merlin, otherwise it's just wasted scenes that fail to provide any dramatic buildup.
To counteract all the tension is humor. Merlin decides to dawn his "old man" disguise and takes full advantage of it by making Arthur wait on him. This character interaction delivers some laughter and it doesn't ruin the emotional weight of the drama. The Adventures of Merlin is one step closer to emulating the Arthurian canon. Let's hope next week's episode is equally dreary.