John Hamm's role in Ben Affleck's (relatively) new bank heist movie, The Town, seems to have flung open the floodgates, with two other Mad Men actors recently cast in feature films.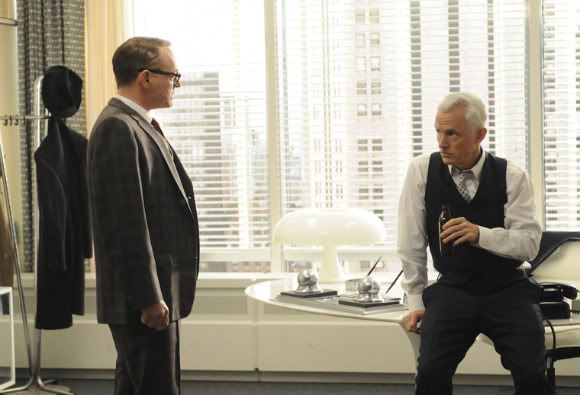 Yesterday, news broke that the ever-so-damned-dashing Jared Harris (Lane Pryce) will take on the role of Professor Moriarty in Guy Ritchie's upcoming Sherlock Holmes sequel. The decision to cast Harris came after Ritchie apparently considered a host of big name Hollywood actors for the role including Daniel Day-Lewis, Sean Penn, Javier Bardiem, and Brad Pitt.
On the heels of the Jared Harris report, sources are reporting that fellow Sterling Cooper Draper Pryce employee Vincent Kartheiser, who plays Pete Campbell, will star in a yet-to-be-titled film directed by Andrew Niccol (Gattaca, The Truman Show). Alongside Kartheiser will be Amanda Seyfried and Justin Timberlake. Variety describes the movie as a "thriller about a society where no one ages beyond 25, except for those rich enough to buy time... Kartheiser plays the father of Seyfried's character, who is forced to choose between the daughter he loves and the oppressive time system that has made him rich. Variety then goes onto note that, "The storyline follows a rebel from the ghetto (Timberlake) who is falsely accused of murdering a wealthy man for his time, and goes on the run with a beautiful hostage (Seyfried)." Sounds a little weird, but I am certainly intrigued.
And speaking of weird and intriguing, check out The Root's Mad Men Black-People Counter, which counts... well, you get the idea. Tally on Episode 10, "Hands and Knees": one (Toni, the Playboy Bunny who is Lane's girlfriend).