Quick Take: Most Eligible Dallas, "Pony Up"
"Whatever happens at the lake, stays at the lake." – Courtney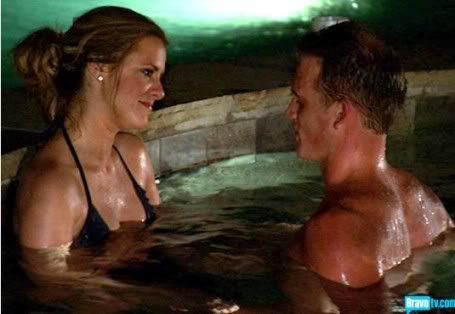 Review: Most Eligible Dallas, "Pony Up"
(S0108) We can all agree that the entire vapid first season of Most Eligible Dallas has played out like seven hours of foreplay between Courtney and Matt, right? The boring adventures of Tara, Glenn and Drew, and especially third wheel Neill have all just been lackluster diversions used to build the sexual tension between catty Courtney and playboy Matt... which finally gets a pay-off tonight.
Don't get me wrong, I could care less of these two finally get together. Their infantile behavior all season assures me they deserve each other. And I don't care if they're "awesome" people in real life; on this show they've been shallow, petty and narcissistic all season long with or without one another. I can't imagine at this point in their lives that either would know how to build a caring, equal partnership without playing games so there's a whole lot of romantic editing in the season finale that rings very hollow.
Since Courtney and Matt are the focus of this season, let's just burn off the others first. Glenn gets picked up by Oakland for the football season so he sees a little providence in that setup considering his flame Rebecca lives in San Francisco. He decides to pack up his Dallas life and head up to his new job early to "train" and see Rebecca. At one last gang dinner, he spills that's he's leaving the next day. Pretty underwhelming storyline for Glenn all season. He ate, worked out, modeled and saw his girlfriend. Riveting.
Tara gets wined and dined by Jody at a local gas station that also fronts a five-star restaurant inside. He thinks it's a fun date but Tara isn't pleased about passing the Funions and the 40s to get to her Saturday night dinner. Maybe with a more down-home-gal, this would have been a fun date. But Tara's an up-town girl so she heads to the bathroom to call her gay bestie, Daylon, to bitch about it. Back at the table, at Jody's prompting, she admits that her flaw is the fact that she's stubborn and unforgiving. Hmmm, foreshadowing? You can't help but wonder as she tells the camera that she thinks there is a future with Jody and she keeps herself open to love even when she's been hurt. Of course, Courtney doesn't like Jody much and her radar is right this time because in the very last moments of the episode, Tara calls her and reveals that she just found out that Jody is still married. Betrayed and whirling, Season One closes with that new drama.
Speaking of drama, elsewhere Drew calls Cody to ask him to dinner. Still estranged because Drew cheated on him, Cody is now relocating to NYC. Seeking his own closure, Cody agrees to see Drew. At a restaurant, it's super awkward between the two until Drew admits, "I was an idiot and I made a mistake. I love you with all my heart." That makes Cody crumple and tear up as he says that doesn't change anything. He feels like a fool and "the happy ending in my head is gone." Unable to bear anymore, Cody leaves a stunned Drew for good. Sobbing, Drew calls Tara and Daylon and they meet him to hear his sob story. I would have felt a lot more sympathy for Drew if he just kept his mouth shut and cried. Instead he moans that he's always so close to having happiness only to have it yanked away from him. Hmmm, Drew. I think you're happiness was yanked away when you decided to French that guy that wasn't your boyfriend literally behind your boyfriend's back. I think that's why you are in your current pickle. Just like everyone else on this show, Drew's going to need a big dose of "Grow up!" before he gets his life in order.
Neill gets a little coda with her band, Kitty Layla as they perform for the first time in Dallas. The whole gang, that kind of knifed her in the back all season long, show up to support her. I don't think Neill was that into them showing up and who can blame her. She's got a good voice so hopefully that takes her far, far away from these people.
And that brings us back to Matt and Courtney. He takes her away to the lake property his family is planning to build on near Dallas. No one has been there outside of the family unit, so it's a big deal that Courtney gets visit with the suddenly dewy-eyed, smitten Matt. He says he feels safe with Courtney. Okay.
They go horseback riding to the plot of land and sit by the lake, cuddled up. After dark, they build a campfire and makes S'mores that are licked off one another's lips. That's a little more than "friends," no? In the Jacuzzi back at the Inn they are staying at, he finally makes his move and it sets off a whopper of a make-out session. They've got a soul-stare thing going and both admit to the camera that it was impressive. At her room, Matt pushes her up against the wall for another round and then separate. Inside her room, Courtney is all smiles and giggles. The next morning, they head back to Dallas and all seems well and nothing is awkward.
Later at Neill's concert, the gang can see something has changed between the BFF's and the sparks are now amped up. Matt won't fess up to Glenn, but Courtney admits but downplays the lip-lockage to Daylon and Tara. As the band starts, Matt and Courtney roam to the backstage area for another make-out session. At episodes end, Courtney admits that she's not sure what will happen or where Matt will fit into her life now post-snoggage. She seems ambivalent and knowing Matt as she does, that's probably the wisest call. Rumors are that Matt is now dating Real Housewife widow Taylor Armstrong so whatever game Matt was playing at the lake is just more of his kiss and run M.O. Have these people grown or learned anything in this season of eating, partying and being selfish? I don't think so. I just know I've learned that I'm glad to get a break from all of them.