Quick Take: MythBusters, "Paper Armor"
"Immensity brings joy." - Jose Marti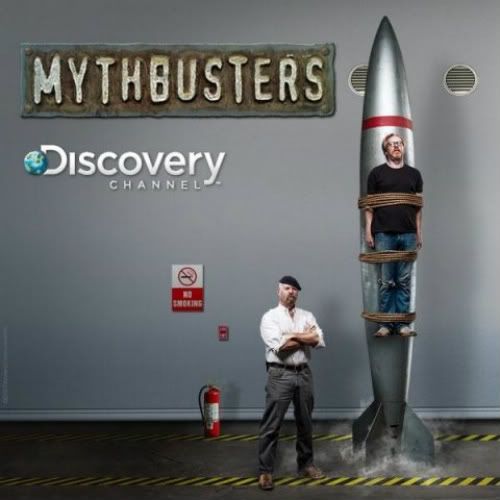 Review: MythBusters, "Paper Armor"
(S0911) MythBusters is not the type of show that generally gets reviewed. It has no characters and it has no story, but that doesn't mean it is a show without content that can be assessed for success and enjoyability. The show has been chugging along since 2003, and not long after that it found a groove that it has rocked for years now. Early on the cast and formula would get tweaked occasionally, but it would seem they've locked into a version of the show they feel works, and with good cause.
In every episode, Adam Savage and Jamie Hyneman take on a myth, or a set of myths, and then Tory Belleci, Kari Byron, and Grant Imahara work on a myth of their own. Everybody has their niche, and both groups have their dynamic. Jamie plays the stonefaced straight man to the goofy and exuberent Adam, while Grant, Kari, and Tory all act silly pretty much equally, with Tory taking the brunt of the physical beating of the trio. Each cast member is funny in their own way while also intelligent, insightful, and engaging as television personalities. Combine that with interesting experiments pretty much every week on a well constructed show, and you get one of the best shows on television if you have even any interest in the science of skepticism.
"Paper Armor" is MythBusters' last before going on a hiatus of an unknown length (hat would be the one issue with the show, in fact -- its erratic scheduling). Adam and Jamie tested whether or not floating on your back on the surface of the water during an underwater explosion is safer than being underwater or even treading water at the surface. Grant, Kari, and Tory meanwhile tested whether or not paper armor, evidently in use in China as early as 600 BC, could stand up to the steel armor of a similar era.
After some testing, Adam and Jamie took their experiment full scale, which of course meant explosions, perhaps the most popular element of the show. As Jose Marti once wrote, "Immensity brings joy," and the popularity of Mythbuster's "big booms" certainly speaks to that. However, these were the kind of explosions that are worth while, as they have scientific merit to them.
While the underwater explosion safety myth was interesting enough, the paper armor myth was far more engaging. The trio put it to test by first comparing one's mobility in steel armor and paper armor. Seeing something like a paper suit of armor brought to fruition is one of the great joys of this show. They tested a person's speed, endurance, and agility while wearing both a steel suit of armor and then a paper suit of armor with the help of an obstacle course. This was certainly the funner of the two myths, as the armor gave the trio plenty of chances to goof around and look silly in their outfits, and there was plenty of room for interstitial scenes where they practiced their kung fu movie moves as well.
It wasn't an all-time great MythBusters episode, but it was still really good, as most episodes tend to be. If you are the kind of person who likes a show like this, you are rarely going to be disappointed. It's the pinnacle of its genre, and it shows no signs of slowing down. They still have plenty of myths to bust, and neither group has lost their chemistry nor their charm. It would seem Mythbusters won't end until the hosts decide they want to do something else. Until that day, whenever there is a new episode, you can pretty much bank on being entertained and informed.