Quick Take: Once Upon a Time, "Broken"
"Can we do everything later, like with a glass of wine? Several bottles." – Emma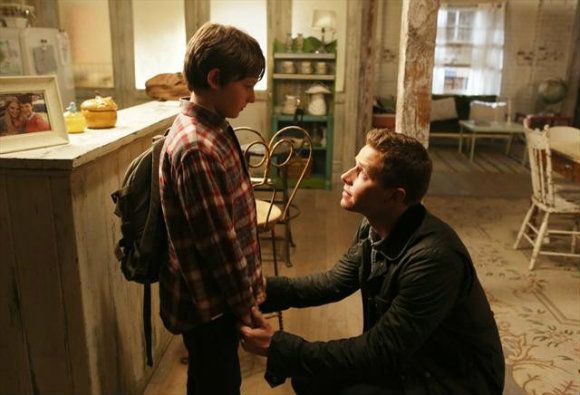 Review: Once Upon a Time, "Broken"
(S0201) Once Upon a Time is back and it looks like this go round will deliver more mystery and magic than the first season did. "Broken" opened not in Storybrooke but in New York City, where a mystery man was followed from the streets of the city to his apartment where, while he was standing at his window, a white dove delivered a Storybrooke postcard with the word 'broken' written on it. Who is this mystery man? It is not revealed but a few theories about his identity come to mind.
In fairy tale land we meet Prince Phillip and a companion who have found Sleeping Beauty and he awakens her with true loves kiss. The only problem is she awakens to a waste land and a soul sucking wraith that is trying to kill them. The wraith sucks the soul from whoever bears a mark on their hand; a mark that is left by a pendant and is now upon Phillip's hand. The companion is revealed to be Mulan and she urges the couple to move on from the place that they are at.
Back in Storybrooke, mother, father and daughter are reunited when Emma finds David and Mary Margaret. She seems not that into their reunion and has a lot of questions. If it were me, I would feel weird about my parents being the same age. Making it weirder is Henry calling David grandpa. They don't really have time to catch up as a mob is headed to Regina's house to demand answers. Henry doesn't want harm to come to her and the four of them stop the crowd from killing her. Dr. Whale is leading the charge and they want to know why they weren't sent back to their original land. She is instead taken to the jail and locked in a cell.
After dropping Regina off at the jail, the foursome then head to Mr. Gold's, not knowing that he is lurking in the shadows of the sheriff's office. He definitely wants vengeance after realizing that Regina had Belle this whole time. He promised Belle he wouldn't kill Regina, so he chooses a fate worse than death and sets the wraith upon Regina by marking her hand with the pendant. It really isn't explained how Mr. Gold has the pendant, when it is also in the possession of Phillip.
Emma finds Mr. Gold and wants to know why he betrayed her. He says that they should throw him a parade because Henry is alive and the whole family has been reunited. Outside, the sky turns black, a storm ensues and the earth shakes. He tells the gang that a force has come to take care of Regina and they rush to her defense not wanting to go against Henry's wishes. They keep the wraith away with fire, but know it will come back.
Regina reveals that she has had Jefferson's hat and her exchange with Emma makes me wonder if Regina had any idea about Emma and Mary Margaret's encounter with Jefferson. They try to get the hat to work so they can send the wraith to a different world. While they are fighting the wraith, Phillip is also fighting it in fairy tale land. Phillip had made the decision to go off alone, not wanting to put Aurora or Mulan in danger. They follow Phillip into the forest and Mulan urges to have the mark put on her instead. The wraith shows up and unfortunately for Phillip, he loses his battle and had his soul sucked from him. This scene was pretty good with the two stories intertwining as the characters battled the creature in the two different worlds, at what seemed like the same time.
Regina realized that even though magic was back, hers wasn't working. It wasn't until Emma touched her that the hat started to spin. The wraith was sucked into the portal, but dragged Emma down with it. Mary Margaret followed them, not wanting to lose her daughter again. As David tried to do the same, the portal closed and he landed on the floor of the jail. David demands that Regina brings them back, but she has no idea where they went. Her powers all of a sudden come back and she strangles David with vines that she conjures up. Henry and Red come just in the nick of time and Henry tells Regina to leave him alone until she finds a way to bring both women back.
Mulan and Aurora take Phillip back to the place that Aurora had been laid to rest. Mulan admits to Aurora how much has changed since she had been asleep. She explains the curse and how they have been stuck in time and then gained the ability to move again, probably about the same time that Emma came to Storybrooke. She tells Aurora about a place that people have been hiding. As they go to leave, they find Emma and Mary Margaret beneath some rubble and Mulan says that they are the ones responsible for the wraith.
This premiere was fantastic and brought some exciting storylines to the fold. As for the new guy, my hunch is he is Rumpelstiltskin's missing son, Baelfire. It will be interesting to find out who the people are that have been stuck in fairy tale land and to see how much of an impact Emma and Mary Margaret will have on them. There are still many questions, such as who Dr. Whale is, what happened to Pinocchio and the time frame of the two worlds, but I think they will be answered in due time. The previews for the season looked really good and I don't think they will be any sophomore slump for Once Upon a Time.