Quick Take: Once Upon a Time, "Queen of Hearts"
"Congratulations. You just reunited mother and son. Maybe one day they'll even invite you to dinner." – Mr. Gold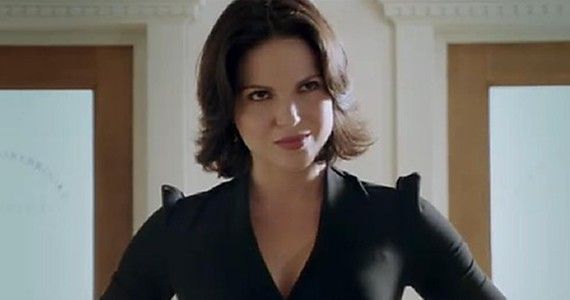 Review: Once Upon a Time, "Queen of Hearts"
(S0209) Just when things are getting really good, they have to pull the "winter finale" card on us! Lots of exciting things happened during "Queen of Hearts" and hopefully when the show returns in January 2013, the second half of the season will keep the trend going.
In the fairy tale past, Hook wants his revenge on Rumpelstiltskin and goes after Belle to get it. He breaks into Regina's castle to find her, but once she tells him she doesn't know how to kill Rumpel Hook tries to kill her. Regina stops him and tries to offer something better. She tells Hook of the curse she is about to unleash and the land they are going to doesn't have magic, enabling him to kill Rumpel without needing a special weapon to do it with. All Hook has to do is go to Wonderland, kill Cora and bring her back to Regina. She even enchants his hook so he can take Cora's heart. If only it could be that easy!
Regina uses Jefferson's hat to transport Hook. He lands in Wonderland to discover that Cora is the Queen of Hearts, no surprise there, and she is immediately suspicious of him. He tries to take her heart, but we learn that Cora keeps it somewhere else just in case of mishaps like this one. Cora turns it around on Hook and decides he will take her back to Regina so she can take her heart instead!
When Hook brings Cora back, Regina confesses to what she thinks is her dead mother that she does indeed love Cora and that she doesn't want to take her to Storybrooke. She thinks that Cora is her weakness and doesn't want to be weak when all of her plans take place. Regina leaves without Cora killing her. Hook asks Cora what changed her mind and she replies that a time will come when Regina will need her. Cora decides to shield a part of the fairy tale land from the curse where she and Hook will wait it out and go to Storybrooke when the time is right.
In present day fairy tale land, Mulan, Aurora, Snow and Emma search Rumpel's cell where they were told was a bottle of ink that could help them, but they find nothing but a piece of parchment with Emma's name written all over it. Aurora shuts the cell gate on them right as Hook and Cora come calling. When the girls question Aurora, Cora reveals that she has Aurora's heart (now we know how Hook could have taken it) and they take the compass. While Emma is having a pity party about not being the savior she was meant to be, Snow realizes that the ink on the parchment is the answer. She blows on the paper and the ink magically opens the door.
Hook and Cora make their way to the lake that restores objects and even though it is dry she conjures water out of the ground. Hook pours the wardrobe ash into the water and a portal appears. Emma and Snow get there in time and a battle ensues. I like both of these women better when they are kicking butt and Emma fighting Hook only made me want them to get together even more.
Amidst the fighting, Hook for some reason feels generous and gives Aurora's heart to Mulan and they tell her to go back to Aurora. When Emma bests Hook at swords and gets the compass, she moves on to help Snow with Cora. When Cora reaches for Snow's heart Emma jumps in her place, but Cora is unable to take Emma's heart. A blast of magic from Emma sends Cora flying. Emma grabs Snow and they plunge into the portal. Mulan goes back to the cell and gives Aurora her heart back. They set off on a quest to find Phillip's soul. Cora thinks they are defeated, but Hook shows her the magic bean he took from the giant. He throws it into the lake, giving them a way to get to Storybrooke.
Finally, in Storybrooke, David is still under the sleeping spell and Mr. Gold reminds Regina that they both don't want Cora coming through the portal. They decide to set a trap with the possibility that it could kill whoever is trying to get through. Regina agrees, but lies to Henry about what they are doing. She definitely hasn't really changed since it doesn't take much to revert back to doing something bad. Her fear of Cora must be pretty big if she is willing to let Emma and Snow die.
When Grumpy shows Red that all the magic has been stolen from the mines, they go to Henry to see what is going on. Henry realizes that Regina lied to him. He and Red set out to stop Regina and Gold. At the well, Gold uses the magic to summon a scary lightning storm to seal the opening of the portal. When Henry gets there, he pleads with Regina to stop. He tells her to believe in him when he says that it will be Emma coming through the portal and this is the chance to show that she has changed. Regina then tries to stop the magic, but is too late. They all think whoever was there is dead, but then Emma's hand appears. Everything is now almost right in the land of Storybrooke.
At Gold's shop, Snow wakes David up with true l+ove's kiss and they have a happy reunion. Emma takes Gold aside and asks if everything about her was planned by him. When she tells him about her burst of magic, he says that she did that all on her own because she is a product of true love. When they all leave to have dinner together, Gold taunts Regina that maybe one day she will be invited too. The hour ends with Hook and Cora coming upon Storybrooke in his ship.
This episode was one of the best of the season, even though it had a few minor glitches. I didn't really understand why Regina didn't ask for Cora's heart or check to see if she was really dead. And I didn't understand how Cora knew so much about the curse and the fact that someone would come along later to break it. How did she know so much if she has been in Wonderland this whole time? I do think that the whereabouts of her heart will come into play at some point. I have been waiting for Cora and Hook to come to Storybrooke and it is a bummer that we have to wait five weeks to see what is going to happen next! I think this will spice up the show a little more and I am glad we don't have to keep bouncing back to the present day fairy tale land. Mulan and Aurora's quest could definitely be put on the back burner, mainly because I am disappointed in both characters. 'Once Upon a Time' will return on January 6.