Quick Take: Once Upon a Time, "The Crocodile"
"Magic has become a crutch that I can't walk without." – Rumplestiltskin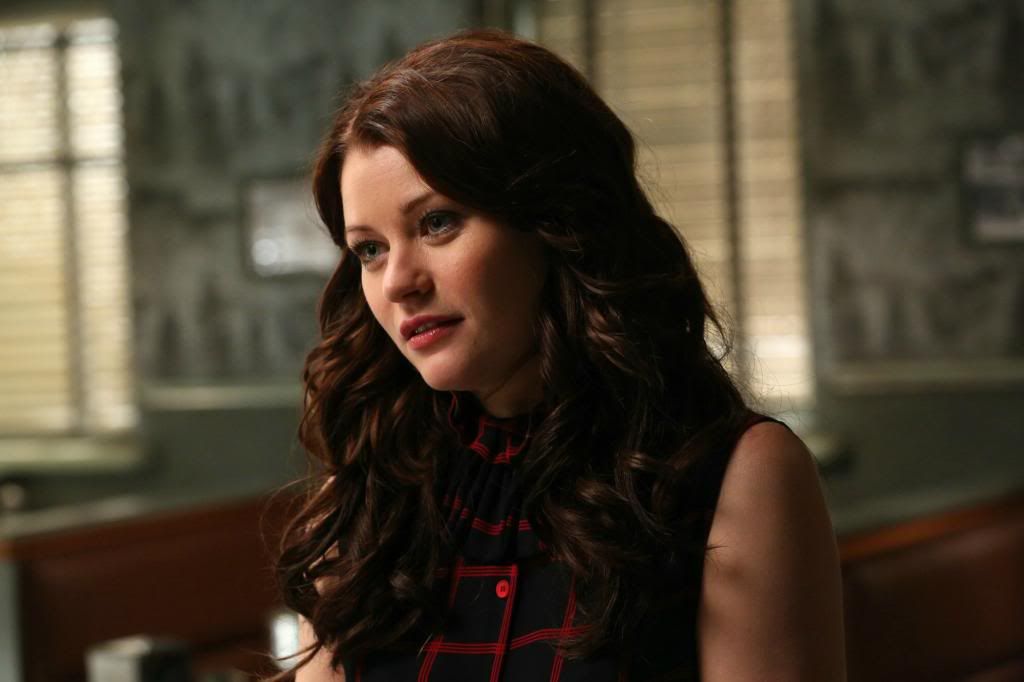 Review: Once Upon a Time, "The Crocodile"
(S0204) I felt a little let down this week as Captain Hook made his debut in "The Crocodile." Although I did like the story of Hook, I felt that the hype of his arrival made me have too high of expectations.
Captain Hook makes his first appearance in the town where Rumplestiltskin and his wife Milah lived. Rumple comes home to find his son Baelfire all alone and tracks Milah to a tavern where she is enjoying the company of pirate Killian Jones. Rumple wants her leave with him, but it takes the mention of Baelfire to get her to say yes. The next day Rumple is alerted that Jones took Milah and he goes to the pirate ship to get her. Jones offers Rumple a duel to win her back, but Rumple cowers and lets Milah go.
The next time Rumple and Jones meet is sometime after he has become the Dark One and after Baelfire's disappearance. Rumple meets Smee in a tavern where Smee offers Rumple a magic bean that is a portal, assuming that Rumple wants it to find Baelfire. In that same tavern is Jones and his crew. When they leave the tavern, Jones bumps into a man and calls him a 'crocodile'. Rumple reveals himself and after Jones says that Milah is dead, Rumple wants their duel.
At dawn, they meet and when Rumple is about to pull Jones' heart from his chest, a very much alive Milah stops him. She offers him the magic bean for their lives. They meet on Jones' ship the next day and she admits that she never loved Rumple. She left him and Baelfire because she wanted a better life. Rumple pulls Milah's heart from her and when Jones refuses to give Rumple the bean, he chops off his hand. Rumple returns home with the hand to find it empty. Jones, now with a hook for a hand, had the magic bean all along and he uses it to go to Neverland.
In Storybrooke, Belle is having a hard time adjusting and has a bad dream that Rumplestiltskin hasn't changed. Well, duh Belle. When she wakes and he isn't in their room, she goes to find him and sees him doing magic in the basement. They have an argument in the morning and she later disappears. This whole time Belle has not even been outside of Rumple's home so she decides it is time to take in the town. She ends up at Granny's where she makes friends with Ruby and enjoys her first iced tea.
Rumple goes to look for her and starts with the flower shop where Belle's father, Moe, works (kudos to the writers for naming the shop A Game of Thorns). Moe denies knowing where Belle is and is happy that Rumple doesn't know either. He then enlists the help of Charming and Ruby to locate Belle, which Rumple asking Charming for advice on relationships was probably one of my favorite moments of the episode. Charming tells him that "There's a difference between literal truth and honesty of the heart. Nothing taught me that more than this curse."
Belle heads to the library after Ruby tells her that it needs a new caretaker. When she gets there, she is approached by a stranger, which is Smee, and kidnapped. She is brought to father and she explains to him that she chose to be with Rumple. Her father decides to go to plan B, which is to transport her across the border through the mines so she will forget about Rumple. Charming, Ruby and Rumple are led back to the flower shop and figure out what is going to happen to Belle. They rescue her just in time, but she still wants nothing to do with Rumple and now doesn't want to see her father either.
Ruby is helpful to Belle and gives her a place to stay, plus introduces her to pancakes. After everything that has happened to her, the girl deserves at least some kind of happiness even if it is just a good breakfast. The key to the library is delivered to her and when she goes to have a look, Rumple reveals himself to be the one to give it to her. He explains he brought magic back because he is trying to figure out a way to leave the town to find Baelfire. He admits his faults and is sorry. After his honesty, Belle invites him to have a hamburger with her.
Rumple later finds Smee and asks him where his captain is. Smee isn't sure what happened to Hook when the curse hit. In present time fairy tale land, Hook is meeting Cora on the beach. She shows him the ash from the wardrobe and tells him their destination is Storybrooke where she (Regina) and he (Rumplestiltskin) are.
"The Crocodile" felt like an episode of Lost with the ending leaving me with more questions. How does Hook know Cora and did Baelfire go to Neverland or to our world? There are still too many pieces of the puzzle missing. With Hook, I felt like something was off. He wasn't as edgy as I thought he would be and I have to admit that I was hoping for an accent. No doubt he is easy on the eyes, but a part of me wishes they had left Sheriff Graham in the role of resident hunk. Hook being tied to Rumplestiltskin was a good choice though and I can't wait to see their confrontation. And although a little odd, I have come to like Belle and Rumple's relationship. He obviously loves her, but it will be interesting to see if he ends up choosing power or her sometime in the future because you know that choice will come sooner or later. Next week we will get more Sebastian Stan and will finally learn the identity of Dr. Whale.