Quick Take: Once Upon a Time, "The Doctor"
"As long as you live in the past, you'll never find your future." – Rumpelstiltskin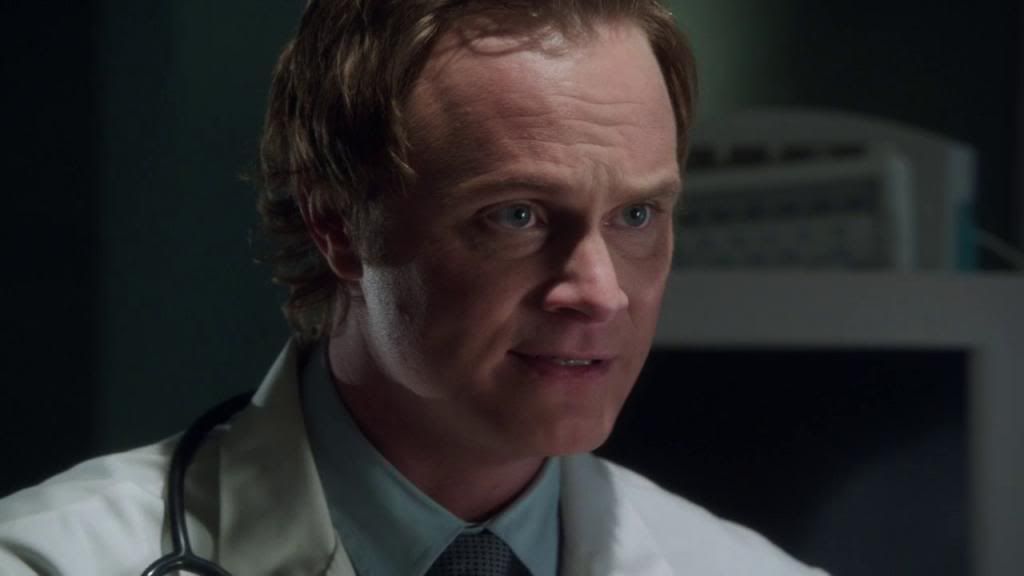 Review: Once Upon a Time, "The Doctor"
(S0205) "The Doctor" finally reveals the identity of Dr. Whale, the ladies of fairy tale land meet Hook, and we learn how Regina became evil.
In present fairy tale land, Emma, Snow, Aurora, and Mulan come back to their safe haven to find it has been destroyed. The bodies of the victims have had their hearts ripped out and Snow realizes it was Cora who did the damage. They find one survivor in the rubble and it is none other than Captain Hook, although he lies about who he is. He tells them a false tale on how he survived the massacre and Emma is quick to not believe him. They tie him to a tree and when Emma gets the attention of some ogres, Hook identifies himself for real. After seeing Emma and Hook together, I am definitely rooting for a romance!
He tells them he is suppose to get information from them for Cora and discloses that she has ash from the burnt wardrobe. He wants to help them get to a magic compass, which needs to be used with a new portal, before Cora does and get them all back to Storybrooke. Emma asks him why he wants to help them and he says he wants revenge on the man who took his hand, Rumpelstiltskin. They agree to the plan and he leads them to a rather tall beanstalk that they need to climb in order to get the compass.
In past fairy tale land, Regina is having a hard time learning to use dark magic and refuses to pull the heart out of a unicorn to control it. Rumpelstiltskin gets it out of her that she wants to learn magic to bring her love Daniel back to life and tells her that no amount of magic can bring back the dead. Jefferson happens to stop by while they are having this conversation and when he is alone with Regina, he tells her he knows of a 'wizard' that can bring people back to life.
Jefferson takes her to the wizard, who prefers to be called 'Dr.' and the doctor says Daniel is an ideal candidate for his experiment. Regina lets him choose a heart from Cora's vault, even though she has no idea who any of the hearts belong to. The doctor does the procedure on Daniel, but when he is done he says that it did not work. She is so devastated by this she goes to Rumpelstiltskin and proves she can be evil by ripping the heart out of a girl and crushes it.
In the end, it turns out that Rumpelstiltskin is always the one with ulterior motives. He later meets up with Jefferson and the doctor showing that they had been working together. The doctor wanted a heart and Rumpel wanted Regina to become the monster that he wants her to be. Jefferson was just there to bring the doctor to Regina and he uses his hat to take him back to the world he came from.
In Storybrooke, Dr. Whale is trying to find another portal, just like everybody else, so he can find his brother. He tries to get Regina to help him, but she tells him the curse brought only who she wanted including the preserved body of Daniel. She starts to see visions of Daniel while driving home in the rain and decides to pay his coffin a visit. When she sees that the body is gone, she realizes Dr. Whale took it. When she finds him, his arm has been ripped off and he reveals that he brought Daniel back to life. He tells her he is not the same man that he was.
Regina tells David about what has happened and they find Daniel in the stables trying to strangle Henry. Regina convinces David to give her a chance to talk to Daniel. When she is given that chance, Daniel realizes who she is and who he is long enough to urge her to let go of him and find someone else to love. Even though she has been trying not to use her magic, she does so in order to get rid of Daniel. I feel a little bit more sympathy for Regina after seeing that all she has ever wanted was to get Daniel back. She didn't really choose the right path in the first place, but now for Henry's sake is trying to get back to who she used to be. Her earlier therapy session with Archie about not using magic showed this to be true.
Elsewhere, Dr. Whale shows up at Rumpelstiltskin's shop with his arm and Rumpel is able to re-attach it with magic. He calls Dr. Whale 'Victor' and the final flashback reveals the doctor's true home and shows him bringing his brother back to life with the help of a jolt to the heart that Rumpel gave to him.
I felt like this episode should have been more about Emma and company meeting Hook than about Dr. Whale. I didn't really see a motive for him taking Daniel's body other than having it expose his identity. Even though they don't quite say he is Dr. Frankenstein, the thought still had not even crossed my mind when thinking about who he had been in the fairy tale world. Probably because I was thinking "fairy tale world" and Frankenstein does go with that. I like the idea of going to other worlds like Wonderland and Neverland, but only because they fit in with everything else. I am 50-50 with this episode, liking Regina's story, but not really going for Dr. Whale's true self. Hopefully they can bounce back next week with Emma's back story and a guest appearance by Jorge Garcia (Hurley, Lost).