Quick Take: Once Upon a Time, "We Are Both"
"I did the fighting. Snow did the talking." – Charming/David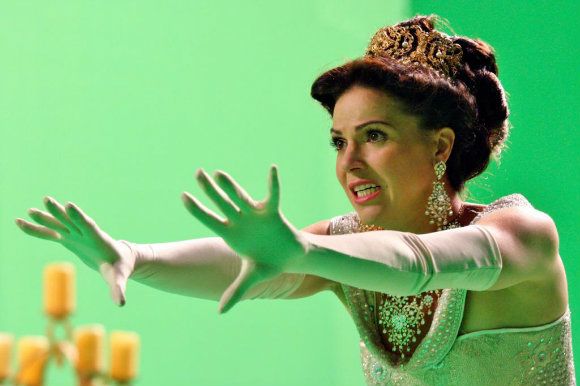 Review: Once Upon a Time, "We Are Both"
(S0202) A few questions were answered during this edition of Once Upon a Time, but of course answers bring more questions. With the curse broken, everyone is struggling with what to do and are now looking towards Charming as a leader while he would rather look for Emma and Snow.
The episode opened with Storybrooke in shambles and people looking for lost loved ones. A brief glimpse of Pinocchio showed that he had become all wood, but was able to blink. His father was posting a photo of him on the town bulletin board as Red was trying to organize a crisis center that had been created. Charming tried to get Regina to tell him about the hat's portal that took his wife and daughter and Regina claimed she knew nothing of the hat. I can't decide if she really did forget about Jefferson or if she is just playing dumb to Charming.
The dwarfs made their way to the edge of town and drew straws to see who would cross the border to see what would happen. Sneezy is the unlucky one and after he took the step he once again lost his memory of his fairy tale self. Something tells me that this problem cannot be fixed. The dwarves returned to town to tell everyone the terrible news. Everyone looks to David for help, but he can't come up with an answer. He is clearly uncomfortable in the role of leader.
Regina is having problems with her powers and decides to visit Mr. Gold, who was the one to give them to her in the first place. Flashbacks showed us how Regina and Rumpelstiltskin met. After Regina's love David was killed, Regina tried to escape her mother Cora's clutches but had no success due to Cora's magic. Regina learned from her father about a book her mother had and discovered Rumpel's name on the book. She steals the book from Cora and as soon as she says Rumpelstiltskin, he appears. He tells her she has great potential and she says that she doesn't want to be like her mother, she just wants to get rid of her. He presents her with a wrapped gift and says that she can send her mother to a different world with it.
Back in present day, Regina goes to Gold's to look for the book and with no trouble he gives it to her. She goes home and the book helps her get her powers to full strength. David is trying to think of what to do and has a talk with Henry about the hat. Henry tells him he needs to find the Mad Hatter and David goes to Mr. Gold to get some help. Gold looks as if he is wanting to leave town, packing some maps as David comes to chat. Gold gives him a potion to find who he is looking for and they promise to stay out of each other's way. Gold is not happy after David tells him people will lose their memory if they leave the city limits.
Regina heads to the town meeting and she displays her strength to everyone. Henry agrees to go with her, but only if she doesn't hurt anybody. Back at their home, she tells Henry with magic she can give him anything. He points out that he doesn't want to be like her, even if he had magic. Regina then remembers that she said the same thing about her mother, but became her anyways. In another flashback, Regina goes through with sending her mother through a portal and Rumpelstiltskin offers to teach her magic.
David uses the potion to find Jefferson, but he is of no help though. Jefferson runs away and as David tries to chase after him, he is stopped by Red who tells him of the confrontation at the town hall and how Regina took Henry. First he takes care of all the residents trying to flee the city by giving an inspiring speech to stay in Storybrooke, re-build the town and resume their lives. He promises to protect them from Regina. Then he flees to Regina's, with a sword, to confront her.
I have to say Charming showing up with a sword was pretty damn awesome. In a surprise twist, Regina lets Henry go with David and she tells him that the Enchanted Forest does still exist but doesn't know how to get back there. Henry's words seemed to have a profound effect on Regina. David and Henry end up at Granny's where Henry tells Geppetto where Pinocchio is. When he goes to find him, Pinocchio is gone.
In the end we are finally given a glimpse of Snow and Emma who are being dragged by Mulan to the 'safe haven'. Snow tries to flee the camp, but they end up getting tossed into a cell with none other than Regina's mother.
A lot of stuff happened in this episode and I am hoping that the show doesn't get too confusing with flashbacks and then present times in Storybrooke and fairy tale land. The timeline is also confusing since Rumpelstiltskin claimed to have known Regina since she was a baby so now that brings up questions of how old he is and how old his son Baelfire would be, assuming he was transported to the real world. It is hard to watch this show week by week because I just want to know what happened to everyone! I am looking forward to learning Cora's story, where she went and what she has been doing. Hopefully they will show this next week along with Lancelot's introduction.