Quick Take: Outsourced: "Pilot"
Looking for a show to offend both Indians and Americans alike? Look no further.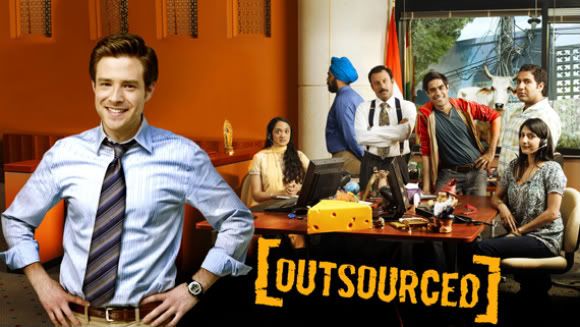 Review: Outsourced, "Pilot"
(S0101) Based on the movie of the same title, this show is about a man named Todd whose company's call center is outsourced to India. Todd is told he has to go train everyone at the call center, or else he'll be fired. Here's the "funny" twist -- the company is called Mid American Novelties and sells things that mostly only Americans would understand, like cheese hats and a deer head that sings "Sweet Home Alabama." Some will see this as a "why are we sending these jobs to India" show and others will see it as a "wow, these are just people who want to make money too" show, but I think both will be left completely unsatisfied with the results.
As an Indian American, I was happy to see Indians on TV, and I really wanted to like this show, but instead I was kind of offended by the whole thing. Everyone on this show is a stereotype -- including the Americans. The Indian characters come off as stupid and naive, the American characters come off as self-centered and racist. For example, one run-on joke is about how Indian foods look gross and will give you severe diarrhea and how one American businessman there ships in his own food to avoid getting sick. Ha. Funny.
Another thing that annoyed me was that none of the Indians come across as regular people, where our main character Todd seems mostly like a regular guy, if a bit culturally insensitive and clueless. I'm also a bit peeved that the main character is immediately attracted to a white Australian girl, but a brown-skinned Indian girl doesn't even clock in on his radar. I think probably both of these issues are going to be slowly resolved over the series, but I'm not sure I really want to stick around to find out.
I don't think any of the jokes were meant in a "mean-spirited way," and I understand that in comedy, choosing to offend everybody is often a good way to be funny, but in this case it didn't work at all. Knowing that people will really believe Indians are just like the stereotypes on the show (like how people used to ask my vegetarian mother if she actually eats monkey brains like the weird cult on Indian Jones and the Temple of Doom), I just couldn't find any of it funny. The only reason I managed to finish the episode was that it was like one of those truly terrible reality shows (Flavor of Love anyone?) where I just couldn't look away.
Video: Outsourced, "Pilot"
If you can stand it, here's the pilot episode of Outsourced in full, while available, from Hulu: