Quick Take: Pan Am, "1964"
Too little, too late.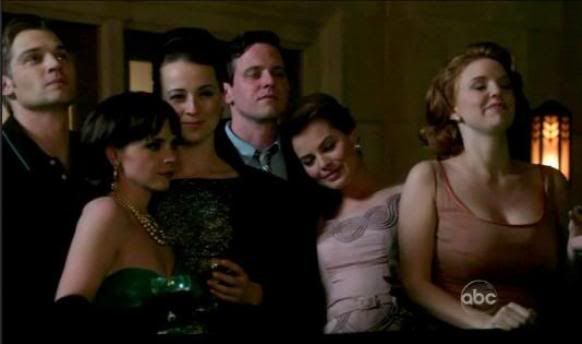 Review: Pan Am, "1964"
(S0114) And we're back. Just in case your head is still spinning from last week's fabulously ill-timed aired-out-of-order episode, here's where the crew of the Clipper Majestic actually is in the timeline:
Colette is dating a prince.
Ted is rethinking is engagement to Amanda.
Maggie is getting in on some smuggling action.
And everyone is... quite frankly I don't remember. That's what happens when you mess with the timeline.
ABC hasn't officially pulled the plug on their retro-baby, but no one with any powers of observation is giving it much hope, myself included.
Fortunately, "1964" works as a series as well as a season finale. Less-than-awesome or not, every story deserves a proper ending, or, in this case, an adequate one. And good lord, was it cheesy, like the really bad green screen of Times Square as the ball dropped into 1964 and the freeze-frame, capturing our dashing crew in full optimistic smiles. I was disappointed when it didn't fade to sepia or something, just to remind us that this magical time is long gone. I mean, if you're going to be formulaic, follow the formula!
Pan Am followed it well for most of "1964," dipping into the well of every New Year themed episode ever with reminders of our previous adventures ("1963 was pretty eventful!" Wow, Laura. How observant.) and just in case we forgot how eventful and important the year 1963 is in history, we have Maggie to remind everyone that "[her] future died last month in Dallas." Please just stop talking.
From the ham-fisted discussion in the Majestic's cockpit about how weird it is to land at the former Idlewild Air Port, recently renamed JFK International, to Laura and Ted debating the artistic vision of Andy Warhol, the constant grasping for nostalgic legitimacy is ultimately Pan Am's greatest drawback, and in this finale, made all the more obvious due to its retrospective nature.
We get it. The show takes place in the 60s. You don't have to remind us every single episode.
"1964" leaves enough wiggle room to eke out another season, should ABC decide to give Pan Am another chance. From a characterization standpoint, the final two episodes of Pan Am appear to mend many of my initial complaints about the series, though unfortunately the efforts seem to be too-little-too-late. We see Dean facing a disciplinary hearing after his actions in Haiti and Maggie putting her Portuguese lessons to good use in her new smuggling career. Colette's affair with Prince Omar is ended by his handlers when a background check reveals that Colette's family history is not as cut and dry as she believes it to be: her parents were murdered in Dachau and a forgotten brother was adopted into anonymity. Ted decides to pursue Laura, only to be reeled in by the revelation that Amanda is pregnant, and Spy Girl Kate outsmarts her former MI-6 handler, Anderson, who is revealed to be a Soviet double agent. She is offered a "real" spy job, under the condition that she leave Pan Am.
After an entire season of playing fleshy window dressing to the 60s theme, the crew of the Majestic is finally allowed to fly into their own stories. We leave them on a balcony overlooking Times Square with quite a bit of potential in the event that we see them again on our televisions sometime.
But in the event that we don't... well... that's okay too.