Quick Take: Parks and Recreation, "I Am Leslie Knope"
"I'm just now getting pretty good at shoe-shining and I'm still pretty bad at it." - Andy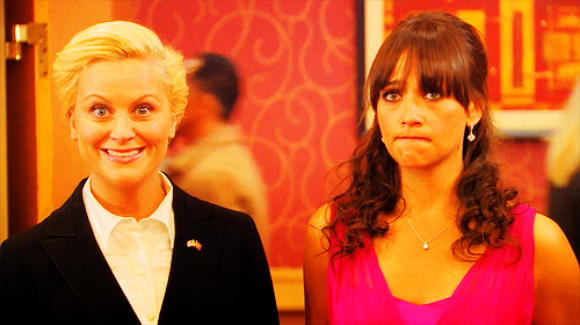 Review: Parks and Recreation, "I Am Leslie Knope"
(S0401) While the Leslie and Ben relationship was developed well enough in Parks and Recreation's excellent third season, I didn't feel a whole lot of emotional attachment to it. It was cute and funny and the actors played it well, but it didn't make or break the show for me. So my one concern going into Season Four would be that Leslie's decision as to whether she should leave Ben to pursue a scandal-free run for political office or if she should stand by her man.
Aptly, I think, the writers chose to just rip the band-aid off. But they accomplished the break-up in a very satisfying way. As Leslie struggled with her decision, unbeknownst to her, Ben had already decided for her. Leslie had tried to keep her meetings with her campaign team a secret, but Leslie isn't very good at keeping secrets (hence: Ladies Yacht Club).
So in the final scene, Leslie expects to receive some extravagant (possibly Star Wars-related) jewelry in the box that Ben had showed her earlier, thus making the break-up even more difficult, he ends up giving her a campaign button: Knope 2012. Ben knew running for public office was the most important thing in Leslie's life and loved her enough to let her go. Was it sappy? Sure. But it was an earned sappiness.
Most of "I Am Leslie Knope" takes place three weeks after L'il Sebastian's funeral, but the opening scene spectacularly showcased Ron's almost month-long exit from the show's universe. After finding out Tammy One had returned, he pulled Leslie aside to let her know that he was going into hiding. And a man like Ron Swanson is always prepared to go into hiding. Hidden in an air vent above a City Hall water-fountain, he has hidden a Tammy One Escape Bag which allows him to hide out undetected at his cabin. When Leslie shows up to seeks his advice (or possibly hide out from Ben with him), Ron has grown a beard that would make ZZ Top wallow in pitiful, pitiful shame.
After advising Leslie that she can't be afraid of an unclear future, he decides to follow his own advice and return the Parks Department and face Tammy One head on. In the closing scene, we get to meet her, played by Patricia Clarkson. I friggin' love Patricia Clarkson and her casting was an inspired choice. We only get a few moments with her, but she plays off Nick Offerman with a bitter coldness. The reason she is in town is because Ron is being audited by her boss, the IRS. How genius is that? Making the libertarian Ron's evil ex-wife be an IRS employee. Awesome. Tammy One claims she is in town to help Ron get out from under his tax problems, but can Ron trust her? (Probably not).
Tom returns to the office to show off what he's been up to at Entertainment 720: merchandising. Mouse pads, bikini tops, fireplace bellows. If you want something with Tom and/or Jean-Ralphio's face on it, you can probably get it. The actual business direction with which the company will be moving forward remains undetermined. The one step Tom tried to take was to attempt to recruit Andy to come work for him. But Andy is unsure of his place in that "business." April sees better things in Andy and, as his new manager, promises that within a year, she will help him move beyond his shoe-shine complacency.
And lo and behold, she accomplishes that feat the same day. When Leslie needs a new assistant to help balance her Parks Dept. duties with her campaign itinerary, April offers Andy's services and Leslie accepts. I liked how he almost offered to do the job for free before April stopped him.
So, yeah, there's a lot of threads being pulled already one episode into Season Four and I'm curious to see how Leslie's campaign will keep her as actively involved with the other cast members. And what if she wins? Would it be one of those things where suddenly April, Tom, Ron, and the Gang suddenly join her staff and the show goes in another direction? Or does it even need to keep them at arm's length? Parks and Rec is a little less restricted by its mockumentary format than, say, The Office, but it would still be somewhat odd that the hypothetical filmmakers would follow Leslie beyond her day-to-day Parks Department activities.
Then again, maybe they would find the political angle to be a more-interesting-yet-naturally-evolving story that developed from their original plan. Of course, I'm totally just reading into this too much. The key point to be made is that it's great to have Parks and Rec back and I have supreme confidence with however and with however they move forward, it'll probably be pretty damn funny and smart.
Lingering thoughts about "I Am Leslie Knope":
There was another subplot that I wasn't feeling. In a Brett Favre-ian move, Joe from Sewage emailed a photo of his penis to everyone in city hall. He is quickly fired (which, while fair, is kind of a shame because Kirk Fox plays the role really well), but after Ann believes he might have mumps, most of the men in City Hall start texting her pictures of their own penises to get their own diagnosis. A not-incredibly topical joke that didn't really go anywhere and kind of fell flat.
But the one great note that came out of it was that we learned that Jerry of all people is apparently the Dirk Diggler of Pawnee (minus the cocaine addiction).
Perd Hapley didn't get Leslie's attempt at penis humor, but he recognizes the cadences of a joke when he hears one. Ya Heard?
How long before Leslie's campaign team start to push her in a policy direction she doesn't want to be a part of?
"I doubt that's a saying." - Ben
"Brand new. Brand new merch." - Tom (not funny out of context, but I loved how Aziz Ansari read this line.)
"I have the toes I have." - Ron