A lot of sketch comedy shows like to play it safe and appeal to the mainstream, but that's not where Nick Swardson's Pretend Time lives. The brainchild of stand-up comedian Nick Swardson and former Human Giant director Tom Gianas, Pretend Time debuted in 2010 with seven raucous episodes that featured sketches about treasure maps on scrotums, a paralyzed cat in a wheelchair, Gay Robot, and a sexual harassment seminar for workers in a Mexican donkey show.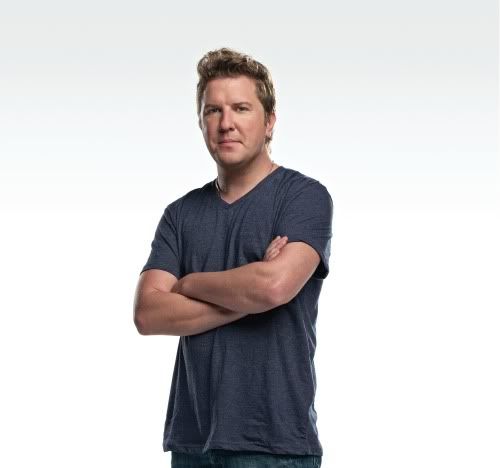 Not a second of Pretend Time is tame; it's perversely funny and definitely unlike any other sketch show airing today. Aside from Gay Robot (which originated as a Adam Sandler comedy album sketch), Pretend Time was pretty far removed from what Swardson's fans had to come to expect from the popular touring comedian and character actor and that made the out-there series a bit of a tough sell.
Regardless, Pretend Time earned a sophomore season which debuts tonight (Wednesday, October 5 at 10:30 pm on Comedy Central). TV Geek Army talked exclusively to Swardson about what he learned from Pretend Time's first season, what characters will return in Season Two, and the perils of social media fandom.
There is every kind of sketch show on TV nowadays, so what did you want to do with Pretend Time to set it apart from the pack?
Nick Swardson: The main thing that attracted me to the show was these segueways and the flowing energy of it. I just wanted to create something different. The first season was incredibly difficult because we didn't get a pilot so we just had a six-episode order right away. We had no way of learning and we just jumped right into the season. With those transitions, navigating through that was more challenging than [Tom and I] had anticipated. I'm really excited about the second season because we worked a lot of those kinks out. I also went in knowing what I was getting myself into and we really attacked it this season.
Part of the Season One learning curve was that you didn't really have an official writing staff so a lot of the writing fell on your shoulders. Were you able to hire writers for Season Two or at least write in advance of production?
Swardson: Yeah I wrote a lot in advance. We had a great writing staff this season; a revolving door of people coming in and helping out. They were really incredible. This season was a lot more fun because we did generate a lot of ideas and content early so we could hit the ground running. We made the show really, really aggressive; there are some really aggressive moments this season I am proud of. I dunno, this is kind of the show I really wanted to make. It's got more of a stand-up element and storytelling vibe. It's a little bit more accessible even though it's filthier, so it's good.
Did feedback from the show's fans influence the sketches you wrote for this season?
Swardson: This show is difficult because my career is kind of bizarre in the sense that I've done stand-up for years with specials and albums. On TV, I've done recurring characters like on Reno: 911. Then I've done 30 movies but with Pretend Time it's completely different. My fans have been extremely loyal but they're also a little confused because they don't know what to expect.
With Pretend Time, I don't think people understood what I was trying to do. People that liked me for my stand-up were like, "This show isn't standup; we don't like it!" No, it's different. I'm trying something different, outside the box and a little bit crazier. It's a tricky age to live in because with Twitter and Facebook people don't let anything resonate anymore. Immediate feedback is how they feel. I would go on Twitter and after the first episode people were like "The show sucks!" Well, you can't say the show sucks when you just watched two sketches. It's frustrating for me as someone who creates this stuff. Give it a chance! It's psychotically unfair to me. Especially with sketch, every sketch is different in its own world, with its own universe and energy. The people who love my show, it really means a lot to me. I get really excited when people come up and say, "Pretend Time is my favorite!" It means a lot to me.
Season One featured Gay Robot and Wheelchair Cat. Will we see them again or an emergence of new recurring characters?
Swardson: There are recurring characters for sure and some new ones. Gary Gaga, Wheelchair Cat, and this character Creepio have all come back. I don't know if we'll do a Season Three but I'm really psyched about this season. It's got a good balance and flow.
You mentioned in other interviews that Comedy Central's Standards and Practice's department was all over you last year. Did that change how you wrote for Season Two or did you push it even more?
Swardson: I just push it as far as I can. Having your own show, why not? Why not push it as far as you can? I like doing things that are out there. I like those moments where people are like, "Oh my god, did you f-ing see that?" To me that is super fun, ya know?
Did you ever have a Pretend Time sketch killed by S&P?
Swardson: No, me and Tom Gianas have worked in sketch forever. We are pretty savvy and we know what they're going to kill. I tailor and wrote everything so we could dance around Standards and Practices. We're not that delusional that we'll write a sex scene and be like, "Why can't we show these people having sex?" We're not that retarded. At this point, we know how to navigate those waters.
What's on the horizon for you writing wise? Our readers want a sequel to Grandma's Boy!
Swardson: I am kind of playing it by ear right now. I'm focusing on writing a script right now. I have two more in development at Adam (Sandler's) company [Happy Madison]. There are no plans for Grandma's Boy 2, for sure. But me and the director (Nicholaus Goossen) are trying to pair off on some new films so we're developing those right now. The screenplay I am writing right now, I'm really excited about. There will be more coming down the pike but I don't know what's going to happen with Pretend Time. We'll have to see.
New episodes of Pretend Time air after South Park on Comedy Central Wednesdays at 10:30 p.m. (EST/PST)