Quick Take: Project Runway, "Go Big Or Go Home"
The designers have to dress stilt walkers and show their creations to the outside world... live!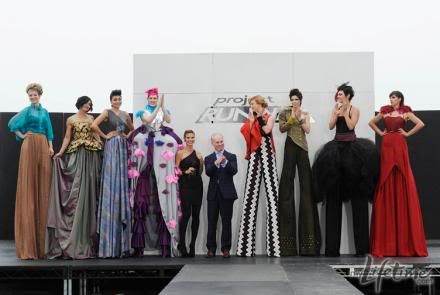 Review: Project Runway, "Go Big Or Go Home"
(S0903) Our gaggle of designers had to design for their models on stilts this week and then present their looks live to the judges, an outdoor audience and the press. While that was plenty daunting, it only got worse when Heidi announced that the designers would also work in randomly selected pairs. I think we can all attest to the fact that no one in the world appreciates that misery – not these designers, not any sad student in school paired with the class idiot, not even when you're given a fire escape buddy in your office. Only TV producers (and maybe really masochistic reality TV viewers) love that scenario.
Instead of going through every team individually, I'm going to break down who benefited from the pairing and who withered on the design vine because of that twist.
Winners
Laura and Anthony Ryan's design aesthetics really melded as they came together to create one red hot, flowing couture-inspired dress. No drama, just simpatico execution and intention and as they said – it's "wowed" everyone. Laura ended up taking the top prize.
Becky and Kimberly decided right away that one was the pants girl and the other was the jacket girl. They knew their strengths individually and created a sharp pants and asymetical jacket ensemble in neutrals and greens that looks completely cohesive. Despite Becky's staring issues, everything worked out fine for them.
Cecilia and Danielle went full chiffon and it completely worked for them. Excellent seamstresses, they undertook a massive challenge in an iffy fabric and made it look easy. Too bad they didn't have a hairdresser for their model that wasn't blind. (What the hell was with their model's hair!?)
Losers
The hair on Cecilia and Danielle's model's head. (This travesty can't be stressed enough.)
Viktor for being paired with pissy-pants Bert. I think this challenge proved that you can't work with Bert. I don't think Bert even likes working with Bert, and Viktor knew he was doomed the minute their names were called together. Granted Viktor could have been more commanding if he tried harder in the design stage but together they made a mess of ugly fabric into a tall, ugly dress even kids playing dress up would give the side-eye to.
Joshua and Julie made, as one fellow designer mocked, a Beetlejuice inspired monstrosity of vertical lined pants and a bedazzled bolero matador jacket. It was red, it was black and white and it was a knock-knock joke waiting to happen. I think I can still see the patterns in my retina, along with the tiny red cape that looks like it was taken off a Barbie. Their aesthetics were like a fun house with no fun. Did I mention this was bad?
Bryce and Fallene were both the bottom dwellers of the episode and they looked pinched and panicked as they moved through the process. What really killed them though was Fallene's lack of expertise and training with fabric grain awareness. She was slow to make a top and then screwed it up with a bad pattern cut. Bryce had to kick it into gear to barely salvage any of their creation while Fallene crumbed but then rallied with an interesting original hat. However it was too little too late and she was sent home packing – an appropriate choice because she was really in over her head.
Neutral
Anya and Olivier paired for a rather bland middle of the pack creation that really was an underperformance from them both. They're lucky there were bad designs to save them.
Other thoughts:
Kim Kardashian was the celeb judge and she didn't add much to the discourse. She looked pretty and repeated what the main judges said but did we really expect more? No, we didn't.
Having the designers sweat out a live runway this early was pretty inspired and really upped the ante for the show and the designers at this juncture. It amped up the stakes and added some sizzle to the competition.