Quick Take: Project Runway, "Off the Track"
"They're dropping like flies on Project Runway" – Tim Gunn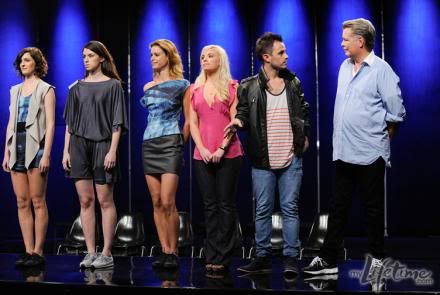 Review: Project Runway, "Off the Track"
(S0905) I really hate reality show quitters.
Yes, I know you don't really know what it's like to walk in someone else's shoes until you've walked a mile in them yourself, but I do know what it takes to get through the casting process for a reality show. If you can make it through that gauntlet and not back out, then I have no sympathy for you when your ego is hurt or you can't stand the heat in the proverbial kitchen while on the show. Cecilia was emotionally decimated from being on the chopping block last episode but not getting sent home. So she wakes up the next morning looking beat down and totally out of the game. She's got no drive, no emotion in her face and she's obviously mentally checked out. When she's asked to suit up in track gear with the rest of the competitors, it's like someone asked her to kick a puppy. When they're all tasked to line up for a foot race to determine team captains for the next challenge, Cecilia walks over to Tim and Heidi and sends herself packing. Everyone looks a little shocked, but the luckily there was no coddling Cecilia to get her to stay. Tim and Heidi made sure she knew what she was giving up and then they told her to leave. Good. If you quit, be gone with you in my book. You wasted a slot for someone that could have gone the distance.
As mentioned, the challenge was all about active wear, specifically Heidi's line of sportswear for New Balance. The designers were tasked to create three fashion looks based on a pair of her New Balance shoes, using denim and/or suede. The models had to wear the shoes with the outfit and the winner would get their design manufactured and sold via Amazon as part of the NB line. The designers were jazzed…until they were told they had to compete in teams again. Immediately the "NO BERT" light went on for several of the designers and it wasn't lost on bitchy Bert either. Winners of the foot race were Joshua, Bryce, Anthony and Victor.
Joshua chose Anya and Becky. Bryce selected Kim and Danielle. Anthony picked Laura and got Bert by default (last one standing). Victor got Oliver and the momentous task of picking one previous bootee to come back into the show to replace Cecilia and be on his team. He selected Josh C with the approval of the other designers.
All four teams got together to sketch their ideas and of course Bert didn't gel with Anthony or Laura which meant tension city from the get-go. Surprisingly, Joshua also came off like a complete jerk by marginalizing Becky to her face saying her work was "dowdy" and he didn't want her design input at all. He just wanted her to sew what he told her to sew. It was harsh and mean and very unbecoming to a future design professional. He even brought Becky to tears and yelled at her about it. He tried to patch it up later by apologizing but his behavior earned him a bully label in perpetuity. Shame, shame Joshua!
Heidi and Tim both oversaw the initial team consultations and they were not pleased. Heidi pretty much ripped every team for their lackluster designs. Matter of fact, she was so concerned that she even extended the 11pm scissors down deadline to 4 am so they could fix their messes.
On the runway, Erin Wasson, model and designer, joined Heidi, Michael Kors and Nina Garcia to judge the teams. After all the behind-the-scenes drama, Joshua, Bryce and Victor's teams all got major kudos for leadership and mostly good collections. Anthony's team was cited for the most dysfunction in terms of design as well as designer drama which meant a lack of cohesion. Bert went after Anthony and Laura for their bad design and it got ugly on stage. However, the judges liked Bert's look the best of the three. Even Anthony conceded his work was crap.
Joshua got called out by Becky for his behavior and the judges were unhappy to hear it, but they felt like his artistic vision made the collection stand out overall. In the end, the judges made a surprise move and awarded Joshua and Victor a dual win (and immunity) on the strength of their looks. Hmmm, I guess the mean guy prospered this round. Shame, shame again!
On the chopping block was Danielle for another silky top with no originality or vision and Anthony's mess of an outfit that gave the model both camel toe and butt toe. Turns out the majority voted out Danielle for her lack of inspiring work to date, which Heidi disagreed with. She would have axed Anthony, but he lived to sew another day.