It seems like forever since we've had a fresh episode of Lifetime's Project Runway, right? Thankfully, the grand dame of talent-based competition reality shows is back tonight for its ninth season at 9pm (EST) with the lineup that's made it such an addictive pleasure.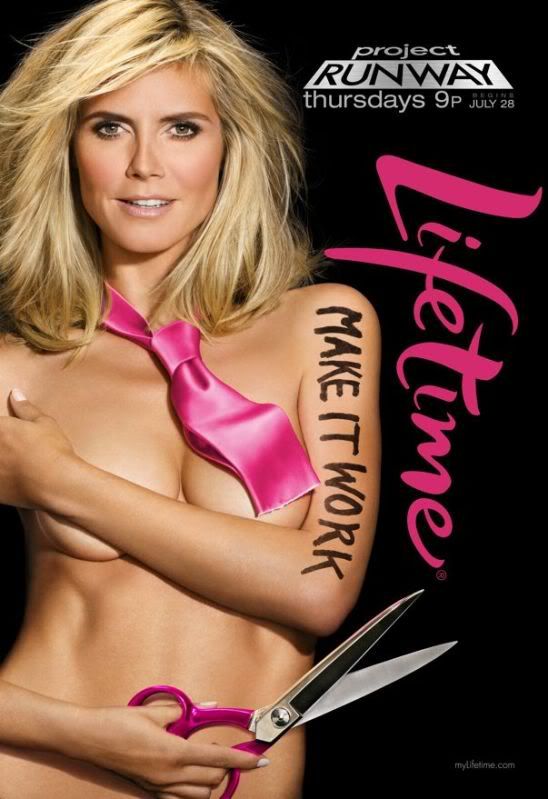 Heidi Klum is back to host/judge and pout, "either you're in or you're out," to the nervous designers. Tim Gunn again plays consoler and mentor in the design room, while judges Michael Kors and Nina Garcia deconstruct each week's designs with either grudging admiration and/or bitchy criticism. There will also be "special" guests from celebs to designers-of-note to fill Klum's judging seat.
20 new designers were scouted for this season and as usual they'll be competing for $100,000 to start their own fashion line (plus earning those bragging rights). According to the Lifetime releases, Episode One features a mass purge with only 16 contestants standing by episode's end.
It's fair to say that Project Runway completely lives or dies by the quality of its cast and there have been some seriously lameo seasons to muddle through (Season Six was a snoozer for me). Plus at age nine, the series is also showing some gray, especially as the reality cable landscape has bred many a copy-cat to compete for the show's audience between seasons. But when Runway has the alchemy right, it remains must-see reality TV. What with the egos, the wacky designs, the backstabbing, the tears, and the faulty equipment (damn the SEWING MACHINES!!!), Runway not only finds some riveting drama but also opens a window into a world few of us are privy to see outside of the Macy's fitting room.
Be sure to check out the one-hour casting special at 8pm called "Road to the Runway" for all the audition scoop on the 20 contestants this season.
What's your favorite Runway season?