Quick Take: Raising Hope, "Pilot"
"Not fair, I was washing Maw Maw out of my mouth" - Jimmy Chance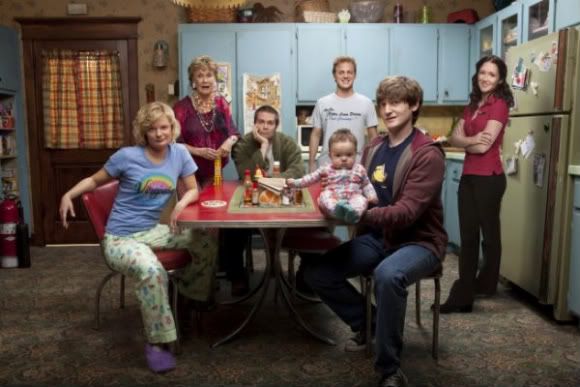 Review: Raising Hope, "Pilot"
(S0101) FOX'S "Raising Hope" Pilot Hoping for a winner. The show, written by Greg Garcia, has the same feel and rhythm of his creation My Name Is Earl. The Chance family, son Jimmy (Lucas Neff), mother Virginia (Martha Plimpton) and dad Burt (Garret Dillahunt) live with Maw Maw (Cloris Leachman). Maw Maw suffers from dementia and doesn't realize everyone is freely living in her home – including cousin Mike, who lives in a tent in the laundry room. Jimmy is searching for his purpose in life, but his day job is cleaning pools with his dad and cousin.
Jimmy's trip to buy his mother Bubble Gum ice cream is interrupted by a frantic girl named Lucy (Bijou Phillips) who is being chased by a random guy she claims is trying to kill her. She rewards her hero with a night in the back of the van. Jimmy awakes to find Lucy having breakfast with the family. While Lucy is in the bathroom, a news alert flashes her photo broadcasting that she is wanted for murdering several former boyfriends. Virginia calmly takes control of the fugitive by knocking her cold with the TV.
Eight months later, Jimmy is summoned by Lucy to visit her in prison where he finds her to be very pregnant. When the baby, Princess Beyonce, is six-months old the prison system's goodwill ends Lucy's stay with electrocution. Jimmy takes the baby, who is still wearing prison garb, home to live. Jimmy's parents tell him he isn't prepared to raise a baby and keep suggesting the fire station as a safe drop. Jimmy points out that his parents didn't know how to raise him either. In his quest to be a better parent than his own, Jimmy heads out to buy baby food, diapers, and a better bottle than the rubber glove he is using. At the grocery store he gets help from Sabrina (Shannon Woodward). After a long night with a crying baby, Jimmy and his parents share a tender moment and Virginia suggested renaming the baby Hope.
The show is full of odd, weird moments much like Earl, however at this point it seems just weird and a little dumb. It will be interesting to see where the show goes. I like the cast and think it might have hope.
Some of the odder moments:
Maw Maw's wardrobe is mainly shirtless and she confuses Jimmy with her dead husband.
Jimmy and the baby watch Lucy's execution.
Jimmy asks Sabrina if it matters if he feeds Hope baby food with an Asian or a Black baby on the label.
Burt plays guitar while Virginia sings Loggins and Messina's "Danny's Song."
Video: Raising Hope, "Pilot"
Check out the episode in full from Hulu, while available:
From Around the Web: Raising Hope, "Pilot"
Hitfix: The first thing I want to say about "Raising Hope" is that I laughed at the pilot. I definitely laughed more times at the "Raising Hope" pilot than at multiple "Running Wilde" episodes I've seen and possibly more times than I laughed at any other fall network comedy pilot.
NY Magazine: On the plus side: Martha Plimpton. If you're into babies, this show has a cute one. And the star ofRaising Hope, Lucas Neff, has plenty of blank-faced boyish charisma — he's a little like Michael Cera but with sex appeal, or maybe a young Buster Keaton, or well, that goes too far. But he's good. On the minus side, two people do vomit on that baby.