Quick Take: Ridiculousness, "Pilot"
"Make your tips sticky. I'm dead, dead serious." - Rob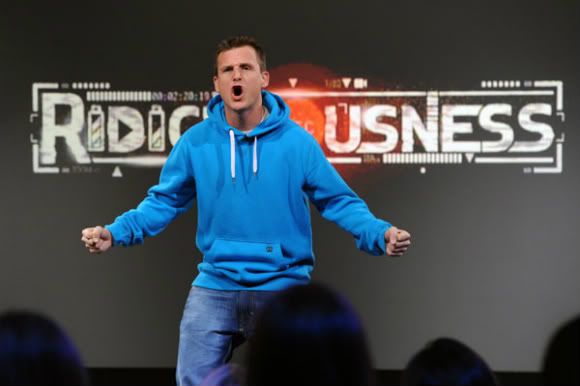 Review: Ridiculousness, "Pilot"
(S0101) Anyone who writes about television inevitably needs to stretch when trying to think of new and different ways to say something sucks. In this instance, I'm not going to waste my time trying. Ridiculousness is simply too bad for words. Well, I guess if you put a gun to my head to my head and forced me to pick a word to describe how bad the show is, I'd have to make a snap decision between "flagitious" and "execrable." (Thank you, Thesaurus.com).
For those of you who missed last night's premiere -- and for the sake of our beloved country, let's hope that's most of you out there -- Ridiculousness is basically a carbon copy of Tosh.0, if the host of Tosh.0 had a head injury and all of the video clips also featured head injury victims. Rob Dyrdek, skateboarder and star of MTV shows Rob and Big and Rob Dyrdek's Fantasy Factory, hosts along with his "friends" Steelo and Chanel West Coast. Steelo controls the pause, rewind, and slow-mo buttons for the clips and CWC is like the female Fred Norris of the show -- she kind of just sits in the background and occasionally giggles.
Here are a couple of examples of segments from last night's pilot:
"Everybody Humps" features dogs, turtles, alpacas, and many other species of animals humping stuff. The segment comes complete with a "Cherry Pie" soundtrack by Warrant -- which is what passes for clever on this show.
Rob interviews an "extreme pogo-stick jumper" and provides the audience with this gem of advice: "Make your tips sticky. I'm dead, dead serious." The interview is followed by -- you guessed it -- clips of guys on pogo-sticks fracturing various bones and damaging critical internal organs.
Ridiculousness is what I imagine America's Funniest Home Videos would be if the Confederacy had won the Civil War. It's all monster truck wrecks and nut shots, bad accents, and even worse jokes. For the life of me, I cannot figure out why MTV would greenlight this show. I get that these clip shows are popular and extremely cheap to make, but why Rob? Sure, he's affable enough on Rob and Big, but he's just not funny enough to stand on stage by himself and tell jokes. To make matters worse, he doesn't actually tell jokes during a lot of the clips. He just provides inane color commentary and does goofy voices. It's really painful to watch.