Quick Take: Ringer, "Whores Don't Make That Much"
Look everybody! It's Misha Collins!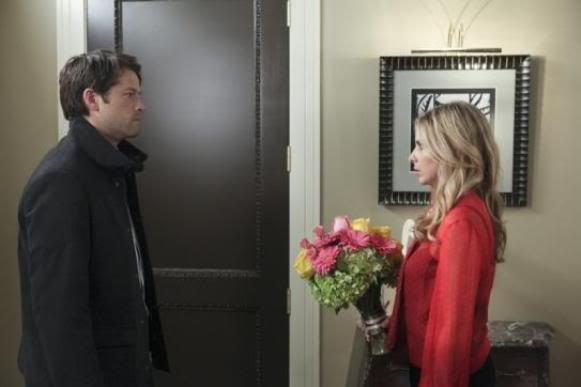 Review: Ringer, "Whores Don't Make That Much"
(S0114) What have I gotten myself into? I honestly can't tell if this is an awesome series or not. I mean, it tries hard, but that might be part of the problem. American Horror Story tried really hard too, but by the end of the season, I basically just tuned in to drool at the screen for an hour, then hopped on the interwebs to figure out what the hell did I just watch?
The thing is though, American Horror Story had that whole supernatural angle to justify the apparent practice of just throwing stuff at the wall and going with everything. Ringer is intended to be a thriller set in the real world, so I occasionally watch with the expectation that things will make sense.
Basically, Juliet's assault-revealed-to-be-elaborate-scam is revealed to be an elaborate scam masterminded by her mother. I…I quit. I just quit. I guess that returns some likeability to her character now that she can be downgraded to "probable pawn" from "juvenile criminal mastermind," but things are just getting ridiculous and convoluted. Remember what I said last week about these types of shows just piling on the crazy and piling on the crazy and piling on the crazy to keep the story going? That's what I'm talking about.
Bridget's storyline, however, made me go "aww" as opposed to "ugh" and that's a plus. CDubs really hyped up the guest appearance of Misha Collins, probably hoping to cash in on that small, but vocal segment of Supernatural's Castiel-deprived fanbase. I'm honestly not a huge Castiel fan. He's deus ex machina with wings and the squealing fangirl within resents the schism his presence has carved into the Supernatural community since his very first appearance…but I love Misha Collins. So, it was nice to see him getting away from the Supernatura mothership to play Siobhan's ex, Dylan, the father of her son, Sean.
God, CW, why are the casts of your shows so incestuous?
Actually, that might be some pretty clever marketing. Cultivate a rabid fanbase around your talent, swap the talent between some mediocre programming, and voila! (Modest) ratings! The gravitational pull of the CW is apparent in stars and viewers alike. Sarah Michelle Gellar boomeranged from Buffy the Vampire Slayer on the CW's predecessor, the WB, onto the silver screen, and back for Ringer. Boyfriend recently pointed out that I watch a lot of CW and I never realized it before, but I do. I do and I don't entirely mind it. (I'm only occasionally crippled by shame.)
Whatevs, as a bonus, we learn what actually happened to Sean, and it's sad. It had to be sad. With all this build-up and mystery, it couldn't be anything but sad. Also apparently, his death served as the catalyst for Siobhan and Bridget's damaged relationship and Bridget's drug abuse. Through flashbacks, we see the vital moment where Siobhan initially refuses to forgive Bridget for her role in Sean's death, a thread that continues to weave its way through present day.
Masquerading as Siobhan, Bridget tells Dylan that she forgives him for his own role in their son's death and reveals to Malcolm that she hopes to one day resume her life as Bridget and continue all the shiny goodwill that she's been spreading as her believed-to-be-dead twin sister.
So, hey, at least I walked away from this confident that I'm supposed to like Bridget. Cool.