Quick Take: Ringer, "You're Way Too Pretty to go to Jail"
"You don't kill to protect a secret you just told someone." - Bridget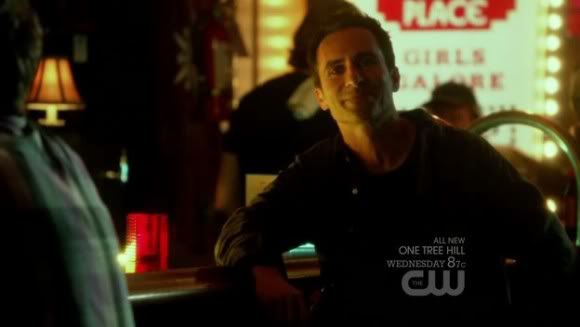 Review: Ringer, "You're Way Too Pretty to go to Jail"
(S0116) As I've previously stated, I spend a good chunk of every Ringer episode being completely bewildered by the events that transpire. I'm really just here to see how much crazy can be packed into an hour that isn't Hoarders (my precious) and Ringer never fails to disappoint. It fails on other levels, like telling a coherent story, pacing what shreds of a coherent story remain to reveal Important Things in an appropriate manner, but if you just want a mindscrewing thriller starring the actress formerly known as Buffy the Vampire Slayer, then Ringer works.
The most recent installment in The Completely Insane Saga of Bridget and Siobhan features Siobhan impersonating Bridget to throw Malcolm off the trail and drive a wedge between Bridget and her sole ally in this this. It's implied that Olivia wastes Tyler for threatening to reveal the ponzi scheme and she Mr. Fantastic have been running with his magical flashdrive of doom, but since this show loves to make implications, only to throw them out the window in a week or two, I'm not committing to anything.
Across the country in Wyoming, Agent Machado is on the case that drove Bridget to New York to begin with. There's a sad backstory, but other than proving that I'm neither a robot, nor a heartless monster, I'm hard pressed to care. About any of it. The Wyoming shenanigans felt like lip service to remind us that that entire storyline actually happened… because surprise! Malcolm gives Machado a call in the episode's final minutes to let him know that he would like to press charges against Bodaway Macawi for kidnapping him earlier in the season. Looks like Bridget's real life and pretend life are about to collide. Cool.
Unlike most of the previous episodes of Ringer that have aired so far, this one had a few delightful one-liners that actually made me laugh. The best of the best? Easily Malcolm's "How many men was your sister sleeping with?" to Bridget. I mean, we've all had that thought. The best of the unintentionally hilarious best? Bridget's "You don't kill to protect a secret you just told someone," in defense of Andrew's sudden nefariousness. You don't watch a lot of TV, do you, sweetie?