Quick Take: Roseanne's Nuts, "Pig War"
The comedienne returns to TV as a reality star?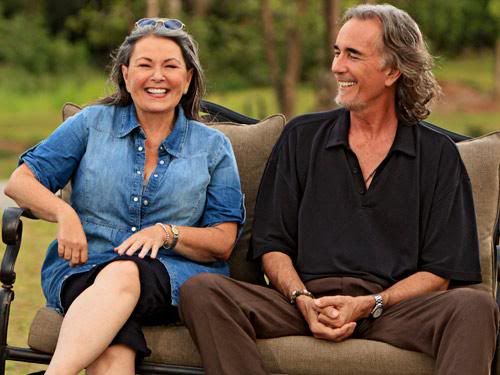 Review: Roseanne's Nuts, "Pig War"
(S0101) It's been more than a decade since comedienne Rosanne has been a regular fixture on television screens. She ruled sitcoms back in the late '80s with her eponymously titled working-class comedy. Big, brash, and never timid, she flamed out career-wise by the end of the series run from a mixture of her own dissatisfaction with the business and a swath of angry former employees that promised to never work with her again. Always a lightning rod for her lovers and detractors, Roseanne has certainly lived her life her own way and defied anyone who tells her to do otherwise. Her life seems like the stuff reality shows are made of, but sadly in execution, I'm here to tell you it's not.
Lifetime's new series, Roseanne's Nuts, finds Roseanne and her long (suffering?) boyfriend Johnny Argent living the quiet farmer's life on the Big Island of Hawaii. Roseanne invested in a macadamia nut ranch and has since transitioned into a life of living off nature's bounty. While that's great for her, that's not so great for those of us at home looking for something interesting to glean from her life. Yes, she's still an Alpha woman with lots of opinions but there's nothing really involving going on to wrap a TV show around. She gardens a bit, cooks some, drives a golf cart like a banshee with a 4x4, and spars with her boyfriend.
What that leaves us with is the worst kind of reality show: the overly produced and orchestrated reality show. Like Sinbad's series or the Kardashian's, Roseanne's Nuts quickly devolves into a series of set up "wacky" adventures on her property. In the premiere, we get pigs eating her beloved nuts. Taking their natural rooting as a personal affront, she literally calls out her friend's dogs to stop them. That is until a pig gets caught and then she doesn't want to kill it. Instead we get to listen to her talk to it and tell it not to come back. Okayyyy. Are we supposed to buy that vegetarian Roseanne is so flaky that she never considered what to do with her intercepted intruders? I think not. It's hippy-dippy silly and a waste of our time.
After such a long wait for Roseanne to come back to TV, it's sad that she chose a reality show vehicle that undermines her smarts and the talent she does have that could easily be showcased to impress a new generation.