(S1503) It's time for the wedding of the century. No, it's not the Royal Wedding of Prince William and Kate. It's the wedding of the Prince and Princess of Canada. And if it's important to Canada it's important to the rest of the world.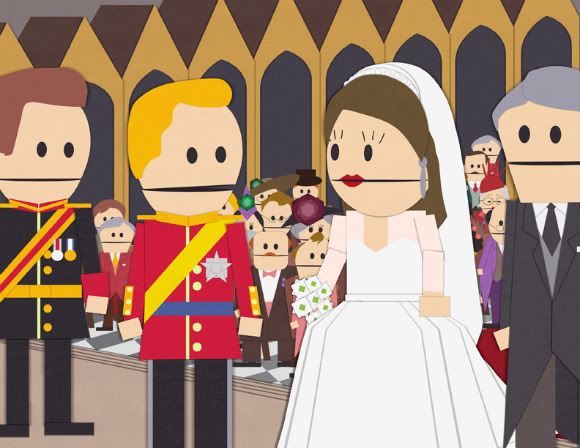 But shortly after the groom has dipped his arms in the butterscotch pudding and the bride has begun to wipe him clean, the princess is abducted by a mysterious assailant. And who is the only person that can rescue her? Is it the Canadian military? Is it Kyle, Stan, Kenny, or even Cartman?
No. That task is left up to the bravest, fearless, and most capable person in South Park. It's up to the only Canadian in town -- Kyle's little brother, Ike. Taking matters into his own hands, Ike must traverse the Canadian wilderness with companions Ugly Bob, Scott the giant dick, and Katook-took the Eskimo to rescue the princess.
While Ike is off on his adventure, it's up to Kyle to save the Kindergarden school play. His brother was supposed to play the part of tooth decay, but after the verbal abuse by director and school counselor, Mr. Mackey, Kyle must play the role himself.
This episode takes a break from the main characters in the show and turns to the country of Canada, which creators Matt Stone and Trey Parker enjoy making fun of. The crazy rituals performed at the wedding ceremony are hysterical and the invited guests are just as funny. Obviously a spoof on the recent Royal Wedding mania that gripped the world, this episode mocked the entire idea of royalty and people's obsession with it.
The school play thread that runs throughout felt kind of awkward and out of place. The only thing keeping it grounded was listening to the insane ranting and raving of Mr. Mackey as he called the kids every name in the book. But as with most South Park episodes nothing is ever there without a reason and by the end it will all come together.