I noted in a recent piece called "Are AMC and Starz the hottest networks on TV?": "If new shows The Walking Dead and Rubicon are half as good [as Mad Men and Breaking Bad], I think one could easily make a case that AMC is flat out the best network on all of television, quality-wise."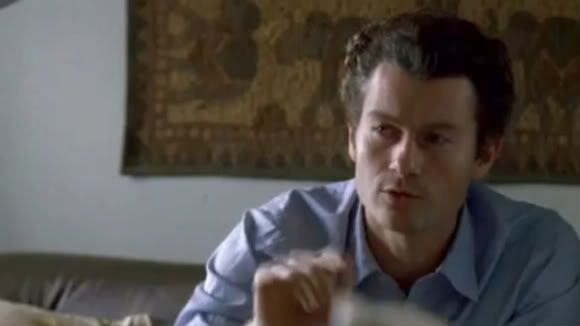 If the trailer for Rubicon is any indication, it will be damned intriguing:
Check it:
What's up with the four-leaf clover!
Rubicon has a fresh and creepy look and feel to it, doesn't it? Perhaps a little bit of Kubrick-inspired sense of suspense and dread, mixed up with politics and mystery and an overall "what the hell is going on/going to happen next" vibe.
James Badge Dale, who stars as Will Travers, was a standout in HBO's grueling miniseries The Pacific as PFC Robert Leckie. I appreciated and enjoyed his natural and offbeat performance in the midst of an insane world of killing and mud and terror, and look forward to see what he'll do with this role. Miranda Richardson co-stars, who I know best as Rita Skeeter, the aggressively annoying reporter in the filmic Harry Potter series.
Rubicon premieres Sunday, August 1st at 8PM on AMC. The scheduling is significant as AMC is starting to own Sunday nights in terms of the best dramatic (and overall) series on television. Breaking Bad ends its breathtakingly strong third season tonight, and Mad Men kicks off its much anticipated fourth season on Sunday, July 25th at 10PM.
So it's very likely that AMC will heavily promote Rubicon during Mad Men's season premiere, and then we're set for Rubicon and Mad Men to run together over the course of a three-hour block throughout the late summer and fall. Very smart, and look forward to diving into the mystery that Rubicon's trailer portends.