Quick Take: Running Wilde, "Into the Wilde"
"Can a guy who just traveled three weeks on a garbage barge to see you get a hug around here?" - Andy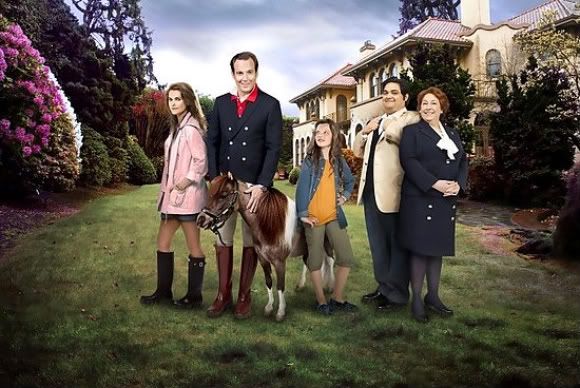 Review: Running Wilde, "Into the Wilde"
(S0102) A sitcom without humor is a sad, little thing, isn't it? While I mildly enjoyed the Running Wilde pilot (though was definitely left wanting more), I don't think I cracked a smile once during its second episode. I could see where the attempts at humor were coming from, but each one of those attempts struck out like the 2010 Arizona Diamondbacks (who, unrelated to all things Running Wilde but interesting to me, recently set the record for most strikeouts by a team in one season).
This week, Emmy (Keri Russell) continues to warm up to Steve (Will Arnett) and even takes him up on his offer to treat her and Puddle (Stefania Owen) on a vacation. Steve wants to look more down-to-earth than he really is, so he plans to take her to an old hunting lodge on his property that had been recently used as something of a getaway destination for Mr. Lunt (Robert Michael Morris). Everything was going according to plan until David Cross' character, Andy, reappeared, expecting to be met with Emmy's open arms (ignoring the fact he arrived on a garbage barge and smelled of medical waste).
When Andy and Steve get wind of the other's love of Emmy, they both decide to be extra nice to each other, though for differing reasons. Steve thinks that by being kind to Andy, Andy will look like a jerk in comparison and be cast off by Emmy. Andy wants to kidnap Steve to hurt his oil baron father when he has to pay the ransom insurance, but doesn't want Steve to realize he's being kidnapped in the first place. All of this could have been dragged out into a decently funny bit, but more time was put into the characters explaining their plan than in actually executing it.
When Emmy realizes what Andy is up to, she teams with Fa'ad (Peter Serafinowicz) to find her two suitors, but an illness developed on the garbage barge knocks Andy out of commission anyway. Meanwhile, Steve (who apparently isn't that bad of a guy because Emmy tells Puddle that time and time again to the point of exhaustion) rushed ahead to the cabin to call for help for Andy. With all well and good, the whole group decides to stay for their vacation after all because that's the best conclusion the writers could come up with, apparently.
All in all, "Into the Wilde" was disjointed and downright tedious. Once again, the central premise surrounding the chemistry between Steve and Emmy was almost non-existent. I have my doubts about Will Arnett being able to command a lead performance, to be honest. It's becoming clearer and clearer that he might be best suited for a supporting role.
Nonetheless, we are only two episodes into the series. Some shows take a while to find their footing. You can find two very recent examples of this in Community and Parks and Recreation. Both of those shows overcame somewhat slow starts to become two of the most original, smart, thought-provoking comedies on TV. With Running Wilde, though, I'll simply settle for some laughs.
More thoughts on "Into the Wilde":
Another "Come on!"-related Arrested Development reference tonight. Hell, it was even a running gag. Just not a very funny one.
Okay, I did laugh at one exchange... Emmy: "I couldn't figure out how to use your dishwasher." Steve: "Who, Oleg? Just push the dish into his chest. He'll take it from there."