Quick Take: Sanctuary, "Monsoon"
"The only men I know are ones who buy tickets to comic-con a year in advance," - Charlotte
"They are a much better breed."-Helen Magnus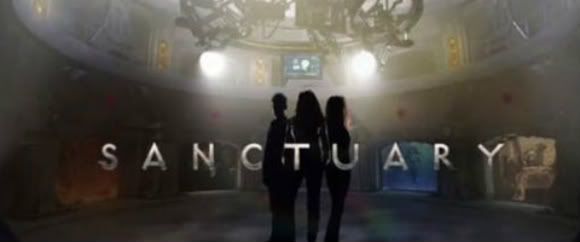 Review: Sanctuary, "Monsoon"
(S0404) I once read a review of Sanctuary that stated that Helen Magnus (Amanda Tappying) is like an odd mix of Mary Poppins and Captain Jack Harkness. This episode proves that unusual hybrid to be true. Magnus is searching for Feliz Richards, a man who can hide her financial assets from the government. Unfortunately, some hijacking abnormals have other plans. "Monsoon" shows us a new side to Magnus and also starts an ongoing plot of Will Zimmerman (Robin Dunne) working with his new FBI flame.
The stories in each episode cut back and fourth from each other in a peculiar manner. For example, both story climaxes are cut back-to-back to each other. This may seem normal in other shows, but Sanctuary somehow makes it look a tad awkward. It was kinda like watching an abridged version of a Star Wars movie, except instead of wipe transitions we get flashy ones. Something about how the scenes are juxtaposed against each other doesn't pop. This is probably because they feel more like interruptions rather than actual transitions. If you watch each story on its own, you find they have good pacing and great moments. It's just how the two are placed together that makes things awkward. Comic relief is found in Zimmerman's squabbles with the FBI and it's always a treat to see Amanda Tapping go "La Femme Nikita" on someone's ass.
What fans will end up talking about the most is the ending. After foiling the attempts of the hijackers and meeting Feliz, Magnus speaks to her friend Charlotte. Charlotte beseeches her to stay. Magnus explains she can't and in the next second, they are in a lip-lock. Holy crap, Magnus is bisexual! This shouldn't come as a complete surprise given the fact that Magnus is a hybrid of Jack Harkness and Mary Poppins. The two dropped subtle hints of liking each other the entire episode. Seeing Magnus with a woman would change the dynamic for this season. Whether or not it survives past this episode is another story. Now an image of Amanda Tapping in naughty nanny garb is stuck in my head.