I never get tired of the fantastic NOVA specials on PBS, and the two titles recently released on DVD are no exception. Both Secrets Of Stonehenge and Quest For Solomon's Mines are wonderful, archaeological explorations of ancient mysteries, using modern techniques to attempt to solve the age-old riddles.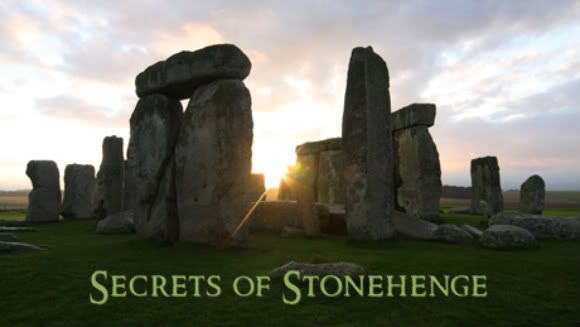 One of the most enjoyable aspects of NOVA is the way information is presented. To the general public, archaeology could seem (pardon the pun) as dry as dust. I know that for myself, even with something of a curious mind, it has never been the most compelling subject. But when the NOVA cameras present the discovery of ancient bones at the Stonehenge site, one cannot help but to be intrigued.
As it turns out, these bones were first discovered in the 1920s. The burial site was actually a cremation burial site. Since scientists at the time thought that they were of no value (because there were no intact skeletons), the bones were reburied in 1935. After unearthing literally thousands of bones and fragments, they were meticulously reconstructed like giant jigsaw puzzles. The key discovery was that the vast majority of them were of older males.
Extrapolating upon this bit of insight, the archaeologists postulate a very plausible theory. Since burial in the site was obviously an honor bestowed upon a select few, the people who built Stonehenge must have had some form of political leadership. Very likely it would have been a form of royal family. There are also a number of experiments to try and explain how the ancient people managed to build the monument. The Secrets of Stonehenge DVD runs just under an hour, and there are no bonus features. But there is a plethora of information here, which is presented in a thoroughly enjoyable style.
As is the other newly released special, Quest For Solomon's Mines. This is another highly illuminating, totally absorbing program. The Biblical legend of King Solomon is explored by NOVA here. Solomon was reputed to be not only very wise, but very wealthy. The historical theories have always been that his riches must have come from controlling the trade routes of the day.
The archaeologists NOVA follow have a much different take on this though, and turn up some amazing facts. The main takeaway is that the legendary King Solomon's Mines were actually copper mines. We are shown a huge set of underground tunnels, just recently discovered in the region. The most notable other element is the heaps of industrial "slag," the term used for the waste product leftover from producing copper.
By working through layer upon layer of earth, the archaeologists are able to show the high density of air pollution present during the time of Solomon. Then, with a stunning display of how the mined rock was converted into copper, they leave one with a pretty solid understanding of how the whole process worked.
It had to have been a massive undertaking, and the experts postulate that it could only have been done with slave labor -- because nobody in their right mind would volunteer for such work. Obviously, that is speculation, but based on the irrefutable proof of how labor intensive the operation was, this seems very credible.
Like Secrets Of Stonehenge, Quest For Solomon's Mines is a single DVD running at just about an hour, with no bonus features. Both of these are moderately priced though (buy Secrets of Stonehenge here), and are enormously entertaining as well as informative. These are exactly the types of programs that have earned NOVA so many awards over the years and such respect. Both are filled with top-notch material, and both are highly recommended.