While watching the 90-minute second season premiere of The Walking Dead last Sunday night, it occurred to me that the episode is far better and scarier and entertaining than any movie I can recall seeing in recent memory.
And then I realized that Sunday nights this fall are absolutely drenched with not just great but stellar television shows, some of which are already destined to rank with the all-time best.
While there are arguably great shows on the air on any given night, it's pretty clear that right now Sunday is the absolute king of television nights.
Here's why.
The Walking Dead – AMC, 9pm
When you compare The Walking Dead to the other ostensibly "horror" show on television right now, the ambitious and creepy but ultimately silly American Horror Story on FX, it is most striking how naturalistic and authentic the zombie-infested Walking Dead looks and feels.
Season Two picks up on where the first left off, with Rick Grimes (Andrew Lincoln) and his ragtag band of the living struggling to stay alive (after a seeming zombie apocalypse) in the face of an onslaught of "walkers" while they must at the same time find the will to fight on in a world gone absolutely sideways.
It should also be pointed out that Breaking Bad, already one of the greatest series of all time, recently completed its stunning fourth season on AMC, and we have new series Hell on Wheels to look forward to on November 6th as well as the long awaited fifth season of Mad Men in 2012. All on Sunday nights!
Boardwalk Empire – HBO, 9pm
Also now several episodes into its second season, the Roaring Twenties-themed drama about gangsters and corrupt politicos continues in the magnificent tradition established by show executive producer Martin Scorsese, who directed the pilot.
While the first season introduced us to a wide sweep of characters – some fictional, some based on real life figures such as Atlantic County Treasurer Nucky Thompson (Steve Buscemi) and infamous gangsters Al Capone (Stephen Graham) and Lucky Luciano (Vincent Piazza) – we are now getting to see them clash and machinate for power in a landscape altered radically by the onset by Prohibition in exciting and surprising ways.
Will Nucky and rival/surrogate son Jimmy Darmody (Michael Pitt) reconcile and rule the "empire" together, or will they destroy each other and those they love in the process? Either way, it's a must watch.
Homeland – Showtime, 10pm
This just might be the powerhouse television series that the masses will be buzzing about in 2012 but haven't quite caught onto yet. Granted, it's a new Showtime show just several weeks into a night already packed with dazzling gems (see: above and below).
And it's dark and occasionally unsettling material to be sure – a long thought dead POW in Iraq is rescued and brought home as an American hero, but he just may have been "turned" by the enemy – but becomes deeply gripping and entertaining television on the power of performances (Damian Lewis as former MIA soldier Nicholas Brody; Claire Danes as Carrie Mathison, the brilliant and somewhat unstable CIA analyst who believes that Brody merits watching; the always amazing Mandy Patinkin as Carrie's mentor and boss; and Morena Baccarin as Jessica Brody, Nicholas' wife and someone whose life has been upended in a bevy of unsettling and fascinating ways), direction, and storytelling.
Even though we're still in the early going, Homeland is doling out a steady stream of disturbing flashbacks that highlight Brody's time in captivity and his potential for being a terrorist brought home to American soil. Damian Lewis plays Brody as an enigmatic figure who obviously and understandably has been psychologically damaged by his time in captivity, yet is deft at showing signs that he is happy to be home with his family (especially his daughter) while throwing all kinds of creepy signals (often with Carrie and the hilariously entertaining Virgil, played by David Marciano, watching via hidden camera from her apartment) to keep us way up on our toes.
How to Make It in America – HBO, 10:30pm
I was not a huge fan of this NYC hustlers-meets-male version of Sex and the City at first, but the chemistry quickly gelled and now, in its second season, How to Make It in America seems to be upping its game to a new level.
The great thing about this (and any) comedy is that it's entertaining even when the laughs aren't coming fast and furious. Which is by design here, really, as How to Make It in America puts a premium on showing what life is like in the Big Apple for aspiring fashion entrepreneurs Ben (Bryan Greenberg) and Cam (Victor Rasuk). The vibe and atmosphere is most legit – I have a strong sense of nostalgia for being young and on the make in New York City whenever watching this show – with fully realized characters and relationships that feel earned. For example, when we get an inkling that Ben and ex-girlfriend Rachel (Lake Bell, who gets a fair amount of screen time on her own this season) might get back together, it feels like an important development in the story.
The supporting cast is solid all the way around and adds to the New York flavor, including Kid Cudi as Domingo and Luis Guzman as Rene. As I've long argued, the one aspect of the show I would change is to see Eddie Kaye Thomas' Kappo given a lot more to do on the show.
Now, if you'll excuse me, I'll return to humming the insanely catchy theme song: I need a dollar, dollar, a dollar is all I…
Dexter – Showtime, 9pm
A veteran show now in its sixth season, Dexter consistently delivers on its promise, delving further into the life of a most peculiar of protagonists. That is, Dexter (Michael C. Hall) is a serial killer who takes out his need to kill on those who more or less deserve it. The best part is that show manages to strike a balance between humor (often delivered via droll Hall voiceovers), dramatic material about a disconnected man trying to fit into "normal" society, and intense serial killer-y stuff.
While I'm sure I'm not the only one who is hungry to see an endgame emerge (and I'd be totally fine seeing it play out over a number of seasons at that) involving Dexter's true nature and deeds getting discovered by those closest to him, there's enough going on at the moment to keep things perky and popping. Sister Deb (Jennifer Carpenter) has taken over the homicide department at Miami Metro (and what would she do if a serious lead into Dexter Morgan-as-Massive Serial Killer came across her desk?), and Edward James Olmos and Colin Hanks (fantastic gets both!) join the cast this season as a pair of serial killer kooks steeped in religion and tortuous "purification" and end times talk and such.
Sounds like our man Dexter has some work to do ahead of him, in other words.
The Good Wife – CBS, 9pm
There are plenty of great dramas on TV right now, but not many of them craft stories about real-life, adult issues with subtlety, sexiness, depth, and humor. The Good Wife is one of the few and in three seasons it's also charted one of the most intriguing female character evolutions ever.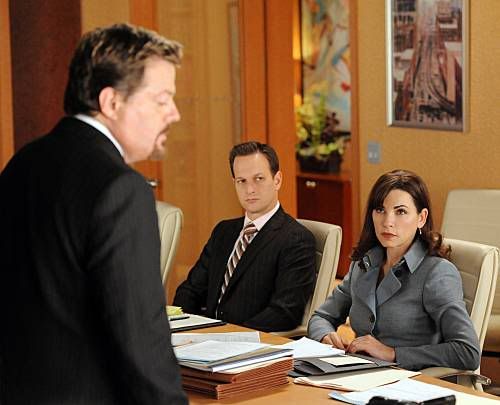 Alicia Florrick, beautifully played by Julianna Margulies, is the show's central character and she's been allowed to change and grow at a pace that's been refreshingly, and sometimes maddeningly, real. Alicia's not some amped up supernatural killer, an over-aggressive Type A chick, or an action-hero fantasy woman . She's a mom, a jilted-wife, and an unsure professional making her way back into a job that's she turns out to be great at. Alicia started out tentative and barely proactive at series start; a radical and gutsy move that was born out of an authentic story.
Now three years later, Alicia has earned her transformation into a sexy, more self-confident woman and lawyer that is still working out who she is and what she wants. Decisions have consequences on The Good Wife and rarely are they easy, be it how to win an important case or the slippery slope of embarking on a long-simmering romance. There are no happily ever afters on The Good Wife; there's the messy, relatable realness of life as it's lived - with a surprisingly effective procedural show woven into its DNA - and that's what makes The Good Wife fantastic TV every week.
(hat tip: Tara Bennett)
Bridezillas / Sister Wives / IRT Deadliest Roads / Iron Chef America / etc.
Yes, there's a delicious junk pile of reality TV delights waiting if the above isn't doing it for you. Dive in and enjoy!