Before we get down to the gossipy nitty grit, I must take a step back and declare the love affair I've had with Shahs of Sunset in its second season. Any reality show must rely on its casting to make magic happen, and Bravo – unlike the largely tiresome Housewives empire – has struck gold (a bar of gold, perhaps?) with the Shahs.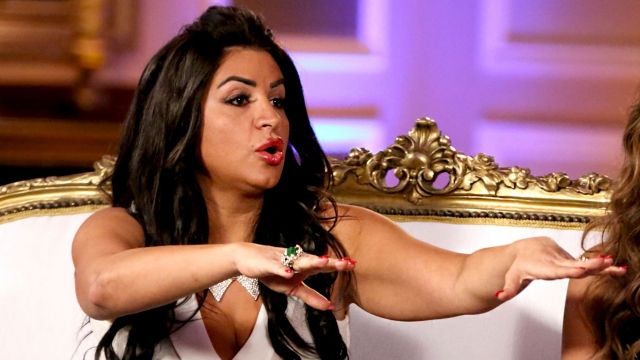 With a good cast, you get the chemistry and conflict that makes the gang interesting to watch (this explains, for example, why Jersey Shore was a highly watchable series for most of its run, something that most "serious" TV critics won't admit to understanding). And man, we get a goodly Persian dose of both with the Shahs.
Coming out of the second half of the Shahs of Sunset Season Two reunion show, one of my biggest questions related to the current state of disrepair in the friendship of Reza Farahan and MJ (Mercedes) Javid. As we know, this pair has been friends more than twenty years, but the boat hit some seriously rocky shoals of late.
During the reunion, Reza repeatedly accused MJ of being a raging alcoholic and a pill-popping drug addict. I was most interested in MJ's lack of a response to these allegations. Obviously, we have some evidence in terms of show footage over the first few seasons. At the very least, we know that MJ is both insecure with herself, and let's say… uses alcohol (at a minimum) to lubricate and relax. And yes, she'll regularly push things to the point of drunken revelry (and at times, oblivion). I must admit that I loved the scene where she got housed on white wine while trying to put together some IKEA furniture. Don Draper no doubt would relate.
And during the trip to Mexico this season, a fracas occurred when a few cast members confronted MJ about taking pills. At that point, MJ went nuclear, declaring that she had only taken an Ambien to get some sleep on the plane. In her defense, we all know that that hour plus flight from LA to Cabo can be living hell without something to help you get a lightning quick power nap.
At the reunion, Mike Shouhed, ever the conciliator, tried to defend MJ by asking Reza if he had ever visibly witnessed his friend taking recreational drugs of the pill form. Reza replied that he had, many times, and Mike dropped his case, saying, "Then it's not hearsay." While it's possible that editing cut out some form of defense from MJ, we didn't see anything like this.
Reza's alleged reason for calling out MJ in such an aggressive and public way is that he wants her to get help, and that when she goes to rehab he is willing to reboot his relationship with his old friend.
While this may be true, Reza did not have a great defense for why he had not publicly aired his grave concerns about MJ in the past. Indeed, when things were rosy between the two, he would often compliment her on being the joyous, inebriated life of the party. And we also know that when he is not cool with someone, he has a Howard Stern-like ability to annihilate his competition at every opportunity.
So in short, the only thing we know is that we'll be eagerly waiting to see what happens next when Shahs of Sunset returns for a third season.