Quick Take: Sons of Anarchy, "Bainne"
"Dad's manuscript, it wasn't about changing the club, it was about changing his legacy" - Jax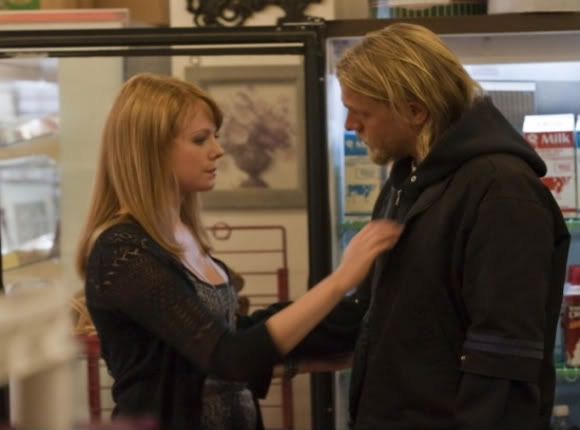 Review: Sons of Anarchy, "Bainne"
(S0311) "Bainne" was, well... let's just say it was an interesting episode. I hesitate to choose an adjective to describe it that is definitively positive or negative. There were individual scenes that I really liked, loved even, but by the time the credits rolled at the end I wasn't quite sure how I felt about the hour as a whole. The way last week ended I was hopeful that the final three episodes of the season would really start to tie into the cental conflict from the first two seasons. We got a little bit of that last night, but not as much as I was hoping for.
Belfast
Unless something crazy happens, this should be the final Belfast episode and I am relieved to be getting the hell out of there. In interviews, Kurt Sutter set the season up to be all about the show's mythology, the birth of SAMBEL chapter, John Teller's time in Belfast, etc. Either I missed something, or he totally sold us a bill of goods. Aside from discovering that JT had an illegitimate Irish daughter (as we have discussed before, not all that juicy a secret), we didn't really learn a thing. We still don't know how John died, what made him go to Ireland, what made him have a change of heart about the direction of the club. I know I have mentioned this before, but it bears repeating. At the beginning of the season, Gemma kept mentioning to Clay that there was some big secret in Ireland that she didn't want Jax to find out about. Clearly that secret wasn't Trinity (because at the time Gemma didn't even know about her). So what the hell was Gemma talking about?
The show even seems to acknowledge the fact that Trinity (Zoey Boyle) and Jax (Charlie Hunnam) being related isn't that big a deal with their lighthearted (yet creepy) banter at the beginning of the episode. "Bottom line here, I found out I had a sister," says Jax. "Yeah, a sister you nearly shagged," says Trinity. "You say that like it's a bad thing," says Jax. Weird, guys. The only real hope we have for any answers to the burning questions about JT's time in Ireland lies in the letters he wrote to Maureen, which she sneaks into Jax's luggage.
The shame about this episode, and this whole season really, is that my favorite scenes -- the ones that have resonated the most -- are the ones in which it seems least likely that Jax will get Abel back. That is a bad sign for a season that has been so singularly focused on reuniting father and son. Last week it was the scene at the end when Father Ashby (James Cosmo) sits down with Jax and tells him about JT's wishes to keep his son away from the club that hit closest to the mark. This week Jax and Gemma (Katey Sagal) go to the orphanage only to discover that Abel was adopted two days before. Gemma, resourceful and cold-blooded as ever, grabs a baby girl, puts a pistol to her head and demands to know the names of the adoptive parents, leading to the best scene of the episode (and probably of the season).
Jax spots Abel with a young couple leaving a hotel and follows them into a market. He watches from a safe distance as the happy new family window shops. The music is haunting (Alesund, by Sun Kil Moon), the direction (from former cast member Alan Arkin) is great, the look on Jax's face is difficult to read (and that adds to the drama). Is he going to run up and snatch his baby? Will he pull out a gun and shoot the couple or he simply let them walk away?
Turns out he lets them walk away. I had suspected for weeks that this might be the ultimate outcome of the trip. And honestly, I was rooting for that as long as Jax learns something from the experience. Ideally, I wanted Jax to leave Ireland without Abel and return to Charming hell-bent on changing the Sons (and taking on Clay in the process). When he returns to the SAMBEL clubhouse empty handed Gemma is understandably confused. "I let him go, Mom," Jax says. "Dad's manuscript, it wasn't about changing the club, it was about changing his legacy," he continues. (This is the third example in as many weeks of Jax using flowery language that I wouldn't expect from an uneducated biker, but it's a decent line so I'm willing to give the writers a pass) But Gemma hasn't come all this way for nothing and she isn't going to stop fighting for her grandson now. So she breaks a promise and spills the beans about Tara's pregnancy.
Jax doesn't really have much time to process this new information or think about how it relates to the decision he just made. Right after Gemma tells him, the rest of SAMCRO rushes in and says that Jimmy O (Titus Welliver) is planning on going after Abel, intent on using him as leverage with the IRA to get out of Ireland. So just as things slow down and the show is able to start making sense of things it is right back off to the races, chasing the damn baby again. This was so freakin' frustrating. I love Sons of Anarchy, but I swear I almost changed the channel. I was so proud that the writers had the balls to have Jax walk away from his kid. To have everyone just jump on their motorcycles and start running after the kid again like nothing happened was like a slap in the face.
SAMCRO finds the adoptive parents dead in their hotel room and no sign of Abel. Jax blames himself like he always does. "I did this," he says before he and Opie (Ryan Hurst) gently place the bodies together on the bed. Abel is with Jimmy, who has already reached out to the IRA to cut a deal. The IRA council will allow Jimmy passage to the States in exchange for the child's safe return. The council contacts Jax and Clay (Ron Perlman) and cuts them in on a deal of their own. If they are able to kill Jimmy once he gets to America, the IRA will give SAMCRO all of his weapons contacts on the West Coast, a valuable offer indeed. Clay seems thrilled. Jax, not so much; it seems he is ready to get out of the game entirely. The bright side for Jax, though, is that Jimmy is traveling to the States on his own, which makes it easier for him to live up to his end of the bargain with Stahl (Ally Walker).
In the end, Jimmy gives Abel back to Jax safe and sound. "I'll never let anyone take you from me again, I love you," says Jax, who all of a sudden wants to play doting father. Kellan Ashby isn't as fortunate as the child. Jimmy takes him hostage to use as insurance for his trip to America. He wants to make sure that the IRA doesn't try any funny stuff. The good news is this leaves open the possibility for the priest to rejoin the cast in Charming next season if he manages to survive.
Just as SAMCRO is saying their goodbyes to the kind folks of Belfast, Bobby (Mark Boone Junior) gets a call from Charming. It's Tig (Kim Coates) and he wants to speak to Jax...
Charming
The Charming stuff this week was much improved, actually. I know, that isn't saying a whole lot considering that it has pretty much sucked for the past few weeks. But I'll take what I can get at this point. I got two things to cheer about in "Bainne." First, it appears that Unser (Dayton Callie) is slithering back over to SAMCRO, which is always a good thing. I like the the unholy alliance of Unser and the club much more than the adversarial relationship. I also like it when Tara (Maggie Siff) gets to be a bad-ass instead of a damsel in distress.
When Unser finds out that the City Council has voted in favor of allowing the County Sheriff's Department to take over for the Charming PD, he calls in Jacob Hale (Jeff Kober). When Hale doesn't give him the answers he is looking for, Unser straight up accuses him of being involved with shady real estate dealings and ordering somebody to beat up Lumpy (which ultimately resulted in his death).
Soon after Hale leaves Unser's office, Stahl and her partner show up and let the chief know that Tara and her boss haven't showed up to work in a couple of days. They assume the worst and head out to the clubhouse looking for someone to shed some light on the situation. Lem (Kenny Johnson) tells them about the kidnapping and Stahl (SAMCRO's new BFF) offers up some DEA cash to help get her free. Stahl tells her skeptical partner that by helping SAMCRO, they are helping themselves get closer to Jimmy, who is the real prize. Unser is on board to help because he wants Salazar (Jose Pablo Cantillo) to testify against Hale. "We need Salazar alive. If he can prove that Hale is dirty we can bury that lying son of a bitch."
The money exchange is set to take place in a busy park but things get screwed up when a kid sees Tig drop the bag of cash in a trash can. The kid grabs the bag and takes off with it, causing the Feds to blow their cover. Salazar is able to escape and call Luisa, his girlfriend, to let her know things went south with the drop. When Luisa (Tara Macken) comes into the room where Tara is being held, Tara ambushes her and slices her face and neck with some kind of sharp object. Salazar arrives home to find his girlfriend on the verge of death and his hostage in a new position of power. If he doesn't hurt her and frees bosslady, Tara will keep Luisa alive. He agrees. The only problem is that she has already lost too much blood...