Quick Take: Sons of Anarchy, "Darthy"
"Democracy's overrated. Revenge is never about the greater good. It's a visceral need that has to be satisfied or the strong lose focus." – Damon Pope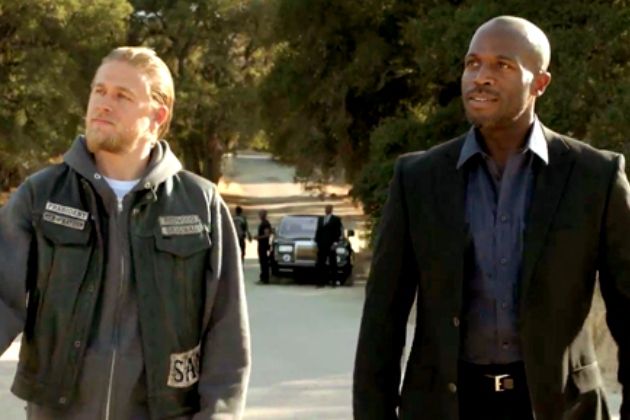 Review: Sons of Anarchy, "Darthy"
(S0512) "Darthy" opens with Clay admitting he had a part in the home invasions and the SAMCRO members voting for him to lose his patch and possibly his life. Bobby is the lone no vote to ending Clay's time and Clay dodges another bullet. Jax doesn't take this lightly and decides to beat the crap out of him instead. I think that Jax's frustration is justified since Clay killed Jax's father, tried to have Tara killed and then the home invasions also got Sheriff Roosevelt's wife killed. I say hand him over to the sheriff and be done.
In last week's episode, Bobby went to see Clay and it is revealed that Bobby agreed to vote no on killing Clay if he admitted to the club what he had done. Bobby tells Jax that they had no proof against Clay and if Clay had stayed in the club, Jax would have killed him behind everybody's back, making Jax worse than Clay. Bobby doesn't want Jax to turn into the person that he hates the most.
Tara is still dealing with the ramifications of Otto murdering a nurse with a crucifix that Tara brought to him. It sucks to see Tara in this kind of predicament, especially since she was trying to help the person she cares about the most. After her lawyer asks where the boys would go if something happened to her and Jax, Tara makes the decision to choose Wendy as their guardian since Gemma is such a hot mess. Tara later gets a visit from the man who had visited and beaten up Otto. He tells her he is the brother of the nurse that was murdered and he asks her for details of what happened. He also admits he is an ex-U.S. marshal plus he knows about the RICO case against the MC. Tara definitely has more problems than she can handle.
Jax meets with Pope to get some advice and Pope tells him to either trust his guys or take more from Clay than just his patch. Pope also reminds Jax that if he doesn't deliver Tig that Charming Heights, the deal with Lin and SAMCRO will be dead. I really hope that Jax has a plan because I really don't want Tig to go.
Jax continues his plan for the Mayans to take over the drug muling and for Lin to supply the guns. The Galindo cartel is okay with the new guns, but needs one more shipment from the Irish. The club meets with Galen and he agrees to Jax's decision. The cartel surprises the meeting telling Jax they don't trust the Irish. Two members of the cartel are shot so they take the guns without giving money to the Irish.
Jax sees Wendy with Abel and is not happy. She disappears while waiting to talk to Jax and it is Galen's thug who grabs her. Galen is threatening to kill Wendy and take Abel if he doesn't get his money. Nero gives Jax the money and he sends Clay to deal with Galen. He gets Wendy back and makes a deal to help with the guns plus a ride to Belfast.
Wendy confronts Jax and Tara about the time when Abel was kidnapped and taken to Belfast. She makes it clear that she will pursue custody. After she leaves, Jax assures Tara that everything is going to be okay, but I feel that giving her a beautiful life might be an impossible dream. Clay tells Gemma about his deal with the Irish and asks her to go to Belfast with him. She says she'll think about it and goes to Nero right after. Clay has all of his SAMCRO tattoos blacked out in front of all the members.
Jax meets Tig at Wendy's apartment with Tig supplying Jax with something that is ready to 'shoot up'. When Wendy opens her door, Jax acts like he wants to talk to her, but then pushes her against the wall and injects her with drugs. He tells her not to threaten him again. Out of all the things Jax has done this season, this moment with Wendy was definitely the worst. She is not my favorite and she certainly has leverage over him, but ruining how hard she worked to get sober is a low blow.
Season Five is coming to a close, only one more episode left, and it definitely has brought many shocking moments to the show, with Opie's death being the most heartbreaking scene of the series. Jax has had an interesting run as SAMCRO president and I have to admit some of his decisions have left me disappointed in him. He is trying so hard to get the club in the direction that his father wanted it to go, but it is costing him a lot. I am hoping in the finale that he can fix at least a few things, but with the marshal lurking around and Pope waiting for Tig, I don't doubt that the season will end with more mayhem for the club.