Quick Take: Southland, "The Runner"
"Actually it's see no evil, hear no evil, speak no evil… and it's Buddhist." – Detective Kenny "No-Gun"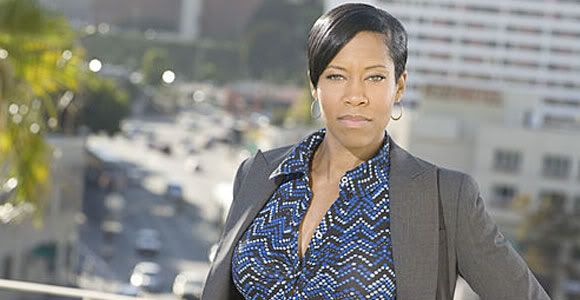 Review: Southland, "The Runner"
(S0204) Nice to see a focus on Lydia Adams this week, played by the marvelous Regina King. Southland and King has done a good job of letting us see Lydia's layers: a hardnosed veteran female cop who has a well of compassion and an aggressive agenda of social justice. Did I miss something though or what happened to Adams' new partner Rene Cordero (Amaury Nolasco)? I enjoyed the progress of their relationship over the last few episodes, so it was a bit jarring to her working with another detective this way.
Lydia and her new guy investigate The Runner, an LA college student with a bright future who throws it all away in a spiral of the wrong crowd (which ironically includes a star football player boyfriend), the wrong drugs, and a pregnancy to boot. Long story short: she "rips and runs," ripping off drug dealers in her old hood, and winds up very dead. The detectives' investigation sheds a harsh light on the layers of lies and truths that are inherent to institutions (the university), families (parents in denial), and the street.
On a less "all is grim" note, awesome to see the return of C. Thomas Howell, who plays Officer Billy Dewey! I was afraid he was going to be gone for good after Dewey spun out of control and got shipped off to rehab in Season One. Howell brings a tremendous burst of jittery energy into an at times downbeat show. I've always enjoyed Howell's acting, and very strange in that I still think of him as a young '80s star in films like Soul Man and The Hitcher.
I got unexpectedly choked up when Lydia calls her mom at the end of the episode (who finally made it to France!). Southland has a way of sneaking up on you, kind of like real life in that sense, perhaps.
More thoughts on "The Runner":
"Actually it's see no evil, hear no evil, speak no evil… and it's Buddhist." – Detective Kenny "No-Gun"
Good moments between John Cooper (Michael Cudlitz) and Ben Sherman (Ben MacKenzie) in their limited time this week. In a very solid ensemble cast, these two always manage to stand out.
I must beat the drum on this: Southland needs to ditch the opening theme music / creepy serial killer montage. And losing the initial semi-menacing voiceover wouldn't hurt either. They are both tonally wrong for this show.
Video: Southland, "The Runner"
Check out a scene from The Hitcher! Great and super tense '80s thriller starring C. Thomas Howell and Rutger Hauer:
Recap: Southland, "The Runner"
Lydia and Rene arrive in Compton, where a young USC student was murdered.
From Around the Web: Southland, "The Runner"
The Graveyard Shift: Many TV shows wrap their evidence in neat little bundles for the viewing audience. It's all right there for officers to find the second they set foot on the scene. Not this show. Detectives have to work for what they get. For example, two empty 9mm casings were found at the scene, but only one round struck the victim. Where was the second round? Were there two victims? This happens in the real world all the time.
(The Graveyard Shift has been doing an outstanding job of breaking down Southland all season long from the perspective of a former cop.)