Quick take: Spartacus, "The Thing In The Pit":
"That's how you send a dog to the afterlife!" - Batiatus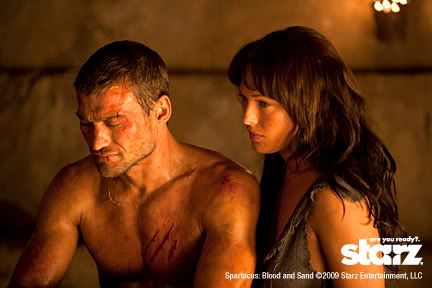 Review: Spartacus, "The Thing In The Pit"
There's a giddy and spot on snarky Reel Big Fish song called "In the Pit" that ridicules dumbass frat boys and all around "haters" who enjoy taking to the mosh pit at rock shows simply to take pleasure in beating the crap out of fellow concert goers. The chorus culminates with:
When I'm in the pit, don't you know?
I'm gonna f- up shit!
When it comes to Spartacus, it's not all that different in the pit. Except that there's no rock music. And the frat boys are blood splattered subterranean-looking beasts this side of The Warriors. And those blood splattered beasts enjoy taking sledgehammers to the skull for purpose of carving off your facial skin and wearing it for a mask.
Other thoughts on "The Thing In The Pit":
John Hannah is a supremely gifted actor. It's hard to believe that the self-effacing, warm, and witty characters portrayed in movies such as Sliding Doors and Four Weddings and a Funeral come from the same guy who brings us Batiatus, the scheming, brutal, yet surprisingly human gladiator school master in Spartacus.
Is that really a flesh mask that that dude rips off the "Fugitivus" guy in the pits? I know it is, but I'm asking… like really, it went there?
While the scenes in the pit particularly are literally drenched in (fake) blood, it's noteworthy and nice to see that the 300-derivative slow motion and blood slasher action scenes have subsided a bit over the course of the season.
Each episode features extra little (naughty) bits and pieces that let you know LOUD AND CLEAR that THISISCABLEWECANSHOWCRAZYSHITHERE, and this one is... no exception.
Some of the pit fighting scenes reminds one of MMA, no?
"That's how you send a dog to the afterlife!" - Batiatus
"Mandrake root… chew it to numb the pain." Varro (Jai Courtney) to Spartacus (Andy Whitfield). I've always wondered what the heck mandrake root is as it's the title to an old Deep Purple song.
Recap: Spartacus, "The Thing In The Pit"
In case you missed it, here's the full recap from Starz:
After Spartacus's dismal fight against Crixus, Batiatus tells him no one wants to see him fight in the arena. There is, however, an option for the man who doesn't follow rules: the place where there are none. Spartacus is hauled away, his hair shaved, his body covered in ash, sent to the fight pits. As Batiatus gets ready to leave for the pits, Lucretia frets about his safety. Batiatus assures her that though these are dangerous places, he is taking Barca as protection. Besides, the money he will make can buy water in this time of drought.
Once Batiatus is gone, Lucretia sends Naevia to fetch Crixus. On the walk up, Crixus notices that Naevia is not wearing the necklace he gave her. Before she can explain her reasons, Crixus cuts her off. Later she explains to Crixus she isn't allowed possessions of any kind and to keep it would put them both in grave danger. Crixus, realizing his mistake and the extent of her feelings, kisses her.
Meanwhile, at the pits, Spartacus steps into the ring for a bloody battle whose only rule is to fight to the death. Spartacus wins and upon returning to the ludus tells Doctore that he will fight his way back to being a gladiator. Too late, Doctore tells him; the best Spartacus can hope for is a quick death. An ostracized Spartacus continues to win fights, but with the realization he will not survive much longer. Spartacus goes to Batiatus and offers to lose his next fight and accept certain death. In exchange, Batiatus agrees to bet heavily against him and use the money won to find Sura and bring her to the Ludus.
Spartacus steps into the ring, determined to make a good show of his death. Just as the other fighter is about to finish him off, Spartacus sees two assassins approach Batiatus. Knowing that Sura will be lost forever if Batiatus dies, Spartacus kills his opponent then the second assassin. Though Spartacus saved Batiatus's life, he has just made his financial problems infinitely worse. Nevertheless, in gratitude for saving his life, Batiatus reinstates Spartacus as a gladiator.
From Around the Web: Spartacus, "The Thing In The Pit"
Most reviewers seem to be enjoying the sword and sandal meets popcorn movie fun of Spartacus…
IGN: "The Thing in the Pit" doesn't deliver much new in terms of story but if you're looking for some great fight sequences this is the episode for you. However, if you appreciated the strong narrative from last week you're going to find yourself a little disappointed that no new develops emerge in any of the major story lines this week
Monsters & Critics: ...the female shenanigans are heating up with Lucretia (Lucy Lawless) and her snobby blonde Roman patrician pal Ilithyia (Viva Bianca) who acts a bit silly except when matters of the gladiators arise, then she is all business. Think a bit of Madeline Kahn in History of the World, selecting male escorts.