Quick Take: Spartacus: Gods of the Arena, "Missio"
"A man of ambition is capable of doing anything." – Batiatus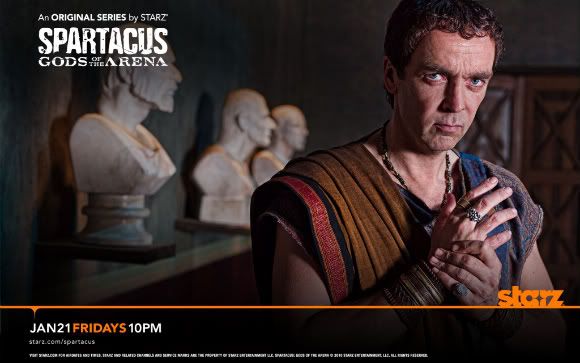 Review: Spartacus: Gods of the Arena, "Missio"
(S0102) This installment of Spartacus: Arena of the Gods revealed more of the back story of how Batiatus (John Hannah) rose to the position he holds at the beginning of Spartacus: Blood and Sand. The episode plays out like a season finale even though we're only in the second part of a six-episode prequel, with webs of lies and intrigue and motivations playing out throughout the power structure of the House of Batiatus and other players in Capua.
It's fascinating to think about how the gladiators themselves might find honor in the arena as there is often so little to be found beyond it. That's one dynamic that the show plays with, and another that I think about often while watching is the ironic setup that a gladiator, who is really a slave sent out to fight for their lives for sport and betting and amusement, has the opportunity (albeit a long shot it would seem) to be revered by the people, to be made immortal, to be thought of as a god made flesh. We saw quite a lot having to do with this in Season One of course, and it was hammered home in this episode when Gannicus (Dustin Clare), the "star" of the ludus – at the moment at least (we know for a fact that he's nowhere to be seen by the time we "catch up" to the events that kick off Spartacus: Blood and Sand, which is a true shame because the character and performance are both terrific) – descends from gladiator rock star to exploited slave with dizzying speed for the depraved pleasure of a horny noble with an opium buzz.
What's really almost mind blowing too is that when you take a step back, it's downright remarkable that the Spartacus franchise manages to package great writing, action, performances, and story telling arcs (both episodic and season-long, no easy feat to say the least) with continued high doses of the most gratuitous sex and violence that you will see outside of Pay Per View. It's all kind of stylized and splashy and meshes pretty well with a world and culture that's obviously very different than our own, and while I'm actually fine with all of the above it only saddens me a touch in the sure knowledge that this show will never get anything close to the recognition it deserves because the sexy sex and bloody fight scenes will dominate any consideration of the show in most circles. Still, Starz is forging ahead with the franchise – even going ahead with replacing Andy Whitfield in the lead role for the upcoming new season of Blood and Sand as he undergoes cancer treatment – while axing critical darling (and lords, I must add what a true comedy jewel it was) if ratings poor Party Down after two seasons.
In any event, back to "Missio." Much of the episode played out like a well plotted caper flick. The mission: to lure rich and influential Varrus back to the House of Batiatus so that he might perchance take interest enough to place the gladiators of the ludus in a prime position for upcoming high profile games. While the aim is relatively straight forward, it takes a number of crafty steps to get there. The first phase involves Vettius (Gareth Williams) being diverted into an alley with his men, where his protectors are killed while he is bludgeoned and bloodied (and pissed on – all in retaliation for Batiatius' humiliation at the hands of Tullius). This allows Varrus to be left waiting for Vettius under the hot Capuan sun, whereupon Lucretia (Lucy Lawless) and Gaia (Jamie Murray) "just happen to" bump into him. Gaia particularly uses her charms – it's unclear if she's helping out Lucretia because she's in love with her or if she's trolling about for a new husband at this point – to convince Varrus to head back to Batiatus' villa for refreshments and entertainment whilst he waits. Batiatus arrives back at the house and, wouldn't you know it, Vettius has miraculously ended up at the very place where he can find the very finest gladiators for the games in all of Capua
Gaia's plan is to have Varrus so tanked up on wine and opium that he'll be agreeable to just about anything. The entire plan works perfectly… but there is both unintended price and fallout. During his stay at the ludus, Varrus essentially becomes master of all he surveys, and it's ironic in yet another light that even Batiatus becomes a slave of sorts within his own villa as he's desperate to win Varrus' favor. Through an ignorant comment from Gaia, Crixus – as yet a raw recruit far from the polished and efficient warrior he becomes later – is forced to fight Gannicus with steel in a demonstration that could easily turn deadly. Crixus nearly defeats champion Gannicus but loses in the end and comes within inches of losing head in the process. Meanwhile, Batiatus replaces the current Doctore (head of gladiator training, an esteemed position but still a slave) with Oenomaus (Peter Mensah). This precipitates a blood feud between Doctores past and future, and ends with Oenomaus lunging his sword between his mentor's ribs.
While that's going on, a tanked up Varrus has Gannicus presented to him. We're led to believe that he may well want to take the champion as his boy toy right on the spot, but instead he orders that he make love to the nearest slave within eyeshot for his viewing pleasure. It turns out to be Melitta (Marisa Ramirez), Oenomaus' wife. Earlier in the episode, there was a really nice scene where Gannicus, Oenomaus, and Melitta get to hang out with each other a little bit. It's obvious at that point that the two men are friends and allies, and Melitta admires them both even if she can't comprehend Gannicus' live-in-the-moment worldview.
Batiatus, flush with victory, later warns Melitta and Gannicus that it will serve no one to reveal to Oenomaus what had happened. When Melitta sees Oenomaus later, the latter is miserable over just having killed his former master. "We all do what we must in this house," she replies.
More thoughts on "Missio":
"A man of ambition is capable of doing anything." – Batiatus
I'm starting to believe that Batiatus and Lucretia are one of the all-time great television couples.
"Who would you have embrace this god of the arena?" – Batiatus