Quick Take: Spartacus: Gods of the Arena, "Past Transgressions"
"Everything is for sale, Battiatus. The question is but price." – Tullius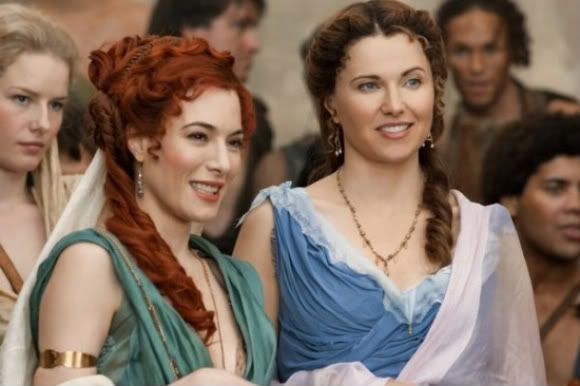 Review: Spartacus: Gods of the Arena, "Past Transgressions"
(S0101) It's a brilliant stroke that Starz has produced a prequel miniseries to the scintillating if uneven at times first season of Spartacus: Blood and Sand if only that we get to see more of Batiatus (John Hannah) and Lucretia (Lucy Lawless). Hannah and Lawless portray a couple so conniving, ambitious, and hedonistic in their doings that it's hard not to root for them even as they do despicable things to get ahead in the game of managing a squad of gladiators in the ancient Roman city of Capua. Because the regular Spartacus series obviously had to focus much of its time on its leading man's journey, we often didn't get to see as much of the power couple as we would have liked (and, sadly in a sense, they both got theirs at the hand of Spartacus and his band of newly liberated gladiators at the end of Blood and Sand Season One).
The power dynamics are somewhat different from when we first met the players at the House of Batiatus last season. Batiatus himself is noticeably younger and less well established amongst Capua's ruling class; indeed, his gladiators fight so early in the day that all the VINs (very important nobles… I just made that up) have shown up to sit in their luxury box seats as yet. Doctore is known as Oenomaus (Peter Mensah) for he has not yet ascended to the position as master of gladiator training (though we do know this is after the infamous fight in which he is injured while fighting the legendary Theokoles). He also has a wife who attends to Lucretia at this point, so that likely will not end well. We also see a younger and longhaired Crixus get saved from certain death over a marketplace squabble by Batiatus, who purchases the slave simply to gain favor in a political matter. Crixus (Manu Bennett) meets Ashur (Nick Tarabay) for the first time and is treated as the "fresh meat" that all new arrivals to the ludus are. It's ironic and funny of course how much changes between this point and when Spartacus first arrives on the scene (sadly Andy Whitfield will not appear for Gods of the Arena nor the second season of Blood and Sand as he is battling non-Hodgkins lymphoma).
As we're getting sorted with catching up with old and new characters alike, the main thrust of episode concerns a professional and personal rivalry that Batiatus has with young Vettius (Gareth Williams), who heads a competing ludus. Vettius sets up a nifty trap when he agrees to have his champion fight Batiatus' best in the marketplace (as it will not be an honorable contest in the slightest). Batiatus let his "crowing" tongue boast that his best man could defeat anyone Vettius could produce blindfolded, and the latter forced him to back up that statement for reals, as the kids say. A truly gripping and amazing fight scene ensues between Gannicus (Dustin Clare) and Vettius' champion due to both the action and direction itself (though not for the feint of heart to be certain) as well due to the fact that we had no idea who would come out victorious. A blindfolded and hung over Gannicus ends up victorious, and his fortunes along with Battiatus' seem to be on the rise.
As is often the case however, things are not quite what they seem. Tullius (Stephen Lovatt), who Battiatus sought out as a benefactor of sorts, turns out to be not so nice. Instead of granting Battiatus entry into a higher standing in Capua circles, he demands to purchase Gannicus as his own – he owns Vettius' ludus as it turns out.
A great start to another (shortened) season of Spartacus. I only wish there were more than five episodes to look forward to ahead of the new season of Blood and Sand.
More thoughts on the premiere of Spartacus: Gods of the Arena:
"He can strip naked and fight with his cock, as long as he wins." – Batiatus on Gannicus
Gannicus is an original gladiator-as-showman (and far more of a ham than the ruthlessly efficient but humorless Crixus), and the opening fight scene in a modest Capua arena makes those of us who loved the original series recall why.
There's also no shortage of gratuitousness for which Blood and Sand was known, including but by no means limited to: fully naked male slaves getting whipped and tortured, fully naked female slaves getting dragged around by neck harnesses, sex scenes that push the boundaries on the term "soft core" and, perhaps my favorite: Batiatus holding court and pontificating on life and ambition whilst sitting on a public "throne."
"Lesson One: never drop your f—king guard." – Oenomaus to Crixus
"Every night is time for drink." – Gannicus
"Oenomaus, it should be you tomorrow." – Gannicus
"Words fall from your mouth like shit from ass." – Vettius to Battiatus
"Everything is for sale, Battiatus. The question is but price." – Tullius
Nice to see Barca (Antonio Te Maioha) back. Is his current boyfriend in the ludus, who we only see briefly, the actor who played Mark Antony on Rome?
Lucretia dabbles in opium and other dangerous pleasures with Gaia (Jamie Murray). You know there's going to be much more ahead with this sub-plot. When Lucretia turns her eye to Crixus for the first time, perhaps?