There's a lot of change going on in the world of Spartacus, the least of which being its new subtitle (Vengeance) as audiences will see when the STARZ drama returns for its second season on Friday, January 27 at 10:00 pm EST/PST.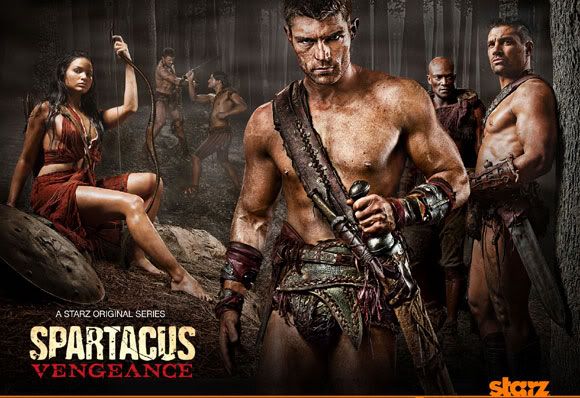 First off, Spartacus: Vengeance is indeed the second season. Last year's prequel, Spartacus: Gods of the Arena, was a miniseries that was sadly born out of the tragic diagnosis of actor Andy Whitfield with non-Hodgkin's lymphoma in 2010. Unable to return to the role of Spartacus while he battled cancer, Whitfield graciously handed the role back to showrunner Steven S. DeKnight to recast in 2011. Whitfield succumbed to his cancer in September 2011, but DeKnight and the rest of the cast moved forward with the tale of the Roman slave that unites the downtrodden of the land to revolt against the Roman Empire and dedicated it to Andy.
Now the story picks up where Season One left off, with Spartacus and his fellow ludus slave fighters free of their gladiator chains. The Roman leadership is caught off guard, and more than a little concerned by their escape, so they send Praetor Claudius Glaber (Craig Parker) and his troops to find Spartacus and put him down for good.
Actor Liam McIntyre is now playing Spartacus as a still very angry man who continues to mourn the loss of his wife and child to the Romans. However, now he's a man with followers who look to him to move away from just his personal vengeance to something bigger for all of them.
DeKnight talked to TV Geek Army and other sites in a call recently where he shared some insight into the making of this brash drama, moving forward without Whitfield and what the show will explore this season.
Here are eight must know details...
Liam McIntyre is not trying to do Andy Whitfield's Spartacus
What drew us to Liam is that we didn't want to try to duplicate (Andy). I mean, that will never happen. He was such a singular, amazing talent. But we wanted to find somebody that had the same base qualities of compassion. And I told all the actors when they auditioned that even though Spartacus may fly into a rage now and then, he never comes from a place of anger, it's always from a place of a wounded heart. And we really felt like Liam captured that essence.
Spartacus is in transition this season
This was always planned to be the season where Spartacus goes from a man really searching for his personal redemption in the death of his wife and his feelings of responsibility for that, that's why he wants to exact the vengeance, and transitioning him into a true leader. And it's a very, very bumpy ride for him to go from someone that we see in Season One who is a good man, but he is much more concerned about himself and his wife. Everybody else is secondary. And this is where he starts to move into caring more about the group and putting their needs above his own eventually. Everybody grows up in this season.
Growing up might mean opening his heart again
As we left Mira (Katrina Law) in Season One, she really responded to Spartacus and was falling in love with Spartacus and Spartacus had compassion towards her, but I wouldn't call it love. Where we move with them, they have moved into a quasi-relationship, but it's a relationship that's very bumpy and rocky and may or may not work out in the end.
Steve killed his own inner voice on the show
Well, I've always said that my inner voice is Batiatus (John Hannah). Strangely, his ranting, profanity-filled monologues I have all the time. But now that he's gone, I guess I don't really have an inner monologue on the show.
Blame the directors and actors for all that creative sex
With the sex scenes, if there's a specific emotion we're looking for, we'll get into a little more detail. Otherwise, we tend to just describe what kind of lovemaking is going on. The words that keep popping up are: tender, gentle, vigorous. Vigorous pops up quite a bit as you can imagine. So that's usually a little less detailed. And again, we're more concerned on the writing side with conveying the emotional beats of what's going on in that situation and we leave the actual technical "what's touching what, who's kissing where to the director and the actors.
The show's very specific language style is a pain in the ass to write
I had the bright idea of kind of creating a very different kind of language and the way people speak, which is not natural and it doesn't come naturally to write it. So it takes a lot longer to write and it's a bit more of a pain in the ass, but the result I think was very successful in conveying the sense of a different time in history. For me, I studied as a playwright so I was deeply steeped in Shakespeare and I call this Shakespeare extra, extra light. I always say the language is a cross between Shakespeare and Robert E. Howard, who wrote all the Conan stories.
The men on Spartacus are shorn for a reason
In ancient Rome, the Romans considered hair to be barbaric. Now they probably would have let the gladiator be barbaric because that was part of the appeal, but for our show there's also an aesthetic value that we need. We need them to look good. Manu Bennett for example, who plays Crixus is just a chiseled man, and if we would have had him very muscular, but furry like a bear, you wouldn't be able to see that he was very muscular. So it just wouldn't have the aesthetic value. In a very interesting side note, actually the Romans, because they considered hair to be barbaric, that's why Roman men do not have beards.
If you don't enjoy fighting Romans, stick around because DeKnight's got more to come
I'm actually at the moment writing a new project for STARZ. It's so super, extra, crazy, top secret that I can't even give you a title, but there is something new in the works. Now it's in the very, very early stages. It has not been green lit. I've been sent to a pilot script, and there's many, many, many hoops to jump through and stages to pass before it'll get green lit and announced as a show. But all I can say is it's big and very, very exciting.