The second season of Spartacus returns with a Vengeance (bad, we know) as the slaves led by Spartacus (Liam McIntyre) look to push their uprising against the Roman Republic forward, while those corrupt members of the Republic are ready to flatten the revolt with a very heavy sandal.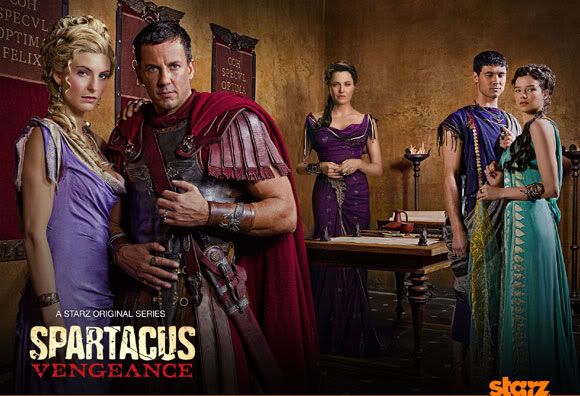 Of course there's plenty of personal drama to focus on too as favorites like Lucretia (Lucy Lawless) who is attempting to claw her way out of the gutter again in the aftermath of her husband's murder (the missed John Hannah's Batiatus). Lucretia's friend-now-foe Ilithyia (Viva Bianca) has plenty of plans for retribution (and a bun in the oven), while Oenomaus (Peter Mensah) tries to reconcile his issues with Spartacus as they try to build an army of escaped slaves and the other disenfranchised of the Republic together.
In a recent conference all, TV Geek Army talked with McIntyre, Lawless, Bianca and Mensah about what to expect from their characters in Season Two.
Liam McIntyre on the surprises Spartacus must face
One of the points that I love about this season that I think (executive producer) Steven DeKnight and his team have captured well is that Spartacus was a free man and then became a slave and has now freed himself and his band. But they really raise an issue that I like to think that Spartacus may not have really thought about because I guess the regular person wouldn't think about it and that's better the devil you know sometimes. Are they better off out of that horrible system? I like the idea that they introduce characters that do challenge the idea because now they're on the run for their life, at least before they had a life, albeit a not so glamorous one, in some regards.
I think the biggest challenge that Spartacus faces is embracing that bigger cause that I guess ultimately left its mark on history, which is taking these disparate people -- these rebels -- and building them into a force that is for a while certainly the match of Rome. It's something that he really has to get to the bottom of this season. It's one of his great challenges.
On new influences and characters in Spartacus' journey
Spartacus is great. It's great from the rebels' side because we're a ragtag band running through the hills of, you know, Capua in southern Italy and we have to try and survive. We're on the run and it really creates great dynamics between our characters but then we get new characters that get introduced as the season goes along which really mixes things up and challenges the existing status quo of the brotherhood. Gannicus might make a reappearance and really mix things up and, again, sort of slinks between the worlds.
On the chance for Spartacus to fall in love again
In season one, Sura said you will never love another person and that's kind of like a truism for Spartacus's existence. He now has the problem is, which is a real problem for everybody that falls into those horrible circumstances, can you ever love again? He certainly wants to and he's going to try. But it's very, very difficult of thing for him to try and, not only move on, but move into any relationship. It's a constant struggle throughout the season.
Viva Bianca on Ilithyia's new predicaments
What we all saw in Season One was that Ilithyia developed into more of a complex woman. In Season Two, Ilithyia has that whole recent history of a guilty past and a suitcase of treachery, lies and deceit. So, firstly she has a lot to fight for and she's had a lot to fight against. In episode one, Ilithyia lands right back at the place she so much wants to escape so it ends up playing out as a fight for her life really.
On dealing with Lucretia
What's also interesting in Season Two is that, because of the circumstances in which Ilithyia and Lucretia both landed, they are forced into a situation of becoming a lot closer than they even were in Season One. Which means a potential for drama and the unraveling of relationship revelations is so much more interesting.
On Ilithyia's pregnancy
I can say that playing a pregnant lady was a very new thing for me because I've never had a baby, and I think that was a really interesting journey to travel through. Without giving too much away, it became kind of a pivotal catalyst for changing growth in Ilithyia
Lucy Lawless on where Lucretia starts the season
My character goes from having everything and being on the make on the up and up with her husband to losing everything: her husband, her baby, her lover, her house, her status and her marbles. She's going to have to claw her way back to any kind of safety. And she's in a pit of vipers so she better watch out.
On getting comfortable with the show's nudity
We're really like funny little middle class people. And it's very hard for us to be comfortable with nudity and sex scenes. I've tried; I want to be cooler about it. But I'm just not. Let me tell you, this show does great things for the viewer's sex life; not so much for the participants. It's like aversion therapy. Sometimes I do need a hug because it's harrowing. It's really harrowing.
On who will replace Batiatus in her life
I miss John (Hannah) a lot, not just because of who he is but because I miss the aspect of love in Lucretia's life. Somebody does in fact fall in love with her but the course of that love never did run smooth and certainly not in this case. I don't want to give away too much but, yes, she does have two, I don't want to say romantic partners, but she enters into relationships with two people but Batiatus is never replaceable in her heart.
Peter Mensah on Oenomaus' arc
Everybody meets Oenomaus in the first season as Doctore. He's pretty impassive. He doesn't really let on much. As the story unfolds you see a human person and the reasons why he was the way he was when you first meet him and I think in this season we really get to explore when all those structures are gone from him, he's incredibly vulnerable, and for an actor it was just great to go to a higher range from being that dominant person to a person who really had to show every single emotion. It's a fantastic season to work.
Spartacus Vengeance Season Two premieres on STARZ Friday, January 27 at 10:00 pm EST/PST.