If you're a fan of Starz's drama Spartacus, then you've had a few days to process the stunning season finale which was rife with surprises, gut-wrenching moments and death, death, death! You don't see that kind of character killing on the far too chicken broadcast networks, but DeKnight and company went there and now their show is looking a lot leaner on the cast front.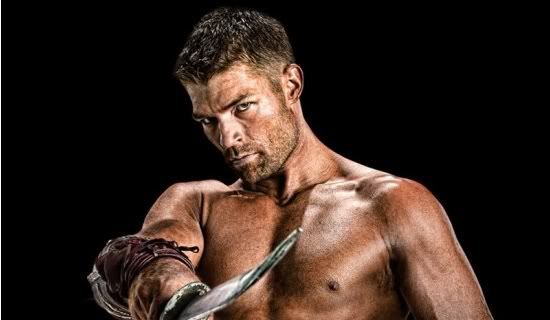 What does that mean for Season Three of the show (which will debut in early 2013) which DeKnight and his writing team is in the middle of breaking as we speak? Plus what about Spartacus (Liam McIntyre) who got some serious vengeancy closure in the finale yet he's now in charge of an ever-growing army of slaves. Will his heart still be in the new mission?
TV Geek Army was part of a call with Steven S. DeKnight on Monday where the showrunner talked about what his aghast viewers should expect, and look forward to, next year. [Spoilers ahead!]
1. Spartacus Is a Man Without a Clear Purpose Now
"Spartacus at the end of Vengeance actually gained some bit of closure. He's now killed Badiatus (John Hannah) and he's now killed Glaber (Craig Parker), the two men that he really thinks are most responsible for his wife's death. Moving into the next season the question is, what drives him now? Yes, there's the sense that I don't want this to ever happen to another innocent person. But the question does rise - how do you define victory? When is it enough? And this is something that will really haunt Spartacus through most of this season, what is the end point? Is it to overthrow Rome, and then what happens? Which goes into a deeper sense of war, and when is a war over? And is it ever over for people like Spartacus?"
2. The Spartacus Landscape Gets More Epic
"It'll be shockingly even bigger. Since we've said goodbye to (Delutus). We've said goodbye to the city of Capua, the arena, and we've finished up our run at the temple in the shadow of Vesuvius. So it will literally be entirely new locations and sets. And the war does take us all over the Republic. It takes us from the Alps, to Campania, down to the boot of Italy right across from Sicilia. So we will be all over the map with some fantastic locations, of course all shot inside. But they should look really, really fantastic."
3. The Romans Are in For Some Trouble
"I can tell you the major difference starting out on this next season is that in each of the previous seasons, the heroes have really taken it on the chin. They start off in a bad place and have to work their way out of it. This season it's a little bit different. This season we come in on the rebels and they've been doing very, very well, and Rome is now worried that this tiny little rebellion of slaves is growing into something that could be a major, major threat to the Republic. So the switch-up here is that it's the Romans who are in trouble when we open up the next season, and it's Spartacus who is on a very good run."
4. War Is Front and Center
"Next season we finally after three seasons of talking about him will be introduced to Marcus Crassus, and we'll start that section of the war. Next season we're actually going to jump forward about six months, so we're deep into the war. Spartacus's army has grown to what it is in history, where it's on the way of being big. It's not a few hundred people. It's thousands of runaway slaves that have joined his cause."
5. Julius Caesar Will Be in the House!
"Crassus will be brought in to try to quell the rebellion, and he will enlist Julius Caesar to help them. This is a young Julius Caesar, right around 27. I've already been pelted by messages on the Internet. You know, "You're ruining history! Julius Caesar has nothing to do with the Spartacus war!" which is actually true and not true."
6. Women Will Still Represent
"We're bringing in three new female characters which I can't talk about, but we're bringing them in, and of course we will still be following and developing the Naevia (Lesley-Ann Brandt) story and we'll be bringing Saxa (Ellen Hollman), the German warrior woman, up to a more prominent part. I definitely don't want to lose sight of the female characters. They will not be the same type of characters. They will have different stories and different strengths and different weaknesses. But I definitely, definitely want to, you know we do not wipe out all the female characters."
7. There Will Be More More Players Too
"The main ones are of course Crassus and Caesar, and we have several others that are popping up. I can't give details because it would ruin what's going to happen, but there are some very interesting characters that Spartacus comes across, and also on the Roman side some very interesting characters. I can throw out one Roman side. We will see Crassus' son, Publius. He will be part of the story line. Historically, Publius was actually Crassus' stepson, since Crassus' brother, also named Publius, died. Then Crassus married his brother's wife, which was very common at the time, not a love thing. It was to keep the money in the family and the holdings in the family."
8. Love Is All You Need
"It's all about love, at the end of the day, and that's what really drives everyone. Going into the next season, it'll be the same thing. It's very, very deeply about love, with Spartacus being the odd man out at this point, Spartacus feeling like he can't love anyone, because if he does it's the kiss of death. He is cursed that anyone that he cares about will more than likely be horribly murdered."
9. What's the New Subtitle? Don't Ask Yet.
"We are still discussing that. Doing each season with a subtitle I think was my best worst idea. The only time it was ever easy was season one where we were at a meeting and I just threw out each season will be something different, like "Blood and Sand." And everybody was like, "Oh, that sounds good." And it just stuck and there was no discussion. But from that point on, "Gods of the Arena" was a nightmare to pick. So we're zeroing in on something that I think we all like, but we're still talking about it."
Plus, DeKnight wants fans to know that dead means dead even when it also hurts him in the end. "I never really regret killing a character off, because I feel like when I do kill a character off, it serves a specific purpose, and either that character has run its course, or that character needs to die to propel the hero in a new direction or further his direction. That said, there are plenty of actors that I really miss, and plenty of character traits that I miss." But he adds with a smile, "I never rule out a good flashback."