Quick Take: Spartacus, "Whore"
"This will be our little secret." – Lucretia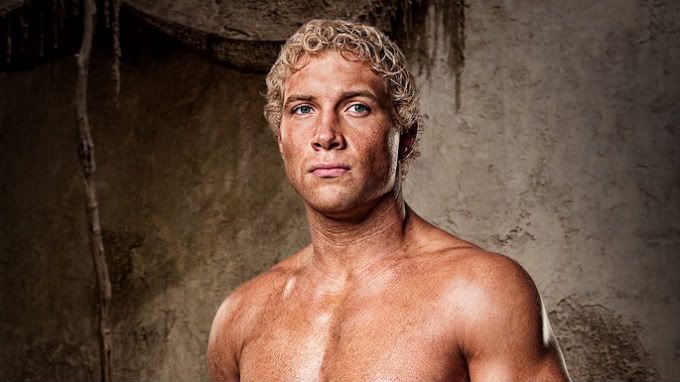 Review: Spartacus, "Whore"
(S0109) "Whore," strangely enough, is a relative term. It can mean many things, like many words when it comes down to it. Whore is in the mind of the speaker of it, and can vary to the relation of the person that it is applied to. So it is with our man Varro (Jai Courtney), who had been something of a sidekick and comic relief for our man Spartacus (Andy Whitfield) until relatively recently. He was enslaved due to gambling debts, yet continues to gamble even while gambling with his life as a gladiator. And yet, when his wife came to him, revealing that she was raped during his self-imposed absence and pregnant with her attacker's child, he cast her off. Calling her "whore." And now, what has become of her? "Ashur has found only blood," Spartacus tells Varro.
Meanwhile, the wife of Marcus Crassus (Licinia, played by Brooke Harmon), who is the richest man in the Roman Republic, requests to have Spartacus, er, service her. Lucretia (Lucy Lawless) is only too happy to oblige, both to raise the station of the house of Batiatus (John Hannah) and his gladiator school, and to please her friend (and lover?) Ilithyia (Viva Blanca). However, this turns around on Lucretia when Ilithyia is inspired by Licinia's yearning and request to have "relations" with Crixus himself.
This has potentially cataclysmic repercussions when Lucretia attempts to teach Ilithyia a "lesson." A scene of Eyes Wide Shut-meets-hedonistic Roman sex party proportions ensues in which Ilithyia is scandalized (after having wild "relations" with Spartacus), and then Licinia, at her victorious social peak, is brutally taken down by Ilithyia herself. So much for (sex) party etiquette.
"You have killed me," – Ilithyia says.
"No. You have brought us… closer," replies the scheming, pragmatic Lucretia. "This will be our little secret."
And meanwhile Part II: Crixus returns (Manu Bennett) to the gladiator fray, and for real this time! In "The Mark of the Brotherhood," Spartacus took Crixus to (gladiator) school when he attempted to return too soon. Now Crixus is back with something of a vengeance, eager to prove that he's ready to retake his place as Champion of Capua and to show his "domina," Lucretia, that he loves her (when really, of course, his emotions are with Naevia (Lesley-Ann Brandt).

More thoughts on "Whore":
"That man shits gold." – Batiatus
The complicated relationship between Batiatus and Spartacus, master and slave, noble and gladiator, is one of the more interesting on the show.
It's a bit bizarre that we're at the point that it's a recurring theme that Lucretia likes talking business with her husband Batiatus while he's having sex with a slave (and graphically so). It's another one of those "hey, Romans rolled like this!" kinds of scenes.
Peter Mensah is great as Doctore in a relatively small role. This guy needs
And meanwhile Part III: Ashur (Nick Taraby) continues his machinations, selling out his master Batiatus in a manner in speaking in protecting Batiatus' main rival.
Recap: Spartacus, "Whore"
Batiatus breaks the news that Spartacus is to service the richest woman in Rome.
From Around the Web: Spartacus, "Whore"
IGN: To contrast the grotesque violence in that scene, this episode is packed wall-to-wall with full frontal nudity of the most toned and beautiful women you'll see on TV. Spartacus has had no issue with flaunting the sexual nature of Roman society but this episode takes eroticism to a whole other level.